Customers don't expect you to be perfect. They do expect you to fix things when they go wrong.
Donald Porter V.P., British Airways
As bloggers, sometimes it is so easy to bitch and rant when something displeases us. I myself, am sorely tempted to blog whenever bad service or experience hits me. As a rule, I blog only after I exhausted every means to resolve an issue or resolve it amicably with the person concerned. Wearing the hat of a small business owner with an online business, I'm going to be unhappy if my customer blogged about my services without having gone through the help desk or given me a chance to resolve the issue in a timely manner. It is one reason I am patient with customer service because I know how it feels to be on the other end.
Now, I also know my consumer rights and am quite assertive. My daughter calls it my bitch powers. Don't think bitch power is about being mean or demanding. I've used it before with MERALCO. It means knowing my rights and being assertive. Let me cite three recent examples that started with a complaint and ended with a positive resolution.
1. Amazon purchase and DHL
Last December 2008, I ordered two sacred songs CDs and a DVD for the Candle Light ceremonies of my grief support group. Since I wanted it to arrive within 5 days, I chose the express mail.
1 CD Angel Voices (Libera) $13.99
1 DVD Angel Voices: Libera in Concert $14.99
1 CD New Dawn (Libera) $16.98
Item Subtotal: $45.96
Shipping and handling: $41.96
Total: $87.92
Here is that Custom duties statement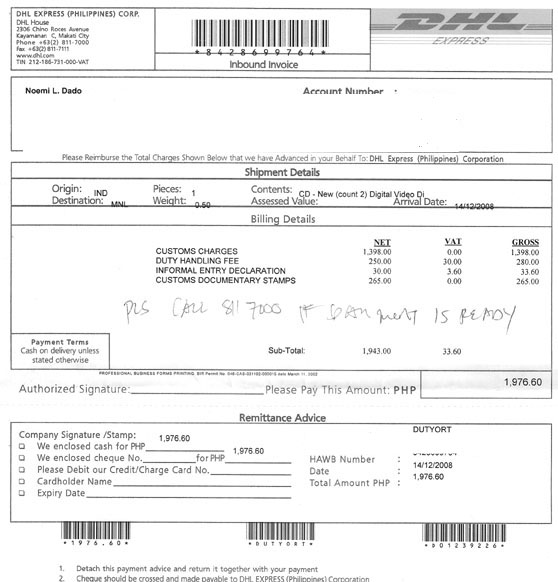 As you can see, my bill was $87.92 where half of it went to express mail expenses. Sure enough, the package arrived in 3 days but I couldn't get it unless I paid the custom duties of 1,976.60 pesos or roughly $41.16.. I turned livid. Why would I pay 100% taxes? I pleaded my case to DHL to reduce the taxes. Nothing could persuade them to reduce it because that's how Customs tax Amazon purchase. Not about to give up, I turned to Amazon and submitted this request:
1. I am not satisfied with your choice of courier.

2. I expected to use it at least 1 week upon arrival in the Philippines.

3. I call DHL daily to followup the custom re-assessment and until now, there is no word.

4. The checkout did not clearly state that I would pay a possibility of 100% duties and taxes

I love the CDs and DVDs. These contain sacred songs that I wish to use during the holidays but it is useless if I don't use it now. I paid over $40 dollars in shipment because I wanted to use the product asap.

My final request is a refund. Talking to DHL is useless. I hope you will grant me this request.
That was my third email to them since my first request was to help me reduce the taxes which was beyond their powers.
What do you know? Amazon agreed to refund me and the good news was I could get the CDs and DVD but I would have to pay the custom duties.
Guess what? I didn't get the CDs and DVDs because I refused to pay the custom duties which would just go to the pockets of corrupt custom officers. Last I heard, DHL returned my package to Amazon.
As to the CDs and DVD, I will buy them once again and have it sent through a relative in time for the Candle light ceremony on December.
I love Amazon! and as to DHL, goodbye, I am never going to avail of your services.
2. Globe Telecom and Data/3G Billing problems
Globe has been my cellphone provider since April 1999. I don't rely on globe gprs as my internet connection. I am subscribed to 3 major ISP: Globe Broadband (2mbps), PLDT Mydsl (1 mbps), Smart Bro and another mobile internet connection from Smart 3g. Yes, my internet connection is very redundant. Another thing is I am also their landlord in one of their cell sites in Cebu. In all those years, I never encountered a billing problem with them. I pay my usage as they appear in my bill because I know I actually used them. One day, I got my statement of account and my eyebrows shot up in disbelief.
GPRS usage of 11 thousand pesos for two billing period from February to March. I called Customer service immediately and I explained that their statement was impossible. In one bill, it shows that that I used 24,000 minutes in one month, equivalent to 13 hours a day. napakaimpossible naman. Another thing worth mentioning is that I know how to use my iPhone and prevent the internet from going live. I even edit out the APN just so my internet connection won't activate.
They tried to pacify me by saying that they will just charge me half the bill or 5,500 pesos. I refused. I told them that my past 6 months of GPRS usage averaged at 700 pesos and my highest bill was 1,000 pesos.
My final request: I CONTEST THE BILL.
I also requested for an extraction of usage to prove that it was impossible for me to use 13 hours of internet a day. They gave me an extraction of usage and my gut feeling was right! The number of hours is legitimate but something went wrong with the billing. Take a look at this example.
on the date January 11, I connected at 13:00 and was charged 870 minutes (14.5 hours) costing 258.68 pesos.

This is just one example . How could I possibly be using 14.5 hours internet in a span of 1 hour and 27 minutes.

The same goes on for the improbable usage of gprs at the times allocated.
I asked help from a fellow blogger who knew someone in the customer service to facilitate my case or at least vouch that I am not some lunatic trying to get away with my bills. Every week, I bugged them to update me and two months later, they agreed to waive my fees to just 1,000 pesos.
I really have no idea behind the over-billing. I have a feeling that whenever their GPRS connection dies (which is often), and it reconnects, I get billed 5 pesos once again.
It took them two months to resolve this but still, I was patient. Why? Because I knew I was in the right track and that the truth will set me free.
3. Philamcare refusal to pay for emergency anti-rabies treatment
Customer Care of Philamcare insisted "Vaccines are not covered in Individual Health Plan of Philamcare."
M was bitten by Lady, her pet cat last March without provocation. Maybe Lady thought her hand dangling from afar was some delicious prey or Lady sniffed a catnip on her palms. Whatever that stupid cat was thinking, M's right hand got bitten in many places. Our cats are vaccinated against rabies every year but since they are outdoor cats, I am not absolutely sure that they don't have rabies since a stray cat might have attacked them at some point. I rushed her to the Emergency room of Medical City for wound treatment not thinking that she would need Rabies Emergency treatment. The bite was deep, painful and swollen. I did not want to take my chances. Gian Carlo, a 5 year old boy died of rabies virus last Christmas. It was just a superficial dog scratch on Gian Carlo's back. Nothing is more unimaginable as suffering than for a parent to watch a child slowly succumb to death from rabies. The victim struggles against the onset of respiratory arrest. Panic shows in his eyes. And you can do nothing. Imagine the helpless parent as he watched his son die
People continue to die from rabies because it is easy to confuse its early flu-like symptoms with ordinary ailments. The subsequent appearance of its distinct symptoms—delirium, hyperactivity, furious agitation, hydrophobia, foaming around the mouth, and gradual paralysis—always signals the advanced stage of the infection.
The doctor's diagnosis was Cat bite, Category III on the right hand with multiple punctures/abrasions. She prescribed Rabies immunoglobulins and Rabies vaccine. Since the medicines alone cost 15,000 pesos, I needed to get clearance from Philamcare.
But no…they insisted that vaccines were not covered even as I protested that this was an emergency case.
Since I did not have the contract with me and due to the emergency nature, I said I will contest the non-coverage of the anti-rabies medication once I got home.
True, vaccines are not covered by my individual health plan but I believe we are talking of elective vaccines like Hepatitis B, or Influenza virus.
I checked the Philamcare's Standard Health Care Provisions of the Health Care Agreement of M and and Under Page 5 :
"1. "Emergency" shall mean the sudden, unexpected onset of illness or injury which at the time of contract reasonably appeared as having the potential of causing immediate disability or death requiring the immediate alleviation of severe pain and discomfort."
I believe that the incident falls squarely within the definition of ""Emergency" which is covered by our health care policy. It is a sudden, unexpected injury which has the potential of causing death if left untreated. It also requires the immediate alleviation of severe pain and discomfort. The victim of an animal bite has no choice but to endure a course of anti-rabies medications to preclude the possibility of developing fatal symptoms. Hence, the anti-rabies medications indicated above was absolutely necessary to prevent death.
The customer service representative said there was nothing she could do. "It is our policy".
So I told her "I know you can't do much more at your level so could you please elevate my case to your superiors?".
I filed my request for reimbursement on April 15 and with the help of friendly Customer service representatives and their superiors, I received the reimbursement a few days ago. The customer service was excellent.
How To Complain then?
I know it can be so disconcerting to file these complaints but the amount is nothing to sneeze at. These are my savings to the above examples:
Amazon: 6,196.00
Globe: 10,000.00
Philamcare: 15,000
Total 31,196.00 pesos or $650.00
I saved $650.00, money that would have gone down the drain if I didn't act on it diligently.
Before you complain, make sure you are not trying to get away from your obligations or looking for a way out. Be honest with yourself. The truth will set you free.
Now that is clear, these tips are for honest consumers with a valid and justifiable case who need some advice on how to file a customer complaint and aim for a positive resolution. If you are a chronic whiner and just wants to be bitchy and difficult, then you have no business asking for customer service.
Now that is clear, let's move on. Please note that this is applicable to private companies as Government entities is a force to reckon with.
1. Read up on their Service or Help Desk procedure.
It's important that you follow these steps so that your query is documented. Avoid using text messages to follow-up on your complaint unless it is standard operating procedure.
2. Get the reference number or confirmation email that your complaint has been filed.
If calling by phone, jot down the reference number.
If via email, keep a copy of the confirmation email.
3. Never, ever lost your cool.
You can sound angry, dissatisfied and assertive but keep your voice down. Customer reps have feelings too and if you appeal to them nicely, you will receive the same gentle treatment.
4. Appeal your case to higher authorities of the company.
I believe not everything is black and white. Take the case of my Philamcare example, it is clear that rabies vaccine is not covered. Customer reps have no authority to decide on gray areas like that. I appealed and sent a letter of reconsideration. Not all cases may be like mine and I was granted this refund because of good track record as a customer who did not abuse their services.
5. Be patient.
If you notice, it took two months for a positive resolution of my complaints. I knew that may case was being worked on and it was just a matter of time. I could wait. It also pays to follow up every now and then to see where the progress is.
I was not patient with the TV Patrol Copyright violation because not one of them replied to my query except for a blogger/friend working there and who did it outside of her official duties. I am patient once the complaint is processed because somehow I know there is progress.
What a long entry but I didn't want to blog each case separately. The important thing to remember is that if you try hard enough, positive results are possible.
See. I am one happy customer.
Amazon, thank you.
Globe Telecoms, thank you (but your 3G connection still sucks).
Philamcare, Thank you.
DHL, Boo (though I know it is not entirely your fault)
If I had blogged about this without going through the proper steps, you would have read my rants with NO positive outcome.
Now what good will that do to you, my dear readers?
Where to get Rabies Treatment in Metro Manila
Thought I'd like to inform you about places to get anti-rabies treatment in case your Health Care provider does not cover it.
You don't have to go far to PGH or San Lazaro to get rabies treatment, there are clinics in Metro Manila that can give emergency treatment for Animal Bites.
1. Animal Bite Center (Sanofi)– check their website at Animal Bite Center or call Emergency Hotline , call +632-816-1111
2. Family Vaccines and Specialty Clinics– Check their website at Family Vaccines and Specialty Clinic or Call ++63 2 976-4784