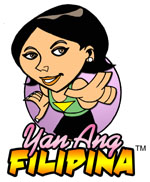 How to Reshape the Sexy Filipina Image campaign started a month ago. Around mid-July, my sister, Lorna, spoke up at WordPress's WordCamp in San Francisco and told the 300-something participants about our campaign.
I told my fellow conference attendees about the google bombing campaign my sister, Noemi Dado, and her friends were undertaking to take back the word "[tag]Filipina[/tag]" online from its massive "dating and penpal websites" and put this word in a more balanced context. The loud applause caught me off-guard.
The bloggers liked the idea of the campaign and immediately approached my sister and chatted with her about taking back the word "Jew" online. (Google posted an explanation on the offensive results for the keyword Jew)
It's inspiring other bloggers to start their own campaign. in the Philippines.
read more? (moved to its new domain, FilipinaImages.com)