How will I know He is the One?, laments Aileen. What a common question to most of the single people out there.
And I am going to give the same reply that Lauren whined about : You just Know
Before Aileen starts to throw apples at me. Ooops. Let me finish this first. I will list down some important pre-requisites before one meets THE ONE based on the book "The Secret" by Rhonda Byrne (I will write a review soon). This is all for you out there who are searching for The One!
1. Ask the question to yourself: What do I seek for in The One? Yes, you might have already made a detailed list of your ideal guy. My daughter also listed the characteristics of her ideal guy. But does it stop there? Are you clear on the perfect lifetime partner for you? Is your list based on unrealistic expectations like hoping your future partner is exactly like your dad or mom? If you are not clear , you will be sending mixed signals and attract mixed results.
Start saying to yourself : "I want to meet The One with these characteristics and be with this person the rest of my life."
I didn't know it back then when I first met my husband that He was The One. I was thirteen when I listed down the physical characteristics of my ideal boyfriend . I even visualized how he looked like, a mestizo. The mestizos in Cebu belonged to the popular mestizas. And I didn't belong in that class. Hummph. But I thought "Just you wait and see, my future boyfriend is going to be a mestizo, and he is going to be smart and sexy!" Of course at the time I met my boyfriend , I didn't expect him to be my husband. After all, I was just a shallow teenager.
2. Believe. Believe that He or She is already yours. Crazy, right? Believing in the unseen THE ONE? When you believe in the thoughts of meeting THE ONE, the circumstances , people and events will go in your direction. You will attract the right people to your life .
Think what you have asked for in your list. Make sure your actions reflect what you expect to receive and are not contradicting what you've asked for.
My brother passed away at the age of 27 years old leaving behind a three year old son and another 2 week old son. My sister-in-law felt that no one could ever replace my brother. Often, she would burst in anger if anyone ever peeped a word that she will remarry one day. After three years, she slowly started to date and met many eligible men. She started to visualize her second husband . The number 1 qualification was that he will love her sons as much as she did. To cut the story short, she remarried again to a man that met her criteria. Not only that, he looked so eerily similar to my brother. Really! (In fact, visitors often chide him why he has a memorial table at their living room thinking my brother's photo belongs to him). It's been over 17 years now. The best thing about this marriage is that her new husband's paternal love was so great that my brother's sons requested a change of their family names to that of their step-dad. I love the father of my nephews. He remains so close to our family .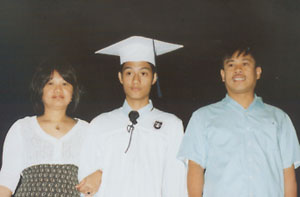 Left to right: my sister-in-law, Dan (then a 2 week old infant at the time of my brother's death) and Jing, his step-dad
3. Receive. Feel good that you are going to meet The One. Don't worry about not meeting The One because that means you doubt you will ever receive The One. So feel good that soon, The One will arrive. You will receive what you have asked for and you wouldn't ask for anything unless it was going to make you feel good . This also means that your actions reflect your thoughts. Thoughts create the words we speak, the feelings we feel and our actions. So if you intend to meet The One, go out to parties or events with your friends. Most of "The One" met each other through friends. Be open to all possibilities.
A girl friend of mine met her future husband through a blind date. The common friend felt absolutely sure that he will surely like her. The girl hesitated at the thought of a blind date but in the end trusted the common friend because he knew her taste.
The next thing that needs to be done and the most important of all before meeting The One is you should love and respect yourself . Forget your past mistakes. So what if you had failed relationships. They were not a loss. They were gifts. Sometimes the gift is a behavior one learned to acquire or could have triggered healing from issues of the past or an issue one is facing today. Or it might have taught us to love ourselves or someone else. But trust there was a lesson and a gift there. Let it go and move on to the NEW YOU. If you don't treat yourself with love and respect, you give out a sign that you are not important enough or worthy enough . Just like what I mentioned in A Healthy Attraction to People, "The more we learn to love and respect ourselves, the more we will become attracted to people who will love and respect us and who we can safely love and respect."
Focus and begin to think about all the things wonderful about YOU.
Look for the positives in YOU.
You attract what you think about.
To acquire love, fill yourself with it until you become a magnet
– Charles Haanel
You just Know is true because The One will be brought to you . You believed that YOU have received THE ONE even before you met. So then, YOU JUST KNOW.
It's hard to believe in it but have faith.
For the sake of the single ones, how did you meet the perfect partner for you? or The One? or your spouse? How did you know that person was The One?
Edit (to add this)
Next Entry: Now that you have found THE ONE, what next?