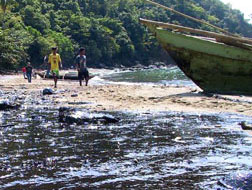 I just had a haircut yesterday. While entering the door of Azta Urban Salon in katipunan , a sign caught my attention . The notice said our cut hair willl be used for cleaning up the [tag]Guimaras Oil Spill[/tag]. A few days earlier, I saw the TV news on human hair being collected by Les Reyes of Reyes Haircutters . Reyes mentioned that all members of the Philippine International Hairdressers Association signified their intention to join in the efforts to clean up what is believed to be the worst oil spill in the country. This article says more on the experience of human hair in cleaning up oil spills:
In the 1989 Exxon Valdez oil spill in Alaska, human hair was found to have great adsorptive quality. According to the CNN website, which wrote about it, oil clings to hair as the tiny scales on hair snag and hold the oil. Chicken feathers, wool, and straw may also be used, but human hair is found to be more absorptive.
Not only do I feel good about my new haircut, I feel that I have contributed a little to the oil spill cleanup. I wish I could do more. Like what fellow blogger, Abe Olandres wrote:
One of the projects we're looking into was to collaborate and utilize all our IT resources in pushing advocacies like expanding awareness for the Guimaras Oil Spill on the internet and maybe helping pool donations or fund drives.
Let us think of something to contribute to the cleanup . Perhaps we can cut our hair? Hehe. Or maybe we should import cut hair from other countries or even just writing about it might bring out awareness for the Guimaras [tag]Oil Spill[/tag] to other countries.
Photo source Ariel Catubig/AP