I am not Plastic.
How dare I make such a bold statement when I just wrote about dedmahan in my last entry!
It's true though, I am not plastic. My two daughters taught me about biodegradable and non-biodegradable waste segregation when they were about 4 years old. Remember how M cried when her ball rolled to the sewer? Thanks to Miriam's College' educational thrust on proper disposal of waste. So when Cathy invited me to her new business venture, I was excited for her and the business itself.
1. I am proud that she is a risk taker , venturing on a business that revolves around her bag passion. I am a believer of income diversification within limits. I mean one can't just go to every single profitable venture. Financial independence is a long range goal to strive for. Go Cathy!
2. I love the catchy concept of "I am not Plastic". Together with her two partners, their goal is to get Filipino shoppers into the habit of refusing plastic bags when they shop.
3. Lastly, this bag was sewn by marginalized women from Tandang Sora, Quezon City. By purchasing this bag for only 350 pesos ($8.00), one contributes to their livelihood.
I choose to make Make Mother Earth as part of my personal style . If you're like me, you might want to know more about these bags at Cathy's I am Not Plastic Bag entry .
The last few days has been one big adventure . I am lazy to write (but plan to write soon) some of these events so here are photos.
Tuesday


Why oh why did I end up demonstrating the art of cooking Sinigang na Bangus in front of 100 media guests? Read more about it in Pinoy Traditional Dishes through Knorr Sing-Sarap sa SM Launch , July 24, 2007
Wednesday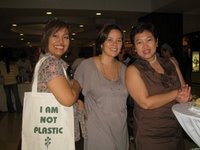 (with Cathy and PR practioner Andrea Trinidad Sanchez)
I am just as fashionable with my "I am not Plastic" bag .
View Not Plastic Project Launch Photos, July 25, 2007
Thursday


Real estate is a secure investment especially if the developer is Ayala Land. I am not just saying this because I was invited to Celadon Manila's Press Launch. I am actually talking from the experience of my husband's family investment in Ayala Land properties. I got so excited with this in-city development that I created a website (CeladonManila.com) in preparation for online sales inquiries.
View Celadon Manila Press Launch Photos, July 26, 2007
Friday morning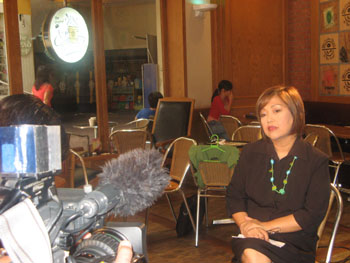 Taping with Cathy and Annamanila for Segment 3 of Moms Work Special on Lifestyle Channel (on your cable TV) to be shown on August 17 at 10:00 PM to be replayed August 18 at 10:00 AM. I'll write more about this in a separate blog entry.
Friday Night


Great bonding moments with blog mates Jayvee, Shari, Rick, Karla, Luis, AJ, Riz, Anton and my daughter Lauren at the Timbukt2 Blogger Bag Launch held at the Outback Restaurant. I might have found the perfect laptop bag for my macbook. No, it's not the blogger laptop bag because it's just too funky and bulky for me. Timbuk2 offers stylish bag designs for women called Marina which costs around 4,000 pesos ($87). I will check it out again at the BratPack branch in Galleria before I make the purchase. Read more of the bag's details at my shopping blog, Blogger Bag by Timbuk2 Bag
Blogger Laptop Bag by Timbuk2 Launch, July 27, 2007
Oh and it's Saturday morning. I have to sleep now because tonight I am having a party.