March 18, the day we had been waiting for so long. We finally moved in to our new home. You know, our new home symbolizes new beginnings. It seemed like an unreachable dream a few months ago. For months, we couldn't find a property that satisfied our budget and needs. The journey to our new home shows that one can attain a dream if one remains focused and believe that God's plan works.
The move must have made me so hyper-excited that I lost my focus that morning. As the movers drove in to the garage, they told me to move my car a bit forward. Then I heard a long yelp. Ugh I had forgotten I had tied Humphrey's leash beside the garage door. Then I heard cries from my 2 girls. Oh no…I killed our boxer. My heart sank. I couldn't bear to look at the suffering puppy. I turned to the fawn colored pup and felt relief that blood wasn't spilled all over the garage. My girls were horrifed that I ran over his tiny paw.
"oh mom, let's bring him to the vet"
It was a dilemma. Should I bring the pup to the vet or not? The movers were piling the boxes on the van and soon we would have to go. Butch was nowhere in sight. So I trusted my instincts. I hugged the whimpering pup close to my chest and he stopped yelping after a few minutes. Phew, I almost thought I 'd run to the vet for emergency checkup.
The horror of moving day ended there…
It's our third day since our move and there is 50% semblance of order in our new home. There is still so much to do but I am taking it slowly enjoying every activity in fixing a new home.
Here is a rundown of the day.
1. My workstation in the second floor is in place.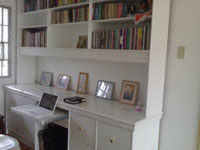 2. The kitchen and beds were the first to be organized.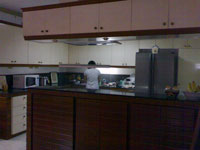 3. We resolved our furniture conflict. No to Lion table but the narra four poster bed prevailed. Shucks.
4. And what happened to the Thirteen Things to do before Moving to our New Home. Did I accomplish them? Let me count.
The refrigerator, gas stove, washing machine, water heaters and airconditioner were in place before the move
L and M got their new beds.
As for the internet connection, I got Globelines Broadband Budget Bundles, Smart Bro and PLDT MyDSL even before we moved in.
We got rid of our junk through garage sales and donations.
That workstation (see photo above) was built by Marlon, the same carpenter that Connie used.
Yup, the papers were all finalized
I decided not to get a moving/packing company. I packed everything myself and hired a six wheeler van . The savings weren't that much though. The van I got required me to have two trips. I should have gotten a container van.
Thanks to my ever efficient painter, the home interiors was done in time for our move. I am retaining him to repaint/revarnish some of our antique tables and cabinets.
Sanding of the narra parquet floor was dusty and messy but the finished product turned out really nice.
Reupholstetery of the couch will be done this week.
I hired two extra domestic help for packing and cleaning and other odd jobs. I considered contracting the services of Dust Mites a cleaning company but the one day cleaning service would cost me the monthly salaries of two helpers. It made sense to hire extra help which I can retain for the next few weeks.
I need to inform banks and other creditors for my change of address.
Paperwork for the sale is almost there.
Inspite of the near tragedy of our pup, we were filled with joy and excitement. Butch and I carried rice over our heads while L carried salt and M held on to a bottle of oil as we walked in to our home sweet home.
To prosperity!