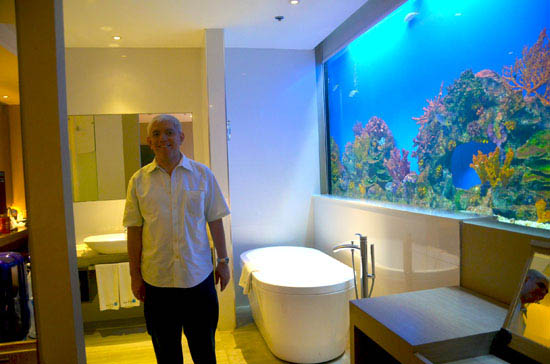 I feel bad when I leave my hubby at home whenever I travel. Not that he doesn't want to travel with me, it is just work sometimes prevent him from being with me. Well, no excuse this time because my next adventure is just around the corner. It feels like an out-of-town trip considering the one hour travel time.
He worries "what if there is a typhoon?" recalling the time Sofitel Hotel got flooded during Typhoon Pedring. I worry too but I have learned to let go, and let God.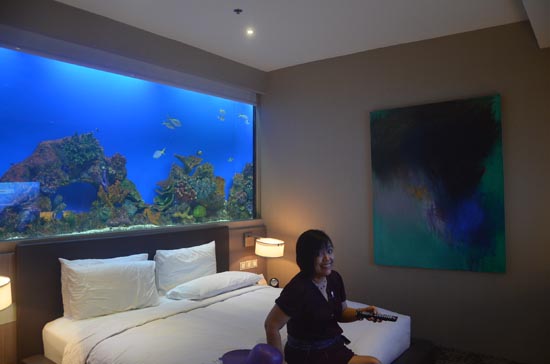 So what were we up to?
I normally review gadgets (which I return after a period of a week or two) at my home. This time Samsung thought of inviting us to check in a hotel to review their latest offering: Samsung Smart TV (UA60D8000) and the latest blu ray player (BDD5500). Considering the size of the TV, I think this is a good idea to have the review done in a hotel. I get to focus on the review and have fun at the same time.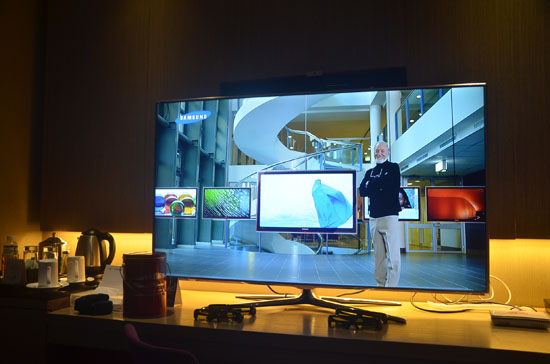 While I am enjoying this ultra-slim Smart TV, my husband is mesmerized by the aquarium walls that surround our room .
Our Aqua supreme room at the Hotel H20 in Ocean Park was simply amazing. Our room had no windows except these aquarium walls. Watch this video:
I let him be as I work a bit on my own. We own some Samsung products (we bought all of them in case you are curious…) like kitchen appliances, PC monitors and an LED TV set and I am quite happy with the quality and performance. I knew I will not be disappointed.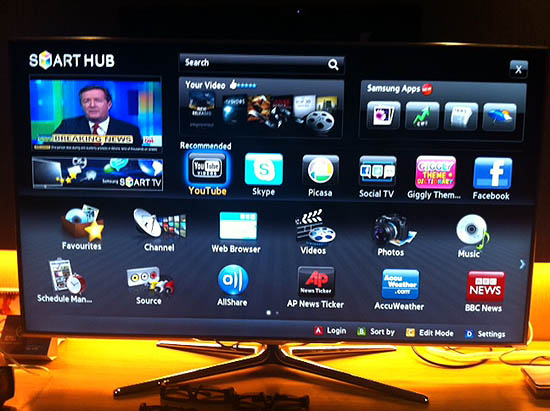 It was a bit intimidating at first getting to understand all the controls at the remote. With a bit of knowledge from our own Samsung TV remote, I managed to get the Smart hub. I recalled Jayvee telling me that I can use my iPhone as Samsung remote pad.
For this flat TV segment, connectivity is key. Apart from being able to connect to the Internet and do your standard browsing, you can also use your Android device or iPhone as a remote controller via Bluetooth. If you don't own any of these, you can also buy a QWERTY remote controller that connects via Bluetooth. That means you can have a QWERTY / smartphone side by side your IrDA remote control.
I will soon find out how to do this.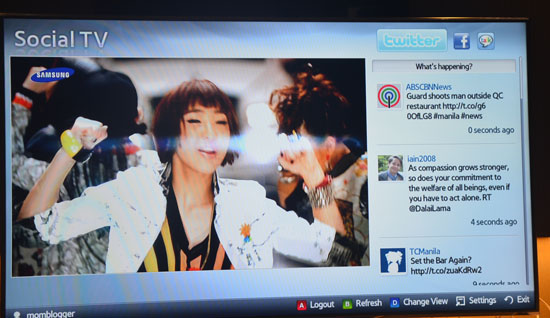 I have not tested everything yet. I am just getting a feel and if it is easy to set up. My husband wants to nap first before doing anything else. Let me give you just a preview .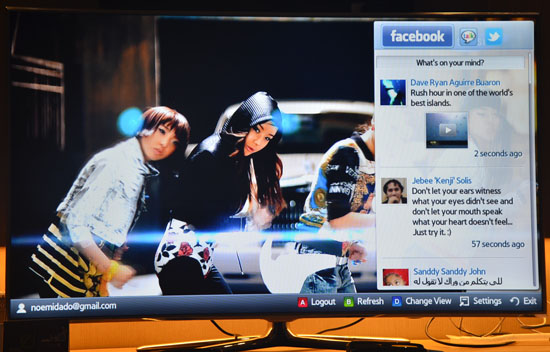 I did some tests using Skype calls, ""Social TV" updating my Twitter, and Facebook, web browsing and getting awed with the preview of videos at the Blu Ray DVD.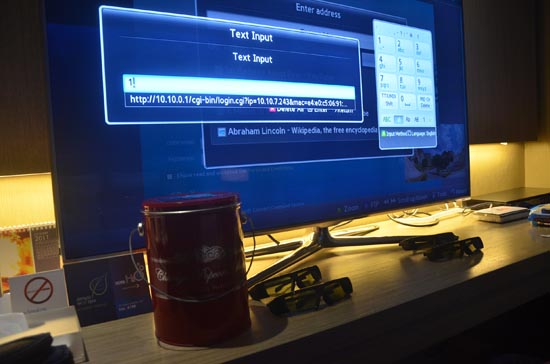 I called my sister to do a quick skype chat and show off our aquarium themed walls.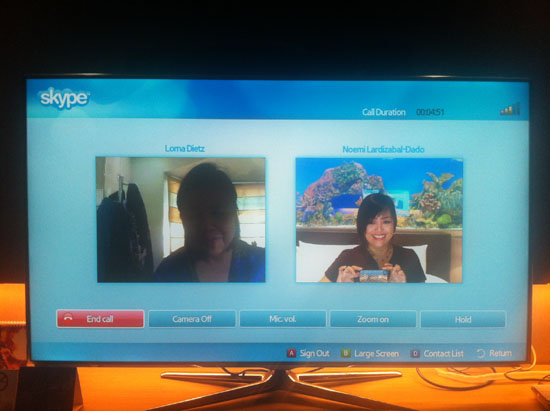 Ooops…Time to go (my husband wants to cuddle in bed) …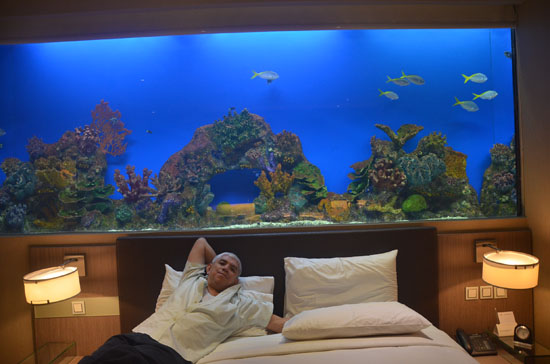 Butch ended having a nap while I wrote this entry.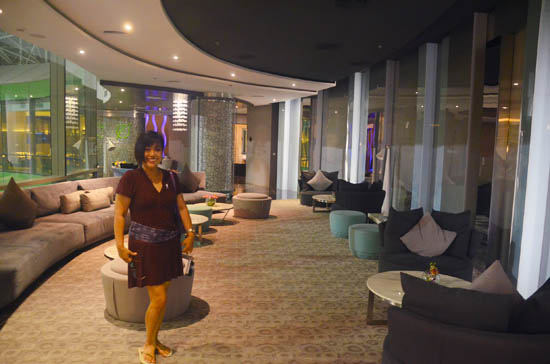 A few minutes later, we strolled around the hotel to look for our dinner.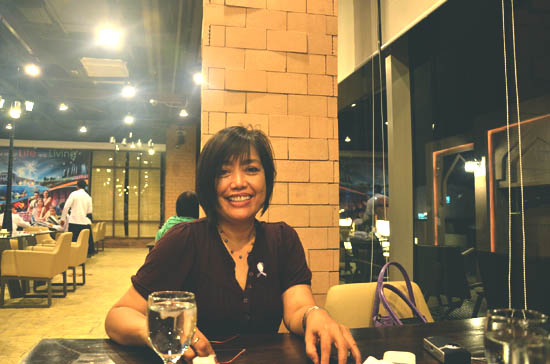 An array of DVD titles were provided but we picked up Resident Evil to try out Samsung's featherweight 3D glasses converts pictures to 3D in real-time!. For some reason, the 3D image didn't work so we ended up removing the 3D capability.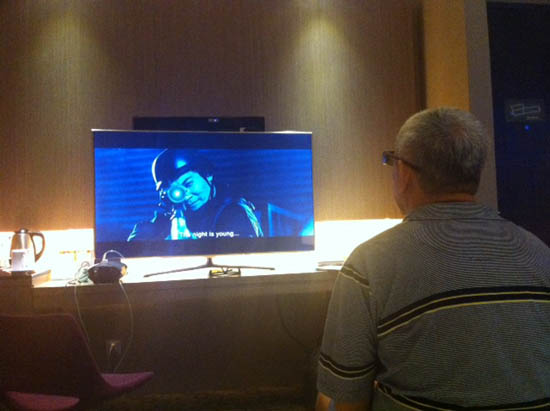 I found out there was a switch to turn on right there on the top of the glasses.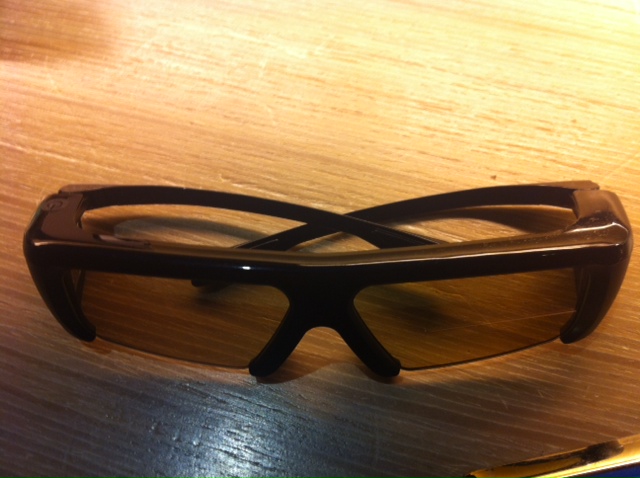 Shrek (4th episode) was just so sweet and romantic. I was quite amused at some of the lines uttered by Shrek. It quite reminded me of Butch.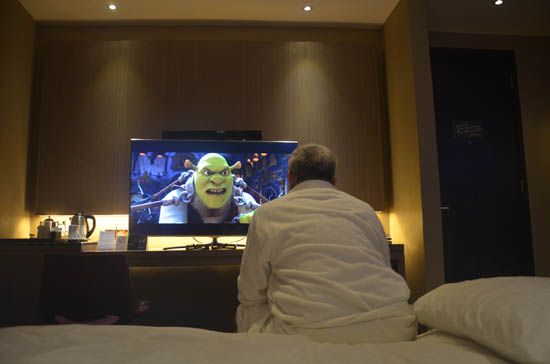 I was about to test more of the Smart hub but the breaking news of Gadhafi's death was all over the news. Images of a dead or injured Gaddafi seemed larger than life in this 60 inch TV.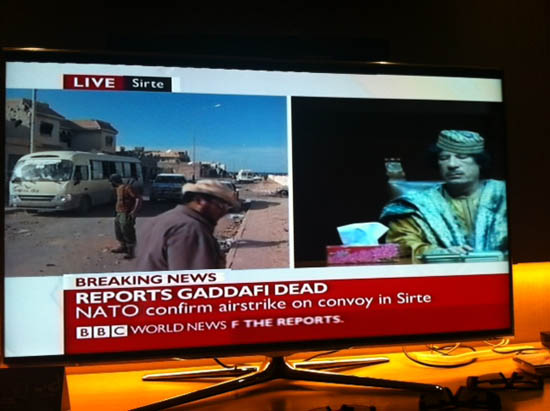 There is more to explore in Samsung's Smart TV like the online interactive media as well as on-demand streaming media. For the kind of online work that I do, a Smart TV makes multi-tasking so much faster. Definitely the TV of the future with the rise of emerging media.
Do you imagine a Smart TV inside your living room?
Read more of my review of the Smart TV in my tech blog , The Samsung Smart TV is beauty and brains indeed.