I brought a child into the world and thought my life was complete.
I bowed my head and thanked the Lord for giving this child to me.
My dreams were of the future and of how my child would be,
Of how he would run and play games like hide-and-seek and always run back to me.
How could I live my life without my child – How could I possibly survive?
When the dreams I once had for my child were no longer alive?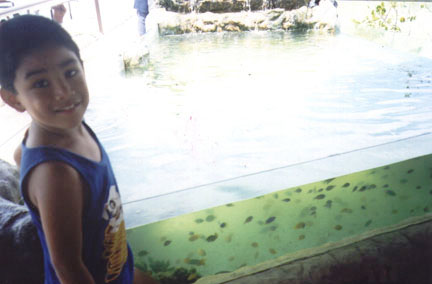 Nine years have passed since Luijoe died. Another year marked off the calendar as we confront life without our precious child.

Anniversary dates stare out from the calendar. For most of us, the days of birth and death are the most prominent but so hard to acknowledge. The birthday that brought so much jubilation may now be but a fond and sometimes painfully wistful day of a "what might have been" memory. Then the lousiest day of the year, the day that is etched on some stone in the south of Manila, the day some of our sweetness left us forever. A reasonable amount of preparation in anticipation of this gloomy day and the empty sadness it brings doesn't really help. We are aware about these death anniversary dates which I'd rather call the Angel date.

You see, our family members are more irritable, tempers fly and tears easily roll down. Then we remember that Luijoe's death anniversary is nearing. Ah yes, even if we were prepared for it. It is like standing at the shores of despair looking out at the waves below the sunset that is so beautiful while signaling the end of the day. These waves of profound sadness can be relentless and the big one is coming on that date. This knowledge never seems capable of preventing the wave from smashing us into our lonely reality.

This too shall all pass. We know it. Today, it has been 9 years. I know that death ended my child's life but not his relationship to our family. He will always be our son. The difference is I gave up the old person who was physically connected to a now deceased Luijoe and made a spiritual connection with my child who died.

"I don't know how you've survived. It would kill me to lose my child." Oh, to have one peso for every time I heard that sentence! I'd spend every one of those pesos for an answer, for you see, I don't know how I've survived. What choice did I have? Each transition has been work, hard work, sorting through what it means and learning to function in the face of these circumstances not of my choosing. My work served me well: my role as a bereaved mother is no longer the first way I define who I am, but it is ever-present in my life and cannot be separated from all that I am . . . for the rest of my life.

The "new me" is continuing to evolve.
Eventually, I came to realize that I must find new ways to dream.
And honor the things my child enjoyed on earth, his memories to redeem.
And while I will never get over the horrible pain of losing my child, so dear.
I will survive by blending his life and love into my life, and that will keep him near.
(By Faye McCord)
How Our Day Went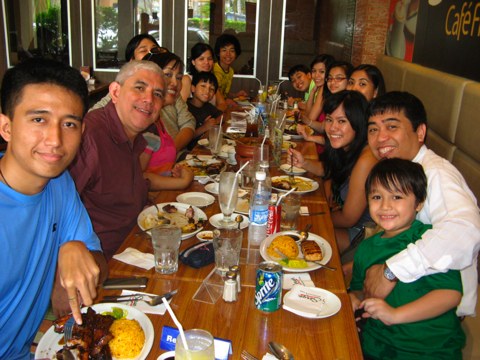 Lunch at Serye Restaurant with my brother David and his family and my other nephews.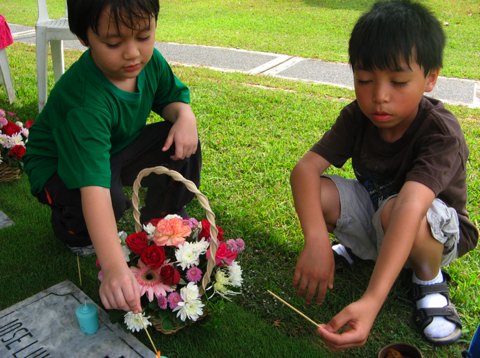 Luijoe's cousins were born after his death. They had a lot of questions. "Why did he die so young?…he is like my age!". Dying at a young age is never the natural order of things. Lighting the candle and incense somehow gave them some comfort.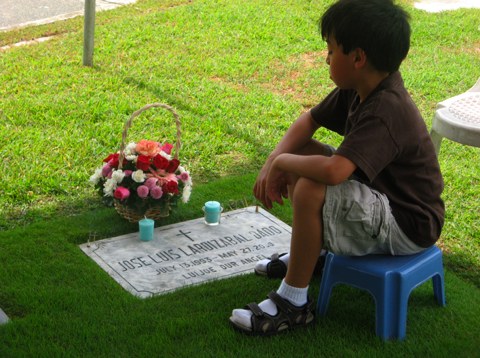 I guess the younger cousins experience their own grief.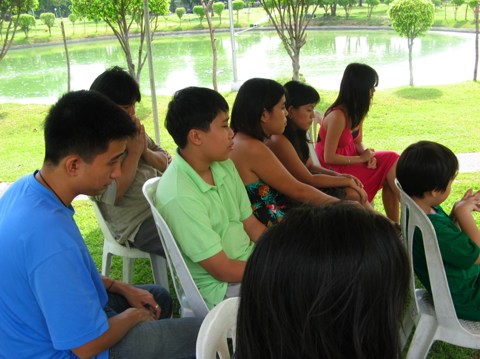 We prayed a short prayer of gratitude.