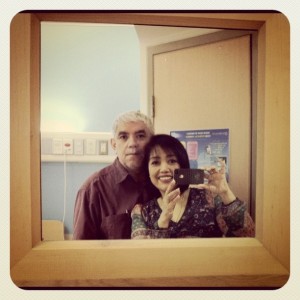 What a mouthful of a tongue twister! Chronic Calculous Cholecystitis with Choledocholithiasis simply means Inflammation of the gall bladder with dislodged gall stones. That was the diagnosis when I got my medical certificate after being discharged from Medical City. The operation itself called for Open Cholecystectomy with IOC, Common Biliary Duct (CBD) Exploration Tube drainage. I stayed in the hospital for 8 days.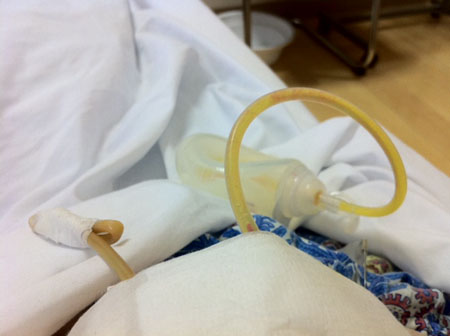 Everything happened so fast on December 22 at the emergency room of the Medical City which is close to our home. I didn't realize surgery was an option. This pain I was told is due to bilary colic, a dislodged gall stone causing me pain. My liver, pancreas enzymes, were elevated. My blood sugar shot up to 379 due to body stress. My surgeon said he will try laproscopy with open surgery as the last course of action, However, he changed his mind after assessing my lab results. Open surgery was decided late at night of December 22 due to my elevated enzymes.
Since I wasn't prepared for my surgery, it gave me little time to research on my ailment. All of the materials online were from medical bulletins or rehash of previous web content. I decided to share my personal experience to add to all the medical materials scattered online for those that need more information on gall bladder removal and common bile duct exploration. Remember, this is my personal experience and will vary depending on lab results and the overall assessment of the doctors.

Any clue I had gall stones?
People say I should watch my diet and I do. I don't even like fats. I don't like too much salt in food. I love fish. I stopped eating pork and beef for 3 years now. I guess transfat is inherent in almost food items despite best efforts to monitor one's diet.
The abdominal pain started December 16 but after a shoulder massage, the pain was gone. Then that Sunday, my sister in law told me she had gallstones. As she described her symptions, it sounded like mine. So on December 20, I visited PhilCare, my HMO for 23 years. An ultrasound of my upper abdomen on December 21 showed I had 5 stones which were only .33 cm and didn't need immediate surgery, however my blood tests showed I had bacterial infection. I thought I still had time before surgery to choose the various options.
The extreme pain started at 10:00 AM on December 22. I cannot describe the excruciating pain. Cold sweat glistened from all over my body as I doubled up in a fetal position. There was no way the pain would go away even with two Buscopan pills. By 11:30, my husband drove me to the emergency room. There were so many people in the ER that I wasn't attended to at once. I begged for pain reliever. The gave me IV for abdominal pain. The pain refused to go away. They tried Demerol. Pain still didn't go away. I asked for more and the doctor gave me higher dose of Demerol which relieved me but only for 3 hours.
By this time, my eyes had a yellowish color. They refused to give me water to quench my dry throat. Only a swab of cotton ball soaked in water alleviated my dry tongue. I called upon my little angel, Luijoe to wrap me in his arms, watch over me and to whisper to God to give me strength to hurdle through the sixth major surgery in my life.
Pre-surgery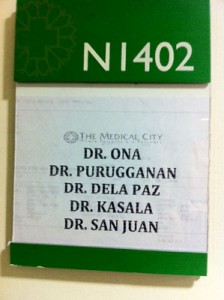 Butch chose an inexpensive room at the Medical City so the hospital charges will also be pegged fairly. The pain disappeared at around 9:00 PM as I peered through the window and watched the colorful fireworks from a distance. That same night, a team of six doctors checked up on me to assess my condition. My blood sugar was so high that 6 units of insulin had to be injected every four hours. (It finally stabilized the following morning). Fortunately my blood pressure was normal. A cardiologist also came in. Then a gastroenterologist, an endocrinologist , an anesthesiologist and my PhilCare attending physician. I have never seen so many ***ist doctors at any one time.
I barely got any sleep because resident doctors or nurses monitored me every 15 minutes. My blood sugar dropped to normal levels on the day of surgery. That was a relief because it will ensure better healing of my wounds.
Laparoscopic versus open cholecystectomy and common bile duct (CBD) exploration vs. Endoscopic retrograde cholangiopancreatography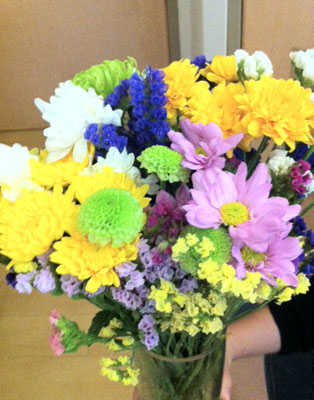 Lauren brought these lovely flowers , adding a touch of vibrant colors to the otherwise cold and sterile room. Things happened so fast and the flowers reminded me to smile , breathe and relax.
My sister who is married to a surgeon questioned why my surgeon decided to use open cholecystectomy instead of Laparoscopic cholecystectomy . I could have gone to my brother-in-law's hospital since he is also an accredited surgeon of PhilCare but he is based in Manila. With the horrific traffic, I might have collapsed from the pain just trying to reach their ER. My surgeon explained that my condition of a distended gall bladder, extreme pain and elevated enzymes called for open cholecystectomy. Since it was an open cholecystectomy already, he decided to use the common bile duct (CBD) exploration instead of the Endoscopic retrograde cholangiopancreatography (ERCP). He also added "I saw you so I was in the best position to decide". Aside from the Open Cholecystectomy, the other procedure was Common Bile Duct Exploration (CBD).
OPEN COMMON BILE DUCT EXPLORATION (CHOLEDOCHOLITHOTOMY)
Choledocholithotomy, or common bile duct exploration, is used to remove large stones or in cases when the duct anatomy is complex. In this procedure, the doctor carries out open abdominal surgery and extracts gallstones through an incision in the common bile duct. Routinely, a so-called "T-tube" is temporarily left in the common bile duct after surgery and the doctor x-rays the bile duct through the tube 7 – 10 days postoperatively to determine if any stones remain in the duct.
The operation chosen by my surgeon was Open Cholecystectomy with IOC, Common Biliary Duct (CBD) Exploration Tube drainage
Surgery at 3:00 PM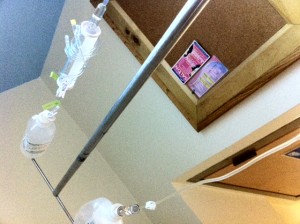 From 8:00 AM, my surgery was moved to 3:00 PM to give enough time for my blood sugar to normalize. I given a mild sedative to reduce anxiety then brought to the Surgery suite still fully conscious. Levels of oxygen, blood pressure were the procedure I observed before I passed out from the morphine injected into my IV. I was told that the anesthesia would be done through the spine.
Praying to God and seeking the love of my beloved angel Luijoe, I let go of all my anxieties.
I woke up alert but still on the operating table. I bet the anesthesiologist found me restless because I kept asking "when is it over?" I was told the operation lasted 3 hours but with pre and post surgery, total time was four hours. The surgeon later explained that they did three x-rays with a cholangiogram , to locate gallstones within these bile ducts. Two gallstones were discovered.
Boy, I was glad it was over and I was alive. I must have been lying down in the operating table for another 30 minutes before I was brought in to the recovery room for another 30 minutes . Eventually I was brought back to an empty hospital room. Butch just dropped off Lauren to the international airport for her trip to Singapore.
Post surgery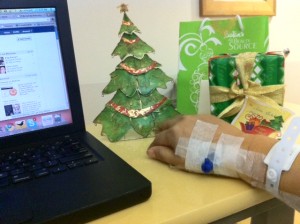 I assessed my body and discovered three tubes sticking out from different parts of my body aside from the intravenous line. They were the catheter, the T tube drainage and a bag (forgot the name) to drain fluids from surgery. (see top photo of this entry). My belly felt bloated, perhaps due to the air and fluids accumulated during surgery. I still wondered when I would be given solid foods. It was my second day without any meal and my dry throat was burning. Again I was told it will take another day. Patience indeed.
They injected something to ease the gastric juices in my digestive system. The pain from surgery was not too bad. The Cesarean birth operation of my three babies were more painful. I was able to walk to the comfort room a few hours after. What bothered me for the next few hours was this terrible itchy sensation. I was told it could be a side-effect of morphine. Good thing it disappeared after a day.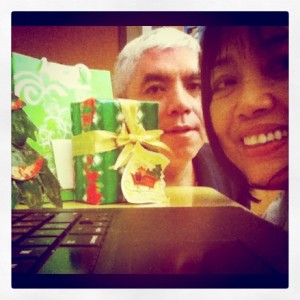 The catheter was removed shortly but I had to contend with two more bags dangling from my abdomen. Much of my time was spent watching TV for the first time in months. Getting online didn't seem interesting for some reason even though I had two internet connections via my iPhone 4 tethering and my Smart 3G mobile internet from the mobile MIFI modem.
Spending Christmas in the hospital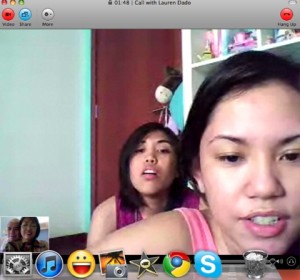 My surgery didn't stop me from celebrating Christmas in my hospital room. With a little Christmas tree decor, gifts on my table and determination, my husband and I celebrated Christmas in my hospital room. My two daughters called us via Skype on Christmas Eve and on Christmas day. Though far away from me, it was truly a celebration of love and life. It was important to cultivate positivity so I would recover fast.
Holiday cheers perked my hospital stay aside from my husband and the number of wonderful well-wishers from Twitter, facebook and the text messages. Thank you Dine and Wenchie for visiting me at the hospital.
Santa Claus knocked at my door, with his booming ho-ho. He brought me a gift wrapped in blue paper. This customer service from Medical City made me smile.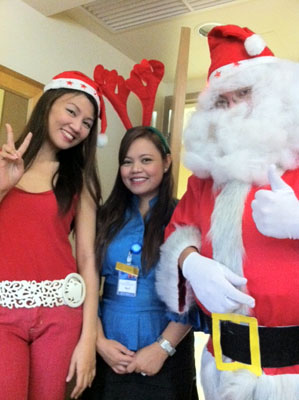 My sister dropped by to bring in the holiday cheer together with my nephew.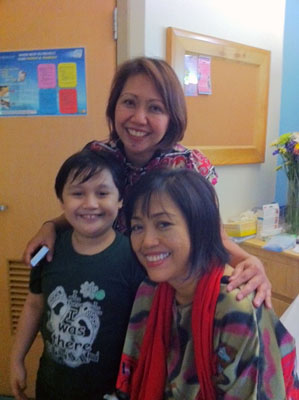 Despite the rumbling noise in my tummy , Christmas was bearable. I am just thankful to be recovering from my surgery. What better gift to ask from God.
The following days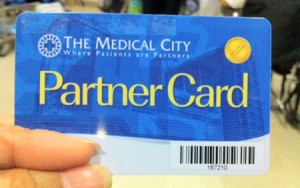 The next days were spent figuring out my hospital bills. Fortunately, PhilCare covered most of the charges. PhilHealth would pay 25% of hospital charges less professional fees while my husband's insurance covered those that did not fall under my PhilCare coverage. With stress from financial matters out of the way, I spent the rest of my stay waiting for the 7th day to do a repeat Cholangiogram to check if any stones remained in the CBD.
I finally got to eat on the fourth day. My hearty appetite took a toll on my digestive system and threw up my meals twice. Doctors advised me to take it slowly. Perhaps my digestive system was still adjusting. I felt nauseated from eating too much. My tummy looked really bloated. I decided to stick to eating short frequent meals.
Going Home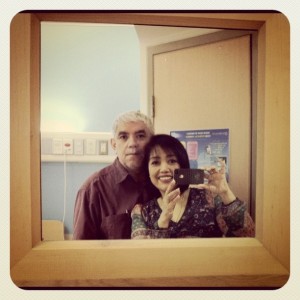 I finally got discharged on December 30. I was so relieved. The choliangogram revealed no more stones. The doctors cut off the bag leaving the T-tube still sticking out. It was eventually removed on January 3.
Right now, I am just taking it easy and should be up and about by next week.
I am full of gratitude to God , family and friends for giving me a boost of courage. To my ever loving husband who slept in that narrow bed beside me at night among others. Kudos to the loving care of my six doctors (Dr. Purugganan, Dr. de la Paz, Dr. Sandejas, Dr. Kasala, Dr. Ona, Dr. San Juan) the nurses, staff and Medical City. I know they may never read this but I thanked them personally before I left the hospital.
I am full of gratitude for my life.
When someone saves your life and gives you life, there's gratitude, humility; there's a time you've been so blessed you realize you've been given another chance at life that maybe you did or didn't deserve. Pat Summerall