No matter what you've done for yourself or for humanity, if you can't look back on having given love and attention to your own family, what have you really accomplished?
– Lee Iacocca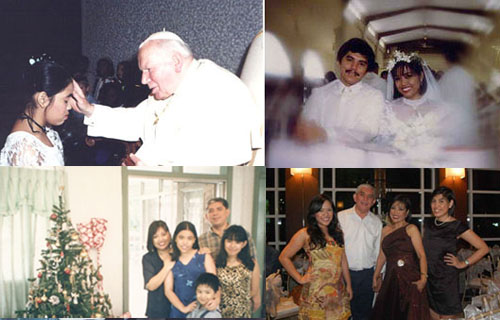 I felt so blessed during the beatification of Pope John Paul II. Perhaps because he once blessed my daughter at the Raigiubeleo celebration of the Jubilee for Children at the Vatican on January 5, 2001. It is indeed a blessing that a family member was touched by the Blessed Pope. I was deeply comforted upon reflecting on his thoughts on marriage and family. His teachings made me appreciate the trials and tribulations of our marriage as I recalled our 26th wedding anniversary, two days from now.
Marriage was not an easy journey, but my husband and I held on to our love and vows before God. Our union brought us three beautiful children, two with us to love and hold, the other to dream, cherish and love forever. Our bad times made our love even stronger. We made it this far for better or for worse and that calls for a celebration and a time for affirmation in prayers.
Continue reading at Philstar Unblogged.