When I received the invite for the Justice Reform Initiatives Support (JURIS) project press briefing, I raised my eyebrows upon seeing the venue was at the Mandarin Hotel. Hmm, so the Supreme Court has money to splurge on projects? That alone piqued my curiosity. I discovered that JURIS was funded by the Canadian International Development Agency at Cdn $6.5 million since it's inception in 2003 where the implementing agencies are the Supreme Court of the Philippines, Alternative Law Groups, Inc, Office of the Court Administrator and the Philippines Judicial Academy.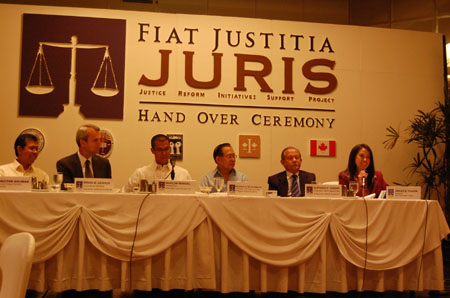 Left to Right: Hector Soliman (Local Project Director), Brian W. Lennox (Executive Director, National Judicial Institute), Marlon Manuel (Alternative Law Groups Inc.), Eduardo D. De Los Angeles (Philippine Judicial Academy), Alfredo F. Tadiar (Philippine Judicial Academy), Imelda Tuazon (IBP Pampanga)
JURIS has three project components such as the Alternative Dispute Resolution , Judicial Education and Reform Advocacy Support. I won't bore you with all the facts so just download and read more on the JURIS project and JURIS Fact Sheet.
What struck me on a personal level are two things:

1. Introduction of Judicial Dispute Resolution (JDR) in Makati City. (Aside from 5 pilot trial Courts)
I've told you before that our civil case in Makati is still floating in space. I still can't talk much about it.
You also know that before a trial starts, there is a Court-annexed Mediation (CAM). What I didn't know is that if that didn't work out, it doesn't have to end there. In Makati City (and 5 other pilot trial courts), there is a Judicial Dispute Resolution (JDR).
To understand, the process check this flowchart on the
The Process of Court-Annexed Mediation and Judicial Dispute Resolution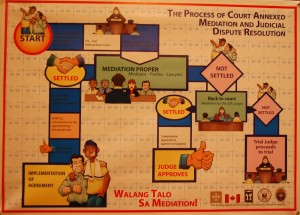 (Click to enlarge)

JDR looks promising. It is a process conducted by judges who conciliate, neutrally evaluate in a non-binding manner the strengths and weaknesses of each litigant's position, and then mediate to assist the parties amicably settle their case in court.
I wonder if our civil case will ever reach that point.
2. The Juvenile Justice Law or Philippine Juvenile Justice Welfare Bill (RA 9344)
When I wrote Children in Philippine Jail, I promised that I will follow-up on this issue. So I raised the question "Thank you for your assistance in the enactment of the Juvenile Justice Act but how come implementation seems to be difficult? Children are still in jail."
Marlon Manuel replied that the Local Government Units (LGU) are not prepared to handle the children's rehabilitation especially those in rural areas. He said that these LGUs can emulate the example of Cebu City's Bahay Pasilungan Project, a temporary shelter and processing center in contact with the law for children. Upon further research, the Bahay Pasilungan Project is a private effort and not really the initiative of the local government. The question remains, what use is the law if there is no implementation? What becomes of the child in jail? Can't it be a priority especially if it involves petty crimes?
It does not help that a Philippine judge handles an average of almost 500 cases, the number of which continues to increase with about 50,000 new cases filed each year. The JURIS through the Alternative Dispute Resolution Mechanisms (ADR) can help de-clog the court dockets. This means affording the judges more time to hear other complicated cases. I cannot verify the facts myself but their press release say that "the project has contributed to efforts to change the mindset of the poor and marginalized groups, who often avoid legal matters due to sky-high cost of litigation and their perception that the law favors the rich and educated."
Hector Soliman added that the with the success rate of ADR, marginalized sectors have gained hope that they too can have access to justice.
With such a success rate, I imagine that the JURIS should be implemented nationwide. Don't you think so?
Other Blogs
JURIS Project: Supreme Court promotes mediation and alternative dispute resolution mechanisms