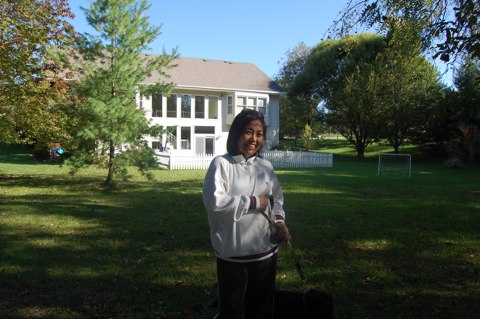 I love countryside living. This is my third visit to mid-west Missouri but in the past two visits in 1998 and 1999 (with the girls to visit Lauren's online friend), we stayed in hotels never really basking in the beauty of the surroundings. Missouri never fails to freak me out. My arrivals always happen at night. Driving along the lonely dark road at night is like being in Twilight Zone. Think "Jeepers Creepers" and you will understand why that movie was filmed in Missouri. Whenever I vacation in the US, I am contented with big cities like Los Angeles, San Francisco, Chicago or Florida but Missouri? If it weren't for my brother, I swear I never want to visit Missouri until…a week ago.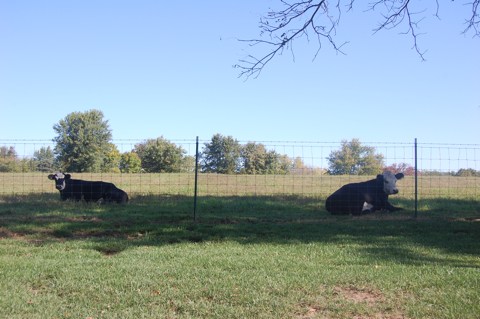 Here I am in a part of rural Missouri with a population of 18,000. I am taking in all the goodness that countryside living has to offer sans the high pollen count. The first thing I did the next morning was walk around the private park surrounding my brother's residence. The chilly weather didn't stop me from walking the dog and enjoying the new sights like the cows in the perimeter fence.
And a lake and trees in Autumn. It is just so pretty!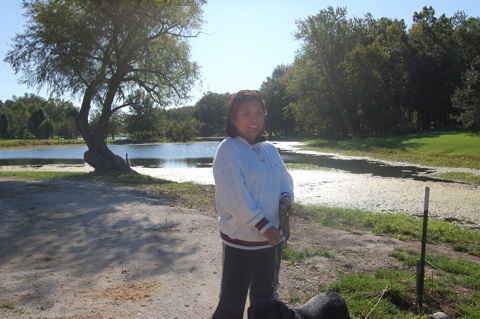 Seeing hay here and there.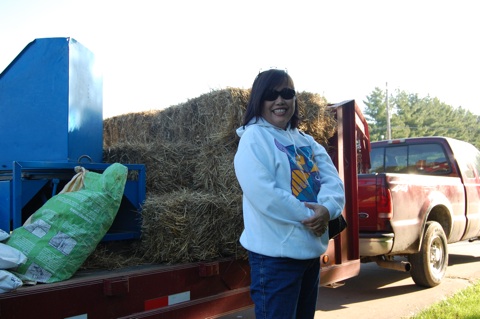 Going to the Farmer's market is also an experience. It is not like our local Salcedo Market where most of the produce or goods is through a middleman. I actually got to talk to farmers who bring their home grown produce to this vacant parking lot in front of the city hall. The lady with apples in this truck sold us a bag of apples worth $1.00.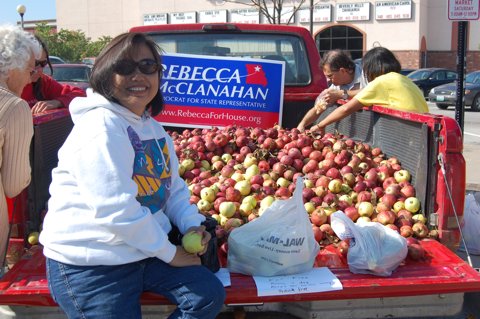 I asked her how she got the apples into her truck. The lady looked at me, motioning her hands to explain "I parked my truck under the Apple tree and shook the tree". I had to laugh. She even pared an apple so I could get a taste. It was so juicy and tart! The yellow-green apple is the right variety of apples for the Apple Pie.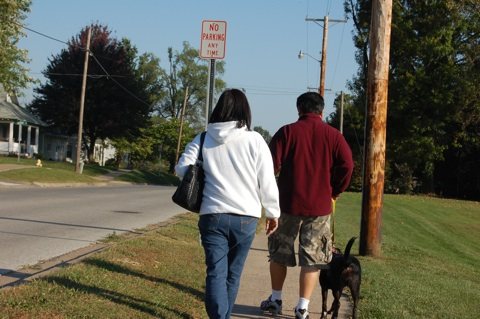 The best part of rural Missouri is being with David, my baby brother and his family. I took care of David from the time he could walk. I was the assigned "nanny" and that's one reason I have a soft spot for him. He was only 11 years old when our mom died of breast cancer. In effect, the sisters became his surrogate mothers.
Despite the challenges in his life, I am so proud of him. He had learning disabilities in most of his educational years until he discovered at aged 20, that his problems were caused by bad eyesight. From then on, David just bloomed , went to medical school in Cebu and at the UP-PGH and eventually got accepted in Cleveland Clinic for his fellowship and residency. The last time my brother visited the Philippines was in 2004 and since then, he's been asking me to drop by Missouri for a visit. But you know, the internet makes it feel like it was only a week ago that we last saw each other.
So I want to enjoy every moment with my brother. We are so much alike. He is OCD too, like me. We hate messy surroundings. We both love technology. We laugh a lot too.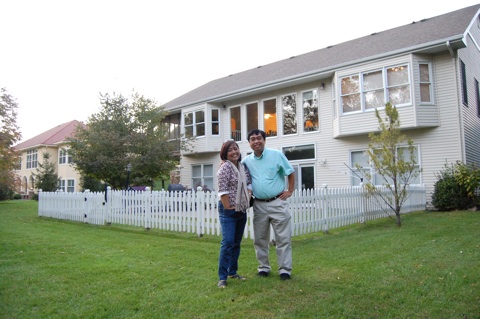 It's sweet that David took a vacation leave during the duration of my stay here. I value the time we are together. Like walking along the quiet streets of rural Missouri , window shopping, walking by the lake,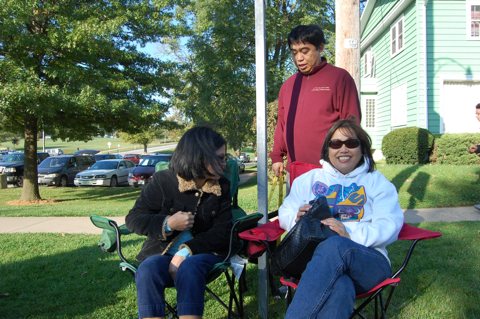 or watching the Truman Parade.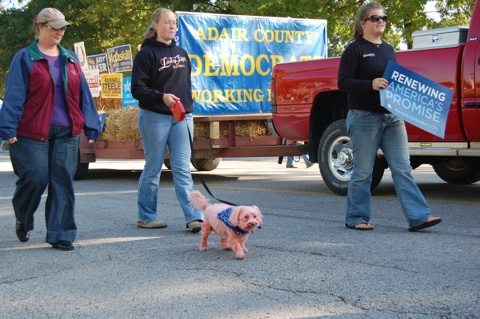 Or just visiting him at his clinic.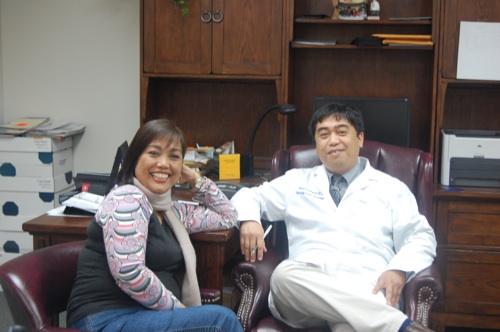 My brother is not just a physician. He is a physician-scientist. He often dreams of going back to the Philippines and decided to apply for the Balik-Scientist program. Sadly, the program didn't cover his field of medicine and required a lot of red-tape.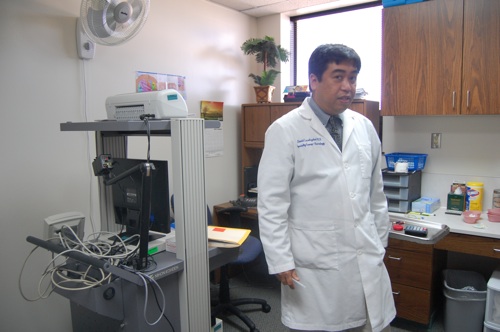 Sharing his knowledge of medicine is not a far-fetched dream with the use of telemedicine.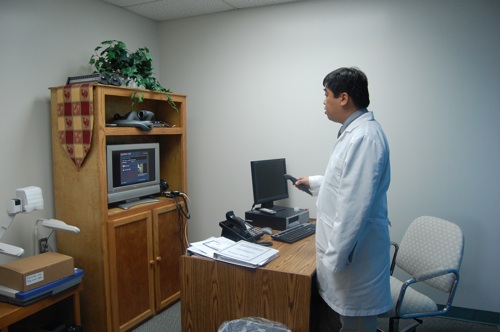 I watched this video conferencing gadget in his clinic. He hopes to impart his neurologist' training to distant sites utilizing current information technology by video conferencing and the internet. Then again, telemedicine in the Philippines is still in its infancy stage.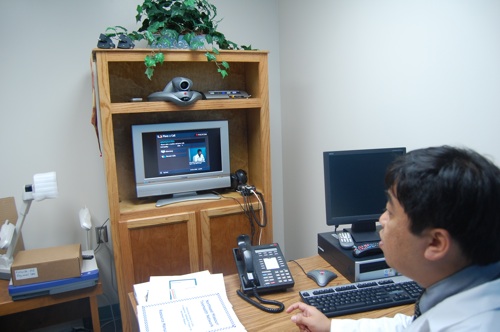 Such is his life now. I am just happy to be here with him.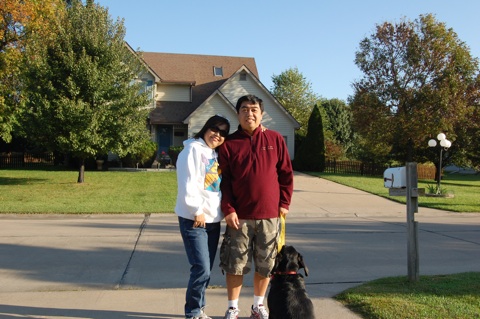 Thank you to my nephew who developed a fascination for my Nikon that he kept taking photos of me