Yesterday, I caught up with Loida Nicolas Lewis at her condo somewhere in Makati just before her flight to New York. I have heard so much about her as an industrialist and philanthropist. It was my task to interview her for a University of the Philippines' (UP) centennial book project to be launched next year for the 100th anniversary of the state university. I read up on her before our meeting to make sure that I didn't repeat facts already found in the internet or her books. Based on my research, Loida was married to Reginald Lewis, considered as one of the most successful and richest African-Americans and has been described as instrumental to her husband's business success. After her husband died from brain cancer in 1993, Loida took over the family business and was successful in the company's growth. At the moment, she is the Chairman and CEO of TLC Beatrice, LLC (the Lewis Family investment firm), TLC Beatrice China (operates retail convenience stores in four major cities in China) and TLC Beatric Foods Philippines (operates a meat processing plant in Naga City).
I am fascinated with her life, her success and faith in God.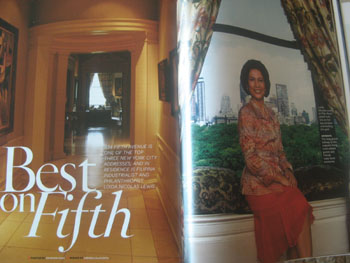 Her secretary showed me the September 2007, 6th Anniversary issue of Philippine Tatler. It features their 834 Fifth Avenue Manhattan home which the Lewis family moved in a few weeks before Reginald succumbed to brain cancer. Reginald became the first African-American to live on Fifth Avenue and one of its "A-plus apartments". But let not this wealth fool you. Loida is busy with the family-run Lewis College in Sorsogon where they offer college courses and a nursing assistant certificate. Not only that she funded a part of a micro finance project in Sorsogon called PALFSI (People's Alternative Livelihood Foundation of Sorsogon, Inc.)., She is also Chairman of Business for Integrity and Stability of our Nation Foundation, Inc. (Bisyon 2020). She is such a busy woman and I am indeed fortunate to have been accommodated for this interview.
My interview with Loida lasted for 2 hours which you will read when the book comes out next year. In the course of the interview, I asked her about the loss of her husband and how she dealt with it knowing it can help a lot of readers in this blog. This is what she told me.
Six weeks after her husband was diagnosed of Brain Cancer in 1993, Loida was catatonic, living on automatic pilot. She never lost faith in God but she could not understand why this tragedy had to happen , "why me?" For 4 months, she couldn't say the Our Father or "thy will be done" because she couldn't accept Reginald's death yet. "I was in a daze" as she recalls the pain that struck her 15 years ago. Total darkness enveloped her for months with a pain that she could not hold, a void and a vacuum that filled her being.
In the darkest of nights, she reached out her hand to God and said " Lord you got to help me. I know you won't leave me. Hold me in the palm of your hands. I know you will guide me. I am holding on to you, help me." Sure enough, Loida felt His hand and slowly she took her first step. She has been walking ever since.
After she regained control of her life, she asked two questions "What do I have here?" What did my husband leave behind?"
First, she had two daughters that needed her total attention. They would be the first priority in her life. Whatever they needed, she will be there for them.
Second, her husband left TLC Beatrice, the company he founded. As far as Loida was concerned, he gave his life for the company. Failure was not an option. It had to win. Loida had to finish his work. She decided that it would be better if she ran the company than have somebody else do it, because if that person failed, then her husband's work would be gone. If she were to fail, then nobody will be blamed but herself.
She took over as Chairman and CEO of her husband's business a year after his death.
""I was fortunate that throughout the Beatrice years, Mr. Lewis saw to it that I met all of his business associates," she says. ""My transition to chairmanship was not rocky in terms of acceptance. A lot of goodwill for my husband passed on to me when I took over."
Loida Nicolas Lewis primary concern was to enhance the business to maximize returns for shareholders. ""My husband was not in the business of creating an empire," she says. ""He was in the business of creating wealth."
With God's guidance and her hard work, she was able to make the company grow with a 35% return to the investors at the time she liquidated the business in the year 2000.
There is no doubt that Loida Nicolas-Lewis, who has become the ultimate poster girl for success that Filipino immigrants can achieve in the United States, is an overachiever.
When asked about her success, she once told the Asian Journal, "I just do what I have to do. In the end, I may have just had very good pr but there are so many Filipinos who have done well from where they started."
So what does a very busy woman do for fun?
"During weekends for the summer, I go to our vacation house in East Hampton," she shared. She spends time with family friends saying it's a "fun thing."
Loida loves theater and her weakness for comedy and fantasy movies. "I love the fantasy movies, LOTR, Harry Potter, Narnia. I'm not much for horror movies"
Inspite of her hectic schedule, Loida continues to nurture her spiritual side. "My day starts with Zen meditation. Then I read what's on the readings for the holy mass of the day. In that way, you connect to a higher source. I would think that's what keeps me very balanced, feet on the ground."
Before I closed the interview, I asked her the secret of her beauty because I am amazed at her calm and regal disposition.There's really nothing secret about it. She just put lots of moisturizer on her face and neck. Ah, how simple! But I believe that it's her spirituality that keeps her balanced and calm.
Her parting words:
You have to have a relationship with God. Otherwise, how can you go out to the world and deal? One needs an anchor.
—-
With those inspirational words, she handed me Virgin Coconut oil, her gift to visitors who drop by her place.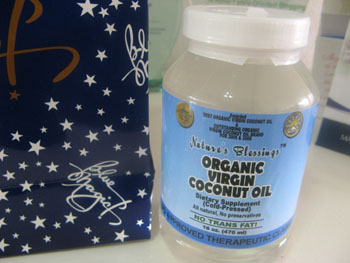 According to her, this particular brand called "Nature's Blessing"" Organic Coconut Oil , awarded the best organic coconut oil in 2005 cured her of her arthritis and general well-being. She advised me to take a small amount during the first few days to get used to the supplement.