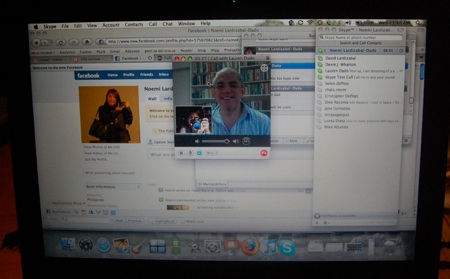 My husband's email the other day said something like "surviving here but missing you". I've been trying to reach him via Skype but never got to. Finally at around lunchtime (Philippine time) he managed to get on Skype with the help of Lauren.
It's his first time to use Skype so he has this huge smile written all over his face. I panned my macbook around my sister's home so he could say a quick hello to them.
Then we got to talk.
Him: What do you think you are doing? in a shocked voice.
Me: Removing my jacket. It's warm.
Do you think I was going to striptease in front of my sister?
Butch looked really embarrassed online as if removing a jacket was like getting naked.
Oh yes, I may be naughty but not via webcam, you know.
Skype is one of the coolest internet communication tool ever invented because it bridges the distance between loved ones. My husband does not relish the idea that I am far away from him. Too bad he couldn't join me (too late to renew his US VISA). He got all mushy at one point and puckered his lips close to the cam.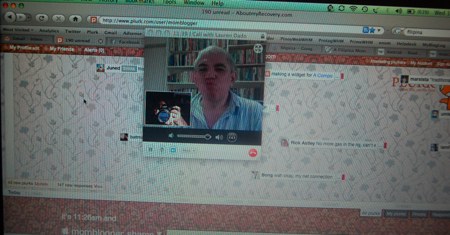 So yeah, he will have to contend himself with a video cam to see me "live" and cyber-kiss me. He knows of course that I really miss him too. He will just have to feel me close to his heart. I am always with him.