Here I am exploring the world of robotic surgery at the Medical City. I have been operated twice in this hospital: fix my broken ankle and the removal of my gall bladder. I never knew they had robotic surgery since 2010. If you have had surgery or medical operation , you would know what a pain it is , literally. My two surgeries followed the traditional surgical procedures which are invasive in nature. Good thing I did not have complications except  incisions that took time to heal.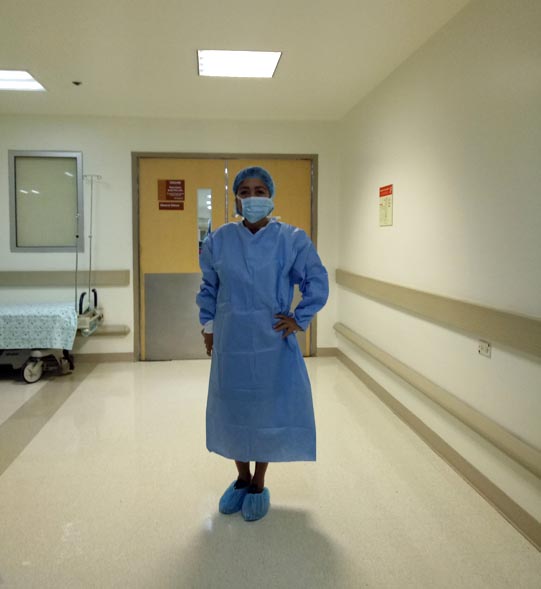 The latest advancements in medical technology allow us to opt for a less traumatic approach to their care. The introduction of robotic surgery or robot-assisted surgery easily avoids all the complications brought about by most operations. Getting to understand robotic surgery required me to visit the surgery room but I had to dress up properly for such a sterile environment with a cap, shoe cover, mask and the scrub gown.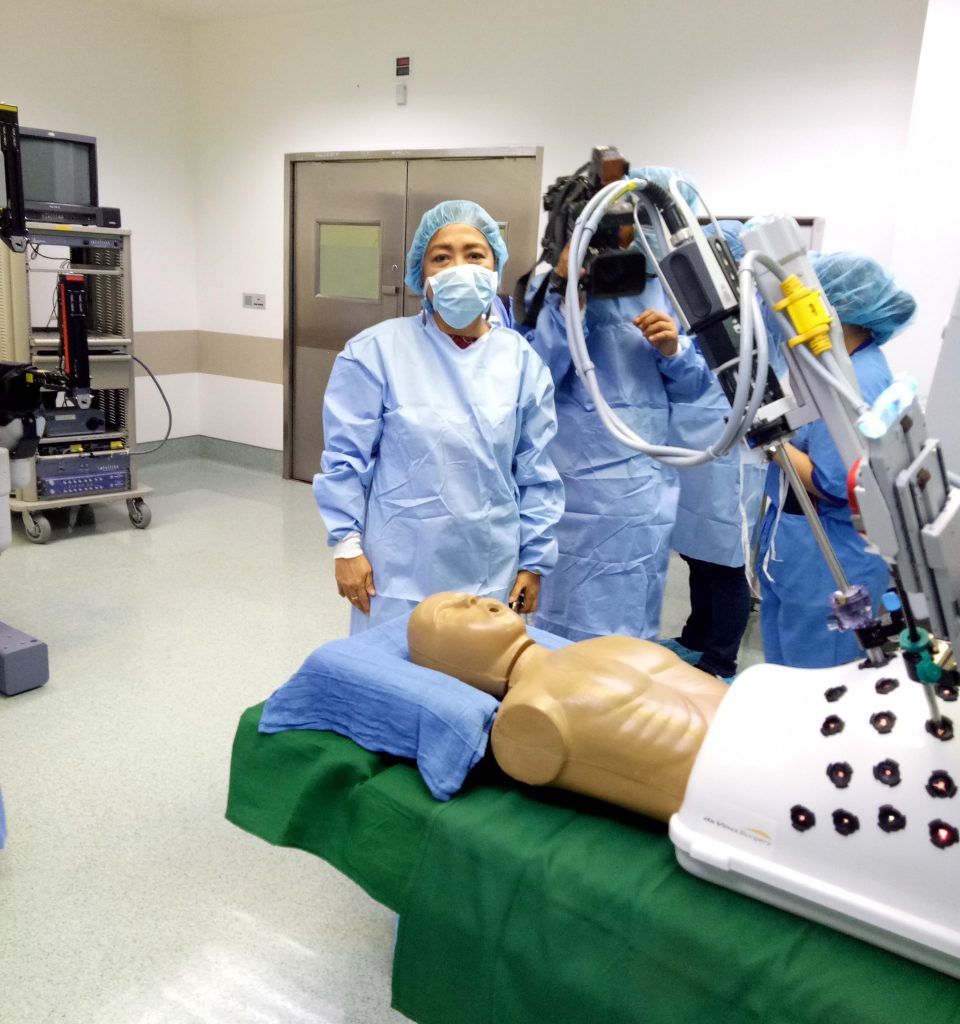 It was strange seeing media in sterile gowns but we were eager to learn more about the future of surgical procedures. The Medical City (TMC) has been offering robotic surgeries since 2010 for procedures that target difficult and hard-to-reach areas. . Doctors at The Medical City have been using this innovation for urological, colorectal, and gynecological procedures, which focus on sensitive parts of the human body.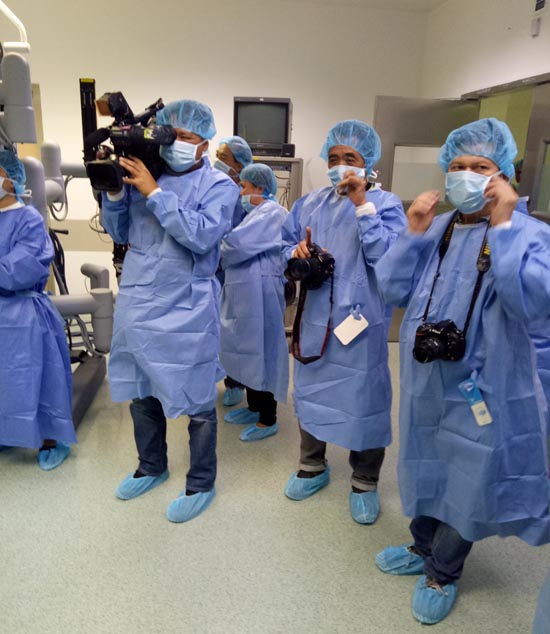 Dr. Julius Cajucom, TMC Urologist and head of the Robotics Surgery Program of The Medical City, explained that  prostate surgeries target a "tight area" in the body. "The degree of difficulty is so great," explains Cajucom. "The area is very tight, and movements are so limited." The use of the robot makes the operation in the said areas more convenient and easier.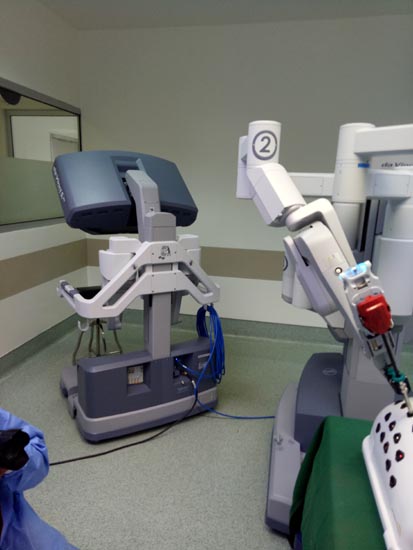 console of the Da Vinci surgical system
The advantages of robotic surgeries are manifold. Compared to open surgeries, it only makes tiny incisions on the patient's body where holes are made, as in laparoscopic procedures.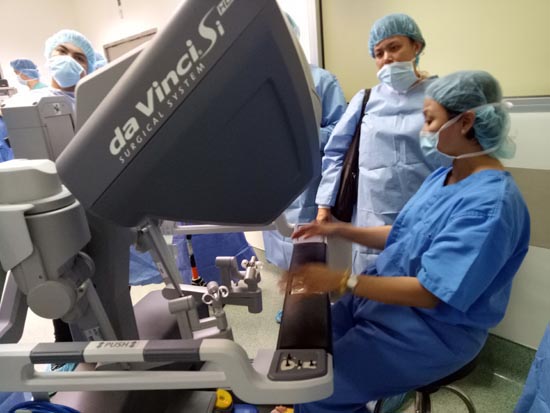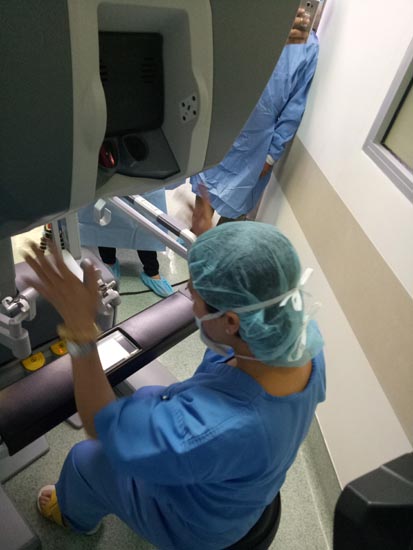 Through these holes, the arms of the machine are inserted to perform the needed operation within the patient's body.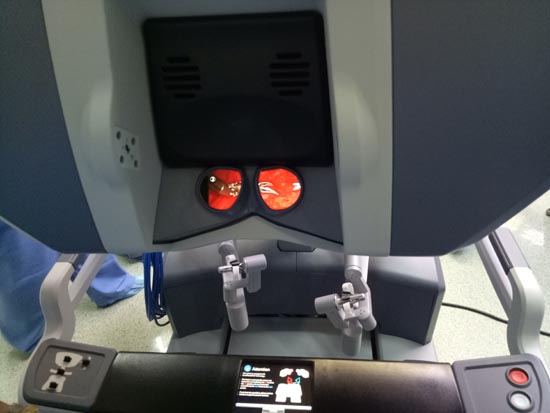 The doctor operates the robot through a console that allows him to see the inside of the patient without having to open him up. Since the patient has smaller incisions, the chances of infection from external causes are minimized.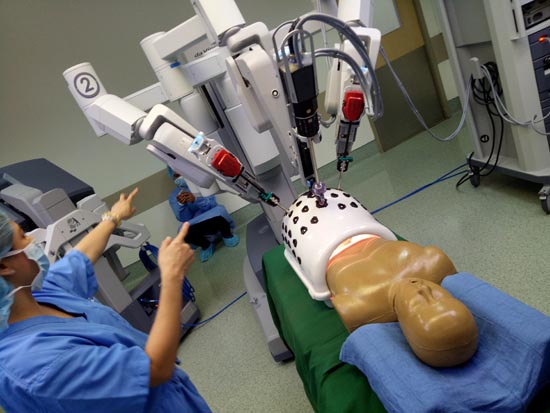 "It is less traumatic, less bloody, causes less pain post-operatively, and promotes faster recovery," says Cajucom.
Dr. Kristine Katimbang, TMC Robotic Gynecologic Surgeon, says robotic surgery is beneficial for many gynecological procedures, such as hysterectomies, myomectomies, and excising ovarian cysts, endometrial cancer and cervical cancer. Katimbang adds that many patients who undergo robotic surgery leave the hospital in just a day or two.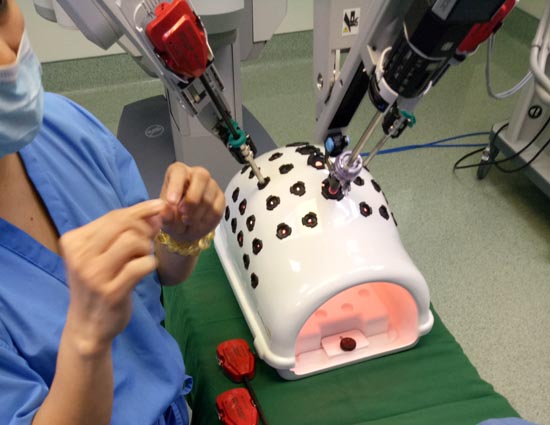 "Since there is no pain, they can move easily. They can eat well after a procedure, which isn't the case compared with an open surgery," she says. "Since there are no long incisions, there is less pain, less stress, and less agony. You cannot imagine how doctors feel when they see their patients with smiles on their faces after robotic surgery."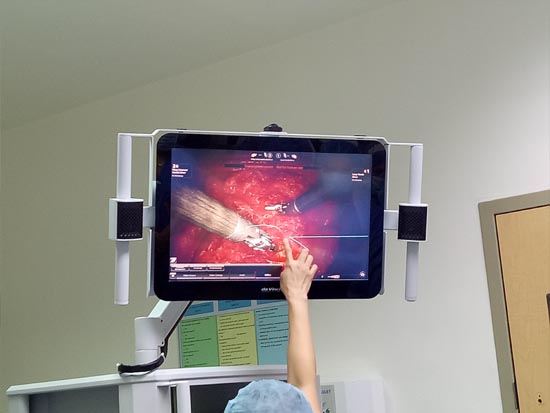 Vision system
Take a look at the incisions of a hysterectomy using Open surgery, traditional laparoscopic hysterectomy, and da Vinci Single site hysterectomy .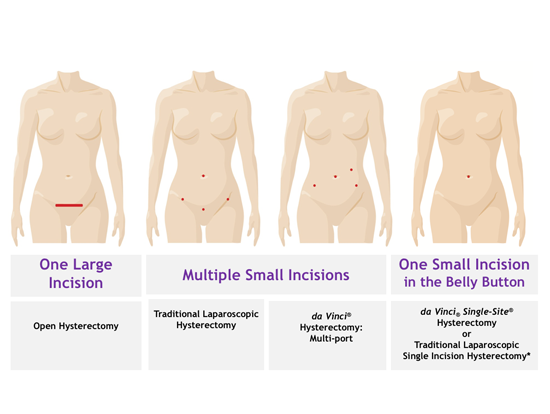 The Medical City highly-qualified personnel trained with the leading health institutions abroad. While the procedure is presently available for urologic, colorectal, and gynecological operations, Katimbang says it can also be utilized for head and neck, trans-oral, thoracic, and vascular surgeries. Patients no longer need to fear surgeries and their after effects on their bodies with robotic surgery.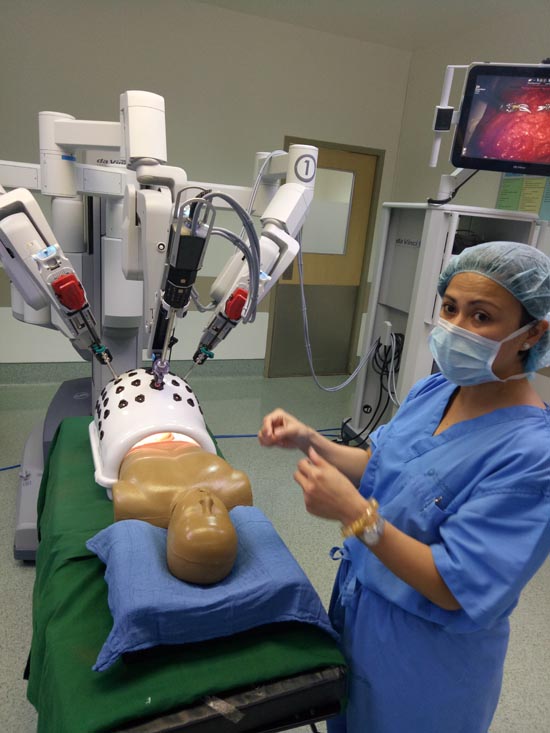 If you want to consider surgery,  there are options now. Robotics surgery provides an alternative to both traditional open and conventional laparoscopic surgery, putting the doctor's hands at the controls of a state-of-the-art robotic platform. It enables physicians to perform even the most complex and delicate procedures through very small incisions with unmatched precision.  Benefits to the patient includes
Shorter hospitalization
Reduced pain and discomfort
Faster recovery time and return to normal activities
Smaller incisions, resulting in reduced risk of infection
Reduced blood loss and transfusions
Minimal scarring
It is best to talk with your doctor about the benefits and risks of robotic surgery and how it compares with other techniques, such as other types of minimally invasive surgery and conventional open surgery.