Protest against MERALCO electricity price hike. Join Facebook page.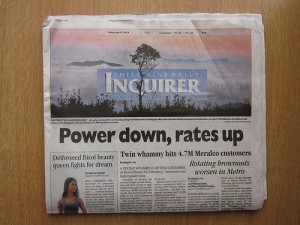 It was my daughter who first made me aware of Chuvaness Meralco bill for one month worth PHP 41,902.95 pesos. Poor Cecille has lost sleep and energy to do anything and trying to make sense of this. I too was perplexed when my usual bill of 8,000 pesos suddenly hit close to 15,000 pesos. Thinking it was my two girls airconditioning consumption, I advised them that our electricity bill was just too much. I thought it was that grounded lamp outside the gate.
Really, why does it have to be double that amount? Couldn't there have been some way for us to slowly absorb the cost?
I can't imagine how my bill will look like next month. It is bound to go higher. Manila Electric Company (Meralco) customers suffered a double whammy on April 8 with the rotating brownouts worsening to three hours and the announcement of a P0.93 per kilowatt hour (kWh) increase in generation charge. Electricity sold in the Philippines ranks as Asia's third most expensive commodity, thanks to the decisions made by all presidents since 1986, according to an industry expert here. Each new government program to build a power plant added to the expenses passed on to consumers to explain the high power rates. Can we blame Meralco alone? MERALCO is just a power distributor, they don't have control over the costs of electricity. The new owners of MERALCO are Manny Pangilinan/MVP of First Pacific/PLDT and the San Miguel Group.
A comment found in Chuvaness entry shows that there are alleged ties to our president.
The power transmission company which delivers electricity around the Phil. is operated by The National Grid Corporation of the Philippines (NGCP)which is owned by a mainland Chinese company, Calaca High Power (of the Coyiuto) and Monte Oro Grid Resource (of Razon group). It was alleged that these group won the bidding for NGCP because of Razon's close ties to FG and GMA. However, there were reports a few weeks ago that Henry Sy's son is buying the shares of the Razon group. With this, we can stop going to SM malls and dept. stores and just go to other malls to shop.
Customers like Chuvaness and I are INFURIATED.
How can our bill be higher than people in the US, Netherlands, Australia, where people earn much, much more?

How can the government allow this? I cannot understand why we have a president who doesn't care about the people. I am hoping that the next president will address this problem of oppression. Electricity isn't like PLDT and Globe where you can just switch if you're unhappy with the service. People need electricity to survive. Our kids need aircon in this heat.

This is why foreign investors don't want to come here. This bill feels like making me pack up and move to Holland. Merlaco and the government have to realize that when they have these brownouts and high electric rates, investors are gonna pack up and move somewhere else. What is going to happen to the thousands of call center employees that contribute to our economy?

I want to know who is getting rich at our expense because I'm SO MAD AND I'M NOT GONNA TAKE THIS ANYMORE.

I want to know which president Meralco is supoorting. I want to know which presidential and senatorial candidates are willing to make a stand.
Please retweet this post and share on your sites. Good luck to us all.
How was your MERALCO bill last month?
If you are a victim, protest against MERALCO electricity price hike. Join Facebook page.
Spread the link on your blogs, Twitter, and social networks.
Photo from Chuvaness