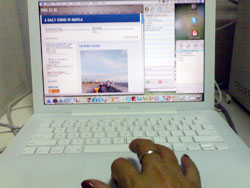 Aside from this blog, I maintain a few websites and blogs for pro-blogging purposes. Don't get me wrong, I blog for fun and with a goal in mind but if one can make money on the side, it's an added bonus. ( If you have no idea what a pro-blogging is, read "How Bloggers Make Money Online".) I became a pro-blogger by accident only this year after reading up on Google adsense and reviving abandoned domains left behind by my daughter. To my amazement, I discovered that my daughter's Photo Gallery (which she started in 2001) raked in a modest Google Adsense income. The photos in demand are mainly food and Philippine scenery photos. Our lonely overseas Filipinos must be missing our lechon (roast pig) , barbecue and other Filipino dishes. Comments like "I can just taste it" or "How can I order this lechon?" etcetera prompted me to launch a Pinoy Food Photo Blog and Manila's Daily Grind (sights and sounds). Taking amateurish photos is also a passion which I took after my father. Oh how I remember him saying "kodak . kodak! Picture! Picture!" even if I haven't even imbibed the breathtaking scenery of wherever we were travelling at that time. And because of the random photos that dad took, I learned to beam a "closeup" smile. A picture is forever so why not give your best smile. Sadly enough, I took after my dad's obsessive photography and now my daughters do the same… posing their pearly whites in the best smile they can ever emote.
You will always see me armed with my Canon Powershot and my cellphone camera ready to take photos that amuse or entertain me. My photos have inside stories that I'd like to share. I am also curious if my fellow photo bloggers encounter the same experiences like me.

(enlarge)
At the Fil-negosyo expo, the owner (partly shown above) of the booth asks:
"What is the photo for?"
"Oh, this is for my blog."
"What is a blog?"
"I write about things on the internet. It's like a website."
(How do I explain it in layman terms?)
"Oh, you're a columnist"
"Sort of. I write in my blog." (Stumped. Lost in explanation)
Lesson: Not many people know what blog means. So don't try.

(enlarge)
The partner of "Chillers" saw me taking this photo. She's the lady in green.
And what did she say?
See exact conversation on previous photo. 🙂
Lesson: Just because you are a blogger doesn't mean everyone knows what a blog is.

(enlarge)
While taking random shots of SM Mall of Asia, the poor guy ducks away from my camera.
Lesson: people don't want to be caught in action because maybe they are not supposed to be there in the first place.

(enlarge)
Also at SM Mall of Asia , my daughter keeps saying
"Mom I don't think you can take photos here." . I point out to a group of shoppers taking photos.
"yes, but that's because they are tourists. People will think we're tourists"
"Oh let them think."
I feel like my daughter wanted to disown me as I start clicking away. The photo above looked like she wanted to spare me from embarassment, so she stepped in within my camera range. People will then think I took a photo of her.
Nice try.
Lesson: Your daughter wants to protect you from clueless people who have no idea what a photo blogger is.

(enlarge)
The manager probably noticed that I was taking photos of the food we ate in Via Mare. As I continued to take photos, he edges near me:
"Do you like the food?"
"Yes, I love it"
No more questions.
Lesson: Just eat.

(enlarge)
The vendor goes up to me "Where will that picture go?"
"I will keep it"
"I hope it doesn't reach America"
(I think it has reached America, sort of ,via the internet)
Lesson: The poor vendor has had his photo taken too often by tourists.

Now who could forget the time while window shopping at the BPI Madness but ended up buying a Macbook?
Lesson: Don't shop with your camera.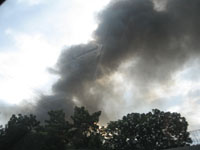 When my daughter took this picture while I was driving, we had no idea where the fire took place. Spotting a policeman, Lauren rolled down the car window and as soon as she asked "Where 's the fire?", a gust of black smoke swept inside the car, almost gagging us. Fortunately, the traffic was light enough and we were able to leave the scene of the fire before the smoke choked us.
Lesson: Don't roll down your car window if near a fire scene.
At Herricks Taiwanese Restaurant:
The waiter announces " our specialty is ROAST coffee"
I was thinking ""what's so special with ""roast coffee"?
Then my order arrived and was surprised to see this….


enlarge
I Heard it wrong…it was literally ROSE COFFEE not roast coffee…
Cute little rose bud with a rosey taste….something different
LESSON: Ask the waiter to spell your order next time.

At Ponzo's restaurant at our Parish Church, I eagerly took photos of their fusion dishes.
The girls wailed "Are you done taking the photos? "
"I'm hungry"
"Oh sorry. you can eat now."
Lesson: Don't take photos if you're kids are hungry.
I have more but I have work to do . (To be continued)