Updated August 6, 2013- Updated for reporting and getting a cab in Metro Manila
To report crime via social media: Tweet @NCRPOReact or Cellphone number 0999-901-8181 or 0915-888-8181
Send your complaints to LTFRB hotline 0921-4487777 /02- 426-2515.
Report abusive cab drivers via web or an app www.taxikick.com or
TO get a cab: Check @grabtaxiPH . Here is their website: http://grabtaxi.com/

Much as I want to share the good news, I believe you need to read this. My daughter was nearly victimized by a modus operandi yesterday night but she wasn't because the scene sounded so familiar. As the surreal incident unfolded, she slowly planned her escape. I used to think this stuff happens only in forwarded emails where I can't verify the truth of the content. Turns out one of these forwarded notes or emails have some truth.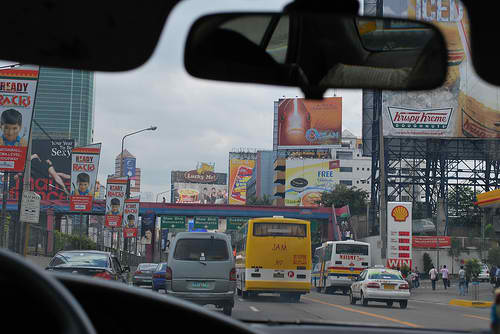 I learned to let go of my two adult daughters as early as college but totally letting go once they graduated. My girls got to use the public transportation system only in college. By that time, I learned to let go of worry. I am aware of the dangers and risks in our transport system but I didn't want them to live in a perpetual cloak of fear. During their pre-college years, it was either me or the driver that brought them to school or any destination in Manila. It was easier to control their activities when they were younger since they were a bit obedient in those days with limited social life to boot.
My only request from my girls are SMS updates and be safe and responsible. Not a small feat to ask.
I was expecting my daughter to be at the MRT station in Megamall at 8:30 PM but it was taking her some time. I dragged my husband to drive for me since I was so tired. She sent me a text message, that indicated the plate number of the cab. It is normal practice for my girls to take down the plate number. I pray to high heavens for a blanket of protection to my girls as they commute or drive.
Before I could reply, she called me:"Mom, I nearly got victimized from a modus operandi but nothing was taken from me.
I am here at the Makati Public Safety Authority (MAPSA) outpost near Cash and Carry. Please pick me up here".
Glad that she was safe, I am thankful that she left the taxicab during a traffic stop.
When we picked her up at the nearby KFC restaurant, the first thing she told us "I read this facebook note about a modus operandi and felt it was going to happen to me.."

Here is that facebook note:
From:mary ruth causing [mailto:causingmaryruth@ …]
Sent: Thursday, October 09, 2008 10:59 PM
To: mary ruth causing
Subject: Warning of a Modus Operandi

Dear friends,

I'd like to share a story of what happened to me last Monday, October 6, which appears to be a modus operandi done by people with criminal intentions. My purpose for sharing this with you is to forewarn you of such incidents so that you may keep yourselves safe.

At about a quarter to 7 in the evening, last Monday, I left the office and walked out of Tektite building towards San Miguel Avenue , Ortigas, to ride a cab. It was just right after a brief drizzle, so the roads were almost empty of cars and people, although it was still a bit early. I'm accustomed to going home by myself if I feel like it, and riding cabs without any problems for the longest time.

I was walking along Exchange Road in front of our building, and have already crossed Pearl Drive , when I saw a cab slowly cruising along Exchange Road from San Miguel Avenue . It was an old, a bit dilapidated, white (seemingly) Toyota Corolla, with a yellow-lighted "taxi" on the roof, with black scrawl of the taxi's "name" on the side (I didn't notice the name written there). It didn't have any passengers on board and I thought it a bit odd that a passenger-less cab would be coming from San Miguel Avenue towards Tektite at a time when taxis are supposedly full. I was more accustomed to seeing taxis with no passengers coming from Pearl Drive towards Tektite on its way out back towards EDSA or in the opposite direction of C-5. But it didn't quite get to me. I was tired and needed to go home to rest. I just thought that the driver was trying to get passengers.

I flagged down the slow moving taxi and got in. I said I was going towards EDSA, so the cab went its usual familiar route of rounding the one-way Exchange Road , out to San Miguel Avenue , left to Megamall, and right towards EDSA. I normally would text Tony of the plate number of the taxi, but at that time, I didn't. I normally would check the locks of the car doors, but this time, I only locked the ones on the front and back passenger seats (right side, because I saw that the left side door was locked). Everything was normal, except that
it was still going its slow pace. The driver was a slim-built, middle-aged man, with balding head (some hairs on the side), wore a baseball cap and a worn-out but decent white polo jacket.

Near the foot of the flyover towards Ortigas Avenue and EDSA, he requested me in a kindly manner to please move to the other end of the passenger seat because "ma-fla-flat na po yung gulong ko. Spare lang yan e." where I was sitting. I was sitting at the right side of the passenger seat at the back, and promptly moved to the left side. I was even able to converse with him, saying "a ganun ba? Hindi ba delikado yun na tumatakbo tayo sa EDSA na pa-flat na gulong n'yo?" "Hindi po, malapit lang naman po kayo, di ba? Kaya pa po yun," he smilingly said. And, all along, we were slowly moving across the flyover at EDSA. After the flyover, he slowly veered towards the inner side of the yellow lane, but I thought it was because "inaalalayan niya yung sasakyan."

When the taxi crossed the gate of Corinthian Gardens , it further slowed down, and I saw from afar two men seemingly waiting for a bus. When the taxi neared the two men, they gestured towards the taxi, and it suddenly dawned on me that this could be a hold-up. I initially tried getting the lock of the door to my side open, and was stricken by horror that it didn't budge. It seemed to be jammed (or perhaps child-locked, on hindsight). And the horror of horrors happened. The taxi stopped by the two men, and the driver announced, "'wag ka gagawa ng iskandalo, hold-up 'to," and promptly opened the locked doors on the right side doors of the front and back passenger seats. Everything went fast.

The two men briskly went in, one at the front passenger seat, the other beside me on my right. I thought in horror "this can't be happening to me!" All I can scream was "ay! ay! Diyos ko! Diyos ko!" The driver said to the two men, "wag n'yong sasaktan 'yan, mabait si ma'am." And, to me, "pera lang ang kailangan namin. Hindi ka masasaktan kung susundin mo kami." One of the two men was also middle-aged, slim-built, with balding hair. The other was younger, about in his mid- to late-twenties, gaunt-looking, with high cheek bones, with a thick head of hair. He struck me as someone who was taking drugs.

The next two hours were a gruelling ordeal. They rummaged through my bag and got my money, ATM and credit cards, cellphones, and my jewelry, including my wedding ring. They gave back my bag and wallet, though, but without the money and the cards. We spent the hours going around EDSA from Kamuning to Quezon Avenue , stopping at banks where one of the men went to the ATM machines to try and get cash from my savings ATM and credit cards. They didn't let me out of the taxi to do the transactions. While one man did the transactions at the ATMs, the taxi kept going round and round the Kamuning and Quezon Avenue u-turns. They took away my glasses so that I can't see where we're going. But I was familiar with the places we passed – Timog Avenue , Agham Road , near the Napocor area, and back again to EDSA to go to the ATMs for transactions. They pressed me for the PIN of the credit cards, but I didn't memorize them, but gave them some numbers that I'm not even sure of.

Towards the end, they were pissed off because they couldn't get through the credit cards, and I was afraid that they'd do me in. But, in the end, they let me go, the driver warning me sternly, "wag kang lilingon sa kaliwa o kanan. Dire-direcho lang, kung hindi, babarilin talaga kita." They gave a 100 peso bill "pamasahe para makauwi." They dropped me off at Agham Road , near the Philippine Children's Medical Center (formerly Lungsod ng Kabataan) at about 9:30 p.m. There was no one in sight, another light drizzle has already passed.
One of the men accompanied me out of the taxi, pushed me forward, and ran back to the taxi. That's when I ran and ran towards Quezon Avenue until I boarded a jeepney at a stop light. The kindly jeepney driver motioned me to a mobile police patrol when we passed by one, and I finally came to the police precinct at Kamuning EDSA to tell my tale. I didn't even get to see the taxi's plate number.

They informed me there that that has been a modus operandi of these criminal elements, plying the route of Quezon Avenue , Timog, Agham, even Kamuning areas. They also would give some money for "pamasahe." They would say it's for a sick wife, etc.

I have talked to some employees of a company in the Ortigas area who fell victim to the same modus operandi. Same taxi, same description of the driver, same alibi about a flat tire, requesting the passenger to move to the left side of the passenger seat, where the door's lock is jammed. Same giving of the 100 peso bill at the end of the hold-up. Last December, an employee rode the dubious taxi at SM Megamall at about 9 p.m. and the hold-up was announced when some men boarded the taxi at Star Mall. The person was held-up until 11 p.m. The other, with the person's 6-year old child, boarded the taxi at the Robinson's Galleria and was also held-up by men who went inside the taxi. I myself, boarded the taxi near where I work, imagine that. And, the security guards were just a few meters away.

Please be forewarned of this modus operandi. We're facing harder times, and December is nearing. Take extra care, friends. As for me, I believe it was the prayers that helped me. All throughout the ordeal, my Savior was there, guiding me in what to say or do so as not to aggravate the situation until freedom came. They didn't touch or harm me. Praise God!

God bless us,
Ruth
There are some similarities to the above facebook note except that she was able to escape. Some notes she told me:
1. The taxi cab was old . The driver was also older older than us.
2. The driver kept telling sordid details about rape victims. He found delight in conveying rape stories.
3. He told her to move to the right side because he wanted to check if a piece of paper was below her seat. He told her to bend and search for that "imaginary paper" below the seat. She refused to move and left the cab during traffic stop.
There is more but it is sick and perverted. You know the drift?
It was at this point that she chose to leave the cab and reported the incident to the MAPSA.
There is one good thing that happened in this incident. She met Field Inspector Renato Escotido who assisted her with the police report. Apparently this modus operandi indeed occurs.
It pays to read some of this forwarded notes or email about modus operandi. Who knows it could be true?
You are reading it from me, a mom that you know.
My daughter's advice:
1. If it feels funny, it is probably is. Trust your instincts.
2. Huwag ka na mahiya . Don't look back to pay the cab. Just leave .
3. Look for police or traffic outpost to report incident.
4. Taxi drivers have no right to interrogate you about your life. Stick to politics or current events.
(Will update soon as we get back from the Land Transportation Franchising & Regulatory Board LTFRB)

Safety Tips when taking a Taxi

Report abusive taxi drivers to the LTFRB hotline 0921-4487777 /02- 426-2515. or the Department of Transportation and Communications (DOTC) Hotline 7890. or at www.taxikick.com
1. Send an SMS to a friend/family member, noting the taxi's plate number, as soon as you get in.
2. Always sit in the back and keep your belongings right beside you. Also, make sure all doors are locked.
3. Keep to general conversation with the driver. Never disclose personal information.
4. Watch out for sleep-deprived drivers. If you feel uncomfortable, ask the driver to stop in a busy familiar area and immediately get out of the taxi.
5. Make it a point to familiarize yourself with your destination by looking at a map or asking directions from someone familiar with the place. Advise the taxi driver in advance not to take shortcuts and stick to major roads, especially at night. If the driver insists on taking his own route, get out at the earliest opportunity.
6. Never share a taxi with strangers.
7. (suggested by an FB friend) what I sometimes do pala… i pretend to call someone and give the taxi plates… Tipong, "mahal, nakasakay nako taxi, so and so. Yes, sana hindi traffic no. Ha? ok sige text ko din sayo ng llate number. So siguro expect me in 10 minutes? Ok bye."
I text the plates kasi… But hindi naman nila alam yun. Basta pag iffy feeling ako, i pretend call, para alam ng driver na I am expected somewhere.