Mommy bloggers, and Future Mommy Bloggers, come join our Mommy Bloggers Booth on May 10 from 10:00 AM to 8:00 PM at the Expo Mom 2009, Rockwell Tent. Yeah, we can only be there on May 10 because we are attending the iblog5 on May 9. But don't miss us there!


Your favorite mommy bloggers will be hanging out there and present a powerpoint slideshow of blogging 101 and other mom blogger sites to booth visitors.
If you are a mommy blogger, please post a description of your blog and the url on the comment section so we can include your url and screencap of your blog in the presentation.

There are other activities that you might also find interesting other than blogging. On-stage talks and activities are:
1. Pregnancy do's and don'ts
2. Breastfeeding
3. Baby Sign Language
4. Baby Massage
5. Mom Means Business: Mompreneur Talks
6. Mom and Baby Yoga
7. Scrapbooking for Mommies
8. Arts and Music for Infants and Kids
9. Fashion Show for Baby and Mom Fashionistas
10. Baby Wearing
11. New Finds- Showcase of new unique products from the Exhibitors
12. The Active Daddy
13. Your baby can Read!
14. Talks by Major Sponsors
15. Games and Raffles Draw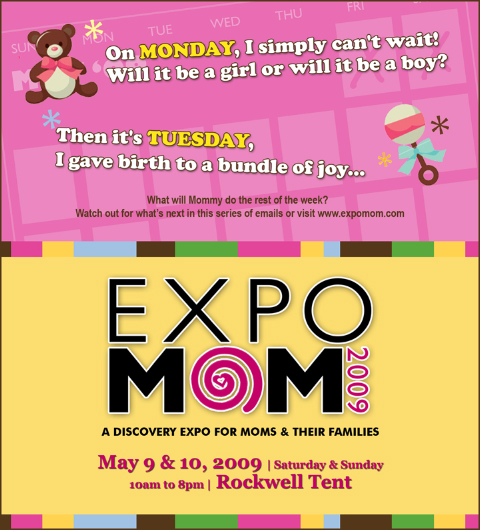 Don't forget Mom Bloggers on Expo Mom 2009
Date: Sunday, May 10, 2009
Time: 10:00 AM to 8:00 PM
Where: Expo Mom 2009, Rockwell Tent
Mommy bloggers, please post your blog url below.
See you all!
Expo Mom 2009 Info
More info on Expo Mom 2009.
Everyone's welcome at Expo Mom 2009! Here are some information about how to attend the Expo:
1) A minimal entrance fee of 25 pesos will be charged at the gate on May 9 and 10.
2) Pre-registration to Expo Mom is not required, but it is encouraged.
3) The first 500 pre-registrants will received an Expo Mom bag at the entrance.
4) To pre-register, email the following info to [email protected]:
Complete Name
Address
Tel. No.
Mobile No.
Email address
Are you pregnant? Y/N
Are you breastfeeding? Y/N
How many kids do you have? What are their ages?
Where did you hear about Expo Mom?
5) Upon registration, you will receive a confirmation text which you should present at the Expo Mom entrance in order to receive your free Expo Mom bag.
Hope to see you at Expo Mom!
Schedule

MAY 9, SATURDAY
10:00 am- EXPO MOM OPENS
11:30 am- FORMAL OPENING & WELCOME
1:00 pm – Sponsor's Portion
1:30 pm- What every woman needs to know about cervical cancer
2:00 pm- Kindermusik for Toddlers & Kids by Teacher Jeannie Castillo
2:30 pm- Baby Sign Language by Jaymie Pizarro
3:00 pm- Sponsor's Talk: Baby Ready with J&J
3:30 pm- Attachment Parenting & Baby Wearing by Jen Tan
4:00 pm- Yoga Kids by Michelle Aventajado
4:30 pm- Musical Number by My Masterpiece Multi-Arts school
5:30 pm- Onstage Games
6:00 pm- Mom Massage Demo by Vier Tajonera
Raffle Draw
8:00 pm CLOSING

MAY 10, SUNDAY
10:00 am- EXPO MOM DAY 2 OPENS
10:30 am- Musical Number by My Masterpiece Multi-arts School
11:30 am Onstage Games
12:30 pm Gymboree Portion
1:30 pm Healthy Meals by Dona Elena Olive Oil
2:00 pm Belly Dancing for Expectant Moms by Dr. Faye Cagayan
Onstage Games
2:30 pm Your Baby Can Read! Talk
3:00 pm Happy Belly Health & Fitness by Rome Kanapi
3:30 pm A Mom's Life Talk Show (tentative)
4:30 pm Mommy Fashion by Contour Fashion/ D&A Fashion
5:00 pm Expo Mom Get Together with Live Acoustic music by Paolo Santos
Raffle Draw
8:00 pm Closing
*Schedules may change without notice.