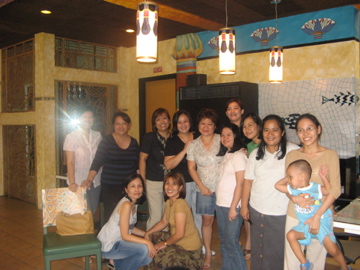 The Pinoy Moms Network' Mommy Lunch at Swiss Deli and Bistro finally happened.
Photo Above
Below (Left to right): Jane and Salen
Standing (Left to right): Rachel , Lynn, Me, Connie, Dine, Feng, Cess, Julie, and Lisaflor
Standing behind the group: Chato
Kudos to Rachel for coming all the way from Batangas. So sorry Sheila Marie (based in Africa) but I totally forgot that I had Skype running in my macbook.
So what did 12 moms exactly do ?
1. Build new friendships



(Dine and Jane)
2. Take photos of each other for posterity.
Look at those cameras pointing at Connie and myself.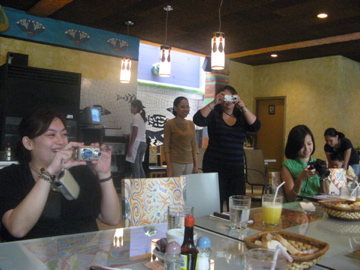 3. Making plans for Pinoy Moms Network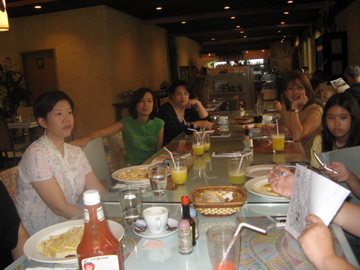 4. And of course having lunch and exchanging parenting notes.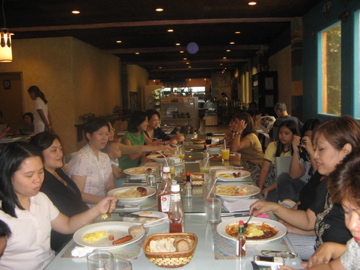 Read more from the other mommy blogs: (others to be added as soon as new blog entries arrive)
2. Pinoy Moms Network Lunch by Julie
3. Lunch with the Mommies of Pinoy Moms Network by Lynn
4. mommy lunch by Cess
5. The Mommy Lunch by Connie
6. Recipe for New Friendship by Rachel
7. Connecting Names (rather blogs) with Faces at Pinoy Moms Network by Dine.
8. Blogging Moms' Lunch Out by Salen
9. The Pinoy Moms Network Lunch by Jane
10. The Mommy Lunch by Connie