The latest local showbiz buzz happened on Mother's day of all days! What struck me is Annabelle Rama's message to her daughter, Ruffa Gutierrez regarding the split-up with her Turkish husband, Yilmaz Bektas. As a backgrounder,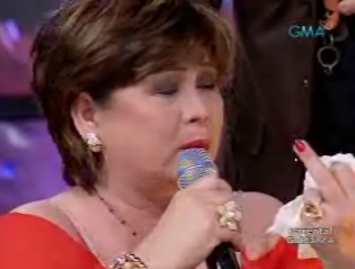 View Video of Annabelle Rama's message to her daughter, Ruffa or
Read transcript of Annabelle Rama interview in GMA 7
""Napakahirap maging nanay. At saka ang anak ko, ang layo-layo sa akin palagi, nasa Istanbul. Biro mo, for one-year-and-a-half, hindi siya umuwi sa akin. Ngayon, nandito siya sa akin, haping-happy ako. Kaya Ruffa, ang desisyon mo, tuldukan mo na. Please lang, maawa ka sa akin. Kung gusto mo akong matigok, pumunta ka sa Maldives. Kung gusto mo pa akong mabuhay nang matagal, mag-stay ka sa akin.
My Tagalog is not too good but from what I understood from the above message is this It's difficult being a mother. My daughter lives so far away all the time, in Istanbul. Imagine, for a year and a half, she didn't go home to me. Now that she is here, I am happy. Ruffa, stand by your decision. Please, have pity on me. If you want me to die, go with him to Maldives. If you want me to live longer, stay with me.
They say "Mothers know best" and I believe Annabelle when she says that all she wants is the best for her daughter. The thing is her message reeks of manipulative control. It reminds me of myself a few years ago when I freaked out over my daughter's boyfriend. I said the same cheesy dramatic lines when I told her to stop seeing her boyfriend. Guilt-tripping never works. You can't blame me or Annabelle for using guilt-trip because our parents also used the same tactic to control children's behavior.
Look at these two scenarios I had with my daughter:
1. Sometime 2004
Me (in hysterical fit): I don't like your boyfriend. He went onto you because your best friend busted him. He could do the same thing to you one day. I forbid you to see him. (starts being dramatic)
Daughter: No, he is not like that. Why should I stop seeing him?
Me: Because I said so and I have this gut feeling he will hurt you in the end. I am going to die early if you defy me. blah blah
Note the defensive reaction of my daughter. Well, Lauren actually stopped seeing the guy at home but behind my back, they saw each other at school or some place. A year later, I changed my parenting style and gave them freedom. Eventually , they broke up. And guess what? My gut feeling over the guy was true. (She explains the betrayal in this podcast)
2. A few days ago
Daughter: I have a crush. Click (url provided) to view his photo.
Me: (alarms start ringing as I see her crush surrounded by so many girls) Why does he have so many girls?
Daughter : I don't know.
Actually if that was the old me, I 'd say in a raised voice, "Lauren, this guy has way too many girls and you could just be just one of his collection. Don't fall for him. yadda yadda". Of course, I said nothing of that sort. I just made one measly observation hoping it'd ring alarms in her beautiful mind.
A few days , later I ask "how's your crush?"
Daughter: Nothing . I don't really like him. He has way too many girls.
Secretly, I smiled inside. She probably figured it out by herself . I didn't need to make a "I don't like him or I like him" statement. I didn't need to feed her on my old guilt-trip habits. I didn't need to be a controlling parent. I know that control is an illusion especially the kind of control I was trying to exert on my daughter's love life in the past.
I allowed her to make her own choices.