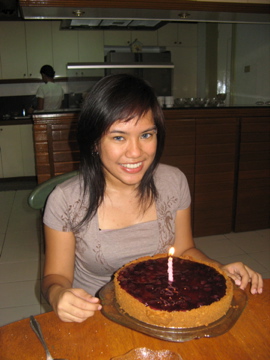 My beautiful daughter is now 21 years old. A few weeks ago, she envisioned her 21st [tag]birthday[/tag] in our new home. It's one of the many reasons I moved heaven and earth to finish the renovations at the soonest time possible. A 21st birthday celebration in our new home seemed the best [tag]birthday gift[/tag] for Lauren. Much as I love to prepare fancy dishes on special occasions like this, I opted to cook simple fare at Lauren's request: pancit canton, lasagna and barbecue. And she added "and a birthday cake baked by you.".
*Groan*
I know what she meant by birthday cake complete with icing and fancy decorations but I thought it'd be too cumbersome. I have yet to get used to my new kitchen. I settled for something less complicated: blueberry cheescake. Even if our home furnishings are still incomplete and boxes are still unpacked, Lauren still wanted a small lunch party with family and close relatives.
And we managed to pull it off.

Inspite of the piercing hot weather, Lauren and her cousins managed to cool themselves off in her room, totally enjoying themselves by strumming the guitar, cracking funny jokes and just bantering here and there.
And so my little girl is now totally a woman. Being Twenty one years old means she can get married without parental advice. (Philippine Law requires parental advice for those below 21 years old). Boohoo. I know she will still let us know if she wants to get married. We don't restrict her on the choice of a lifetime partner. We've been through that discussion many years ago. I trust Lauren knows what is best for her. She knows that her parents are an example that love conquers all. I know she won't be staying with us forever. Who knows she might want to live independently from us?
While she is still living with us, I will continue to savor our mother-daughter friendship, enjoy our belly dancing lessons and gym time , chat or gossip about our loves, shopping and treasure each loving moment.
To my lovely daughter Lauren….I want you to know that I'll always cherish the wonder and joy of watching you grow into a beautiful young lady. I'll always be proud to announce to the world "This is my lovely daughter". And most of all, I'm proud to say that you are my best friend.
Thank you for blessing my life in so many ways.