Meet The Warrior Lawyer, my husband. His blog, "The Warrior Lawyer" was probably inspired from the book, The Warrior Lawyer by David Barnhizer . I've never shamelessly plugged his blog (except through links) in here because he is shy. Yes, a shy blogger.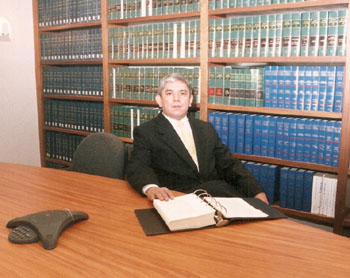 Butch started his blog sometime August 2006 and published quite a few relevant articles for the blogosphere such as Blog Ethics, Libel on the Internet under Philippine Law, Freedom of Expression and more. Just before the Brian Gorrell blog exploded, Butch shared his knowledge on Libel and blogging with a podcast to boot. Being quoted by Manolo Quezon thrills this shy blogger so much that he'd email me just to boast that Manolo quoted me. Simple joys, my Warrior Lawyer. haha. But he wasn't shy to volunteer his services as the resource person for the Libel talk for bloggers.
So why am I writing about my husband, the lawyer?
Well, first, I just wanted to tell you all to go visit his blog. (Shameless plug, of course)
Second, tomorrow the 2007 Bar exam results will be out. The bar exam results was one of the most memorable events in our married life. Butch was just a third year Law student when we got married in 1985. While a student, I took the role as the bread winner while he stayed home (whenever he wasn't with the guys or studying) to take care of the babies. It must have been 1989 when he took the bar exams. He started his review on a July with the exam scheduled on a September. I know it's crazy because others review at least 4 months ahead. But yeah, Butch is smart and relied heavily on stock knowledge. After all he is a third generation lawyer.
With crying toddlers at home, Butch had difficulty concentrating on his review. Often he'd study in the spare bedroom. That must have struck a big impression on my little girl's perception of a family. Little L drew her idea of a family. She handed me the drawing with a proud look written all over her face. What I saw was a representation of my two daughters and myself outside our pretty little house.
I asked "Where is your dad?"
L pointed to the house "He's inside sleeping. He's tires studying. Ssshhh."
Awww…
It is really stressful and agonizing just waiting for the result. My husband and I have been there. On the day he found out he passed the bar exams, we celebrated in Barrio Fiesta. As we sipped on our sour sinigang soup, he already envisioned himself as a law partner by the time the girls reached High School. The Law Office materialized as planned but in the end, the law practice did not really give all the happiness, nor harmony desired. Money, status, and success replaced his original goals. He took another path, being employed for a change. Dreams change. Goals change. Yet, he strives to achieve a Way of Being–the Warrior Lawyer.
To all the new lawyers, congratulations. To those that didn't make it, there is always a second time. My brother-in-law (Butch brother), another brother-in-law and my father-in-law took it twice but it didn't mean they were a failure. In fact, they excelled in their careers.
You will all fight like the Warrior Lawyer just like Japan's most revered samurai, Miyamoto Musashi, in which the warrior strives to be one with his/her vocation and prepares with great discipline to achieve his Way of Being.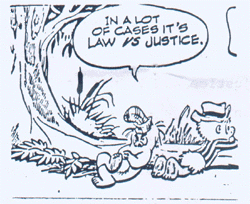 Credit
Cartoon Images