A virtual office was in the pipeline while I was still residing at Makati City. But I've never gotten around to getting one since I've moved homes now. Remember I showed you my Small-Office Home-Office (SOHO) at my old home? Well I'm going to give you a sneak preview of my SOHO over at our cozy home in Pasig City. I don't know which sounds better. Home-office, Business-office (HOBO) or Small-office Home-office (SOHO) ?
I still have a lot of work to do in the house. I want more decors , furniture here and there. Unfortunately, furnishings, home accessories and other decors are quite expensive so they will have to wait. Right now I just have the bare essentials.
Wi-fi reception was poor in our old home because of the thick concrete walls. I'm quite happy that the Globe Broadband was bundled with a wi-fi router and the reception is pretty strong.
I have four workstations with three Internet Service Providers (Globe Broadband, PLDT MyDSL and Smart Bro) for connection redundancy. I like the idea of variety in my work place. Each of my working space has a purpose. Perhaps I want to blog, work on some papers , websites or just go blog hopping. My mood of the day determines the location of my work.
1. Writing Table at the First Level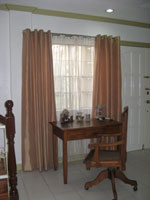 This writing table sits at the foot of the stairs . Originally I planned to put a console table here. But see, a console's purpose in life is decorative . I decided that that every furniture I buy should have functionality.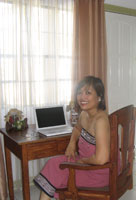 Working here at my antique narra writing table is best at around 7:00 AM after my dear husband leaves for office . Country angels adorn my table. Hearing the chirping Maya birds and gazing at the greenery of the pocket garden is a good start for the day. This nook works best for me when I am in a calm mood.
I usually stay here until 9:00 AM , checking emails, working on webhosting orders or tickets. Then I get up to check household work for the day. When I come back, the cats decide to invade my table.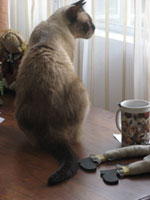 Kylee thinks the window view is lovely.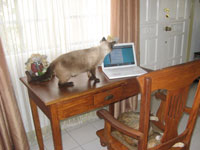 Kylee peeks at my Twitter while Lady naps on my chair.
2. Workstation at the second level
Going up the stairs, the workstation aka mini library greets me at the landing. I want to shield the sunlight with beige Roman Shades but ugh, I still need to save money for that.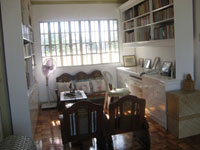 Updated (June 28, 2007)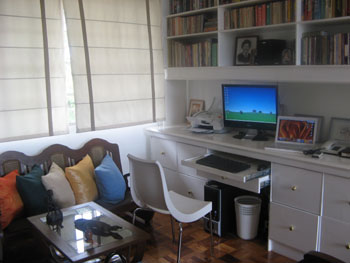 This is my custom-built workstation (built by Connie's carpenter) where my PLDT mydsl connection is. This is where I stay most of my mornings if I need to pay bills, call people or just do paperwork. As you can see I avoid papers on my desk. They are all inside the drawers . Instead of ugly looking Filing cabinets I had drawers built in the bottom. I use a temporary monobloc chair because I haven't found the perfect working chair. If I can't find a white swivel chair then I might as well buy a colored chair. My workaholic mood works best in this working area.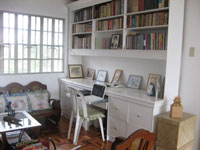 Behind me are Butch books. I keep telling him to sort out his books since it just accumulates dust. It's one reason I shut the windows in this part of the house.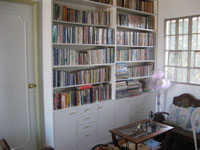 Usually I go the gym in the late morning once I've settled all the work to be done for the day.
3. The couch at the Dining room
The dining room is the favorite part of our home. It's the soul of the house, a place of conversation. When the kids or my husband are having a snack, I am sometimes found lounging on the couch. If work piles up, I can multitask with my macbook while supervising the food preparation, cooking or house cleaning. Most of the time, I am just doing menial work online while seated here.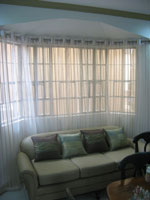 4. My bed.
During extremely hot weather, I stay in my bedroom. Turning the airconditioning of the whole house is not a good idea so I prefer to stay in a smaller room where electricity cost won't be as much. I plan to put a writing table by the bay window as soon as I can save enough for this. I have this thing about windows. I like to pause in between my work hours then look as far as I can .
At night , Butch and I read websites or blog hop before we call it a night. You can see his laptop on his side table.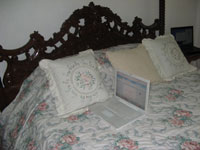 In the rare occasion that PLDT MyDSL or Globe Broadband is down, I still have one more ISP (SMART BRO) found at the kids' bedrooms.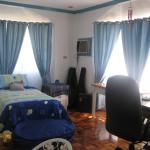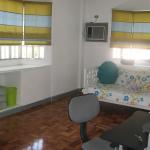 Lauren's blue room and M's Green room
Now if all three ISP's are down, I will just sleep, right?
So there you have it. In my ecommerce business , do I really need to lease an office space when I can easily work at my home office? The flexibility of my SOHO allows me to move around as I work . Sitting down in one area stiffles my creativity. I like to work and enjoy the view at the same time.
Now tell me, what part of your house is a favorite spot for blogging or surfing sites?