I thought I'd go down memory lane and reminisce the days just before I fell in love with my ex-boyfriend (read our love story) .In this day and age, my husband is the so-called brooding artist, emo-ish guy (Think of my daughter, Lauren). I mean he is my total opposite. So why did I fall for him anyway?
Jane posted this meme on her blog and it alsogot me thinking if hubby is really MY type of guy. Not that I doubt if he is MY guy but it'd be fun to see the score at the end of this meme.
So here goes:
1. Suplado = I like suplado guys. There is an air of mystery around them. Butch is suplado.
2. Mr. Shades = Oh yes, groovy. Like that.
3. Masculado = Not too many muscles. Those rippling muscles look scary.
4. Guys who give flowers = Flowers given without any occasion is the best surprise.
5. Smiling face = Of course, a smiling face is way better than scowling face
6. Hiphop = Being a "good dancer" during the late seventies was a must. I thought Butch could dance because everytime a dance music played, he'd dance and wiggle on his chair. Oh dear, but that's all he could do. Dance while seated. Haaay.
7. Guys who ask permission before courting = I would have loved that but nooo…Butch was unconventional.
8. Has earring/s = Though it wasn't the fad then and if it were in this day and age, I'd say NO WAY.

9. Used to chew bubblegum = Definitely a turn-off!
10. Long-hair = Okay as long as it is kept neat , clean and tidy.
11. Bald = Bald is sexy too you know?
12. Antipatiko = No way.
13. Torpe = A little ka-torpehan is cute but only at the start.
14. Computer-games addict = NOPE because that would mean I will be competing attention with his game playing
15. Basketball player = Yes. Butch played basketball.
16. Mr. Count-my-ex's-till-you-drop = No way. The thing was Butch was in a long relationship before me so that was a good sign.
17. Mestizo = Not really my type but I ended up with a mestizo.
18. Guys who sing well = It is a dream quality . Singing a few songs are good enough for me.
19. Quiet/tame = I don't like quiet guys unless underneath that quietness , there is passion.
20. Cum laude = I like smart guys
21. Formal = Formal or casual at the right times. Purely formal is BORING!

22. Friendly = Friendly but not flirty.
23. Mr. I have an opinion about anything & everything = Geezus, if he will have an opinion about every little thing including moi, I will end up climbing the wall!
24. Motorcycle guy = I thought it was cool Butch drove a motorbike.
26. Rocker = I don't like rock.
27. Skate boarder = Am I dating a guy or a little boy?
28. Alaskador (prankster) = Just not too much.
29. Flirt = Only to me .
30. Mr. Campus Crush = If Mr. Campus Crush fell for me, well and good.
31. Bigotilyo = Butch wore a mustache then. I thought it looked really hot on him.
32. Painter = Yes because I can't paint.
33. Galante = YES!!!!!! But beware of "Greeks bearing gifts…"
34. Mr. Love Letter = Sincere, and romantic and sweet letters. No thanks to flattery and empty words. Unfortunately, I only had ONE love letter from my ex-boyfriend.
35. Maporma = Turn-off!
36. Talks Too Much = Tiring!
37. Soccer Hottie = Can be but not a priority.
38. Anti-Christ = Absolutely, definitely, sure as HE-aven…NO, NO, NO!.
39. Mama's Boy = Ewww. I don't relish living with a guy who is torn between his girlfriend and his mother?

40. Hangs Out With His Friends A Lot = No harm within reason. Too much and he is better off dating a guy!
41. Mysterious Guy = Only in a few aspects of his character but too much mystery is scary.Initially magnetic. Too much mystery can be discomforting.
42. Cute Idiot = Male version of dumb blonde? No thanks!
43. Guitarist = That would have been a plus. Unfortunately, my ex-boyfriend never played any musical instrument.
44. Wide Vocabulary Guy = My type of Guy indeed
45. Loves you = The number one priority. DUHHHHH!!!!
46. Tennis guy = A sporty guy is a plus.
47. Dark skin = Prefer fair-skinned.

48. Tall = taller than me of course.
49. Chubby = Sorry but I want my guy fit and healthy.
50. Hairy = A Clean cut look and not much hair on the chest will do.
So how did my husband fare? Of course he raked in a lot of points. Despite his inability to dance or play a musical instrument, I love him anyway. Even if we list down all the fine qualities of our dream guy, it is still the "ding-ding" factor that counts.
So, if you still remember what it was like to dream about your dream guy, take the test as well! And….let me know!
29 years ago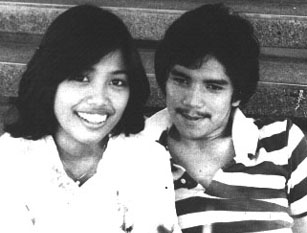 29 years after
Still in love…