Tomorrow, January 8 kicks off the year-long centennial celebration of the University of the Philippines. Spearheading the kick-off rites is the UP Alumni Association (UPAA). While everyone celebrates in their own unique way, I will celebrate my University of the Philippines (U.P.) Student days' memories in this blog. Excuse me for my unabashed display of school pride.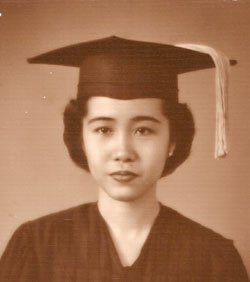 The opportunity to study in the U.P. Diliman campus would never have been possible without the motivation from my mother, the late Salustiana Veloso. She graduated Cum Laude, 1954 with two degrees, BA in Education, Major in English and Minor in Music (Voice). Mom envisioned her children studying in her alma mater, In college, you will study in U.P.. As far back as I could remember, mom always ingrained those words in our minds. (six out of seven siblings eventually did. One chose to study in Ateneo).
Alas, in the early seventies, martial law was declared. My relatives in Manila advised my mom that we shouldn't study in Manila or else we will turn into subversives. Whatever. Mom didn't listen to our well-meaning relatives. She toured us around the U.P. campus during our enrollment. Driving through the majestic Acacia trees along University avenue, mom told us how the students planted trees in the campus. I never got to find out the location of the her planted tree. All I know is that she carved her name "Sally" on the tree bark when it grew. She pointed out the quonset huts that the Japanese built. Her dormitory was in one of these quonset huts now replaced by Ilang-Ilang Residence Hall. Mom also stayed at Kamia Residence Hall where my sister and I eventually boarded in our first year at the campus. Her stories of UP traditions (including the Cadena de Amor Festival, Hayride and Arbor Day, which have all died out today) fascinated me.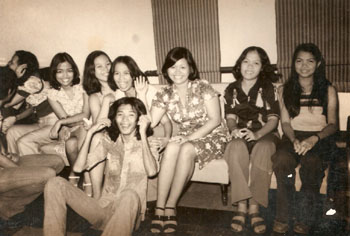 You can just imagine the freedom and the adventure that a Cebuana faced upon her first year in UP. I had to sacrifice the comforts of my lovely bedroom, cooked food, and security of a home. It was all worth it because I finally had the freedom to be myself. Dad and Mom warned us though that the moment we joined rallies and demonstrations, it was back to Cebu. They didn't know it then but my sister and I joined lightning rallies. Student issues centered on Marcos, the dictator, Academic Freedom and the role of Iskolar ng Bayan in the midst of Martial Law.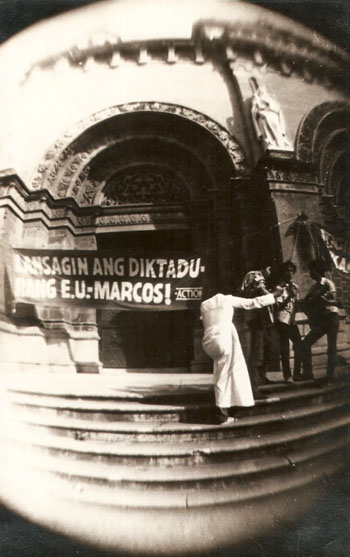 I remember my first rally was in Luneta Park on May 1, 1976. I forgot who organized it now. All I remember was holding hands with my pretend-boyfriend in Luneta Park. If you know Rico J. Puno's version of "The Way We Were", the pretend situation brought me to stitches.
Ohhh Can it be that it was all so simple then
Or has time rewritten every line
And if we had the chance to do it all again
Tell me, would we, could we
Alaala, ng tayo'y mag-sweetheart pa
Namamasyal pa sa Luneta
Nang walang pera
So it's the laughter
We will remember
Whenever we remember
The way we were
Doo do do do do dooo
The organizers told us to be lovey-dovey and pretend to be sweethearts. I guess this was needed so that the police will not be suspicious of any illegal assembly. At a certain signal, a group of a hundred students would all chant Marcos, Hitler, diktador, tuta and converge in front of the Rizal Monument. Those days, immediate arrest was inevitable. I thought it was a giddy adventure oblivious of the danger of being arrested. Raising our fists, stomping our feet around Luneta and chanting Marcos, Hitler, diktador, tuta around ten times, we dispersed amidst the growing crowd. Makibaka, huwag matakot! Makibaka, huwag matakot! It was an exhilarating experience and I could feel the adrenalin rush as we ran into the Quiapo side streets. The police were just behind our back.Too close for comfort.
I pushed my luck once too many until one day, I got trapped along with some UP students inside an auto shop near Adamson University. It was Human Rights day. To make myself incognito, I wrapped my head with a scarf and wore large sunglasses. Sadly, the police were wiser now. They used the fire hose to disperse us and also to corner us into one place. So there I was with my friends waiting for the truck to haul us to Camp Crame. Maybe divine intervention prevailed upon us due in part to the intercession of the St. Theresa's Colkege nuns because suddenly, we were all released. There was a hitch though. Our photos needed to taken by the Intelligence. I complied, of course.
To make matters worse, my dad found out about the near-arrest. To this day, I don't know how he found out. The military intelligence must have informed him. Or the moles so prevalent during those days. Dad told my sister and I Stop attending those demos or go home. This time, I obeyed.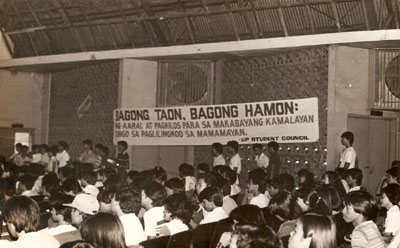 Word got around in the College of Home Economics where I was taking up BS Food Technology of my "activist" stand. U.P. was going to revive the college councils in 1977 and all the colleges were enjoined to elect their representative. I dreamt of being part of the legitimate system of student leaders even if I had to learn how to speak in Tagalog. Eventually, I won as college representative for my course. Don't ask me now what we did. My memory fails me now. Maybe Betty might recall. I just remember that in October 1977, I found myself as a member of the First University Student Council (since Martial Law) with Jessie Gimenez as the head.

You know the sad thing is I can't find any of my college day photos. All I have is this photo of me outside the UP Pilot Plant where I was processing mango juice for my apprenticeship program. Though I was a BS Food Technology (1978) graduate, I only practiced it for two years after graduation.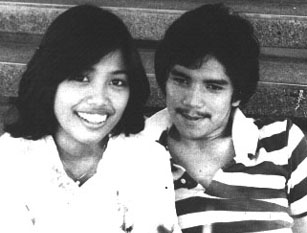 The highlight of my UP student days was meeting Butch, my college sweetheart, the love of my life, my future husband while eating beside Rodic's Diner at the U.P. Shopping Center with my dorm mates. Memories flow as I recall the days we strolled the U.P. campus before our dorm's curfew. Locking our hands together, we often sat by the grassy knoll of the sunken garden and watched the sunset as we wove dreams of being together forever and having babies one day. Amidst the Beegees ""How Deep is Your Love" , time stood still for lovestruck us.
My mom never saw any of us graduate from U.P. but I know she felt at peace knowing we were studying at her alma mater. Just like my mom, I brainwashed my children to study in U.P. Diliman. Today, M is BA Psychology student while L is in the Masters program of Creative Writing. They represent the third generation of UP students in my family.
It has been 30 years since my graduation. I can't help but be proud of my U.P. education. Studying in U.P. is not limited to learning within the confines of the classroom and obtaining a college degree. I learned to be strong, flexible and to live outside my comfort zone. I did not graduate Cum Laude like my mom did (I was .02 short of 1.75 cut-off) but I gained so much as a person. I learned to be a leader where I was once a timid and shy high school girl from the province. U.P. education was excellent because you were up against the best of the best. U.P. taught me to be focused, goal oriented, to work hard and give the best. I created a balance of academic and extra-curricular pursuits which made me the person I am today. The discipline brought out within me the risk-taking entrepreneurial spirit needed to start and maintain a small business. Thirty years later, I may not be an activist in the strictest sense of the word but I initiated advocacies in the spirit of service.
My children might not be student activists as their mom and relatives were but they will surely contribute to the Philippines in their own unique way.
Thus the centennial theme of ""UP: Excellence, Service, and Leadership in the Next 100 Years" can be achieved in each UP student. I will do my share. Giving back to UP is passing on the legacy through my children and their children's children.
(Read a similar entry at my food blog on UP student day memories through Rodic's Diner Mural.)
UP Centennial celebration News and Sites
1. The UP Centennial Site (If you are a past student of any of the University of the Philippines' units , submit their stories to '100 Kwentong Peyups' a series of columns which will appear in the Philippine Daily Inquirer and Philippine Star throughout the year)
3. Recollections of Student Days at the University of the Philippines, 1948-1952
Photos by order:
1. Photo of my mom in her toga
2. At the Sampaguita dorm during my third and last year in college (seated second to the left while my sister is waving)
3. Photo taken by my brother, Ruben Lardizabal, a Collegian Photographer in the early 1980's
4. Photo taken by my brother, Ruben Lardizabal, a Collegian Photographer in the early 1980's
5. Outside the College Home Economics Pilot Plant in my lab gown.
6. Butch and I met in March 1978, a semester before I graduated. Photo taken in Kalayaan dorm when I visited my younger sister.