Update: April 23, 2009: US Marine, Daniel Smith is acquitted by Court of Appeals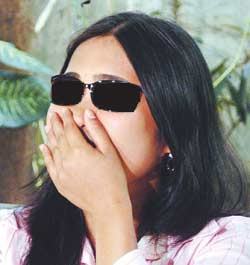 I admit. At first, I was on Nicole's side but as the case unfolded, I had my doubts. My heart went out to Lance Cpl. Daniel Smith especially when he got convicted. I am not a mind-reader but I watched his eyes on television as if screaming of innocence. I wrote
Do you honestly think without reasonable doubt that Smith is guilty of rape? Though not a popular opinion, I have been having doubts he is really guilty. But then again , we will let the Courts of Appeal or the Supreme Court decide. The evidence will speak for itself .

Justice will be served.
(Edit at 11:00 PM- Nicole doubts she was raped. Read her
affidavit
)
Is this the justice served? Nicole is now in the US for good. Evelyn Ursua, Nicole's lawyer said that in the letter, Nicole and the mother were ""tired of the case and do not want anymore to be bothered by it because 'there is no justice in the Philippines.'"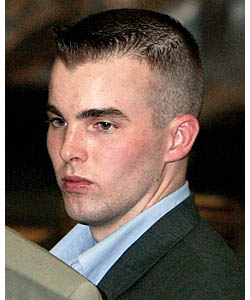 Wasn't justice served for Nicole? I don't get it. Though Smith is not languishing in jail, it's not an ideal situation for the boy. He is not free to have fun, to work , to bond with his family just like my 23 year old daughter.
Mon Tulfo nails it to the point when he raised his doubts.
For treating a Filipino woman so shabbily and humiliating her, Smith and his fellow Marines should be punished. But definitely not for rape.
Just a few weeks ago, someone spammed my husband's entry and mine with the same comment "There was NO rape", the contents of which were very similar to Mon Tulfo's article. It made me think that someone renewed the campaign against Nicole to put more pressure into the release of Smith. It looked to me that a massive press release was being sent to media and bloggers alike. Another commenter even placed her real name in the comments section which I deleted.
The fact that the lawyer's services were no longer needed and that Nicole wanted "all other cases arising from or related" to the rape case dropped smacks of a sell-out to me. Why of all places is she in the USA for good? Isn't it ironic? Isn't that the last place she'd want to be? A reader just commented that Nicole "did the right thing instead of letting herself to be continually used by Gabriela and the leftists when in fact, she knows the truth." ""There is going suspicion that maybe Nicole was pressured and we understand her situation right now," said Rep. Liza Maza of women's party list Gabriela in a telephone interview on ANC's Dateline Philippines.
I can't help but feel disappointed with Nicole's decision because I thought she was really fighting a cause but I guess the pressure must have been too much to bear.
Maybe Senator Ana Consuelo ""Jamby" Madrigal is right when she candidly says that ""perhaps there was a deal [that was] too good to refuse."
What do you think?
Edit (11:42PM)- Nicole reversed her statements regarding her rape by Daniel, saying she is now unsure whether she was raped. 'Nicole' backtracks, hints that Daniel Smith did not rape her
"However…I can't help but entertain doubts on whether the sequence of events in Subic last November of 2005 really occurred the way the court found them to have happened," she said.

She said that she was continuously being bothered by her conscience and realized that "I may have in fact been so friendly and intimate with Daniel Smith at the Neptune Club that he was led to believe that I was amenable to having sex or that we simply just got carried away." –
(Photo credit of Nicole to Abante and the Lance Cpl Daniel Smith photo to newsflash.org)
Blog Entries
Nicoles Flight PR Fiasco for Anti US Forces
Nicole Flees To America, Fires Activist Lawyer Ursua
Related News
Copy of sworn statement of 'Nicole submitted to Court of Appeals, March 17, 2009, ABS CBN
'Nicole' now doubts if Smith raped her, ABS CBN
Nicole' recants , Inquirer
'Nicole' confesses, hints that Daniel Smith did not rape her, GMA News
Group Claims Nicole in the US since Last Week, GMA News TV
Nicole is now in the US for good, Inquirer