""The bad dream known as martial law has become an absolute nightmare under Gloria Macapagal-Arroyo!" , an activist during 37th Anniversary of Martial Law, September 21, 2009.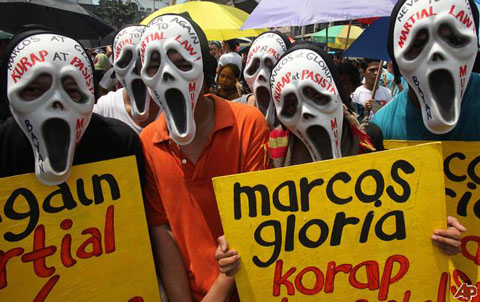 Photo Credit to newshopper
I was 15 years old when Proclamation 1081 was declared by then President Ferdinand Marcos. My folks seemed overjoyed with the news. The administration did a great job brainwashing the old folks that the country was in turmoil and thus, Martial Law needed to be declared. I didn't know it then, of course.
I felt a bit alarmed that any house could be raided for "subversive materials". Any reading material might be "subversive" in the eyes of the military. Dad was wise. He started buying books and magazines that were pro-Marcos. But all of these inconveniences were insignificant compared to the pain of detained and tortured "political prisoners", the loss of freedom of speech, the pain of seeing my brother in jail and so with my barkada. I was never brought to detention due to luck, perhaps.
Soon after Marcos declared martial law, one American high-ranking official described the Philippines as a country composed "of 40 million cowards and one son of a bitch" otherwise, he reasoned they should have risen against the destroyer of their freedom.
""Never again, never again , never again to martial law!"

It took 14 years later to be free from this dictatorship and the painful lessons brought out a constitution that ensured martial law should only be declared:
In case of invasion or rebellion, when the public safety requires it, he may, for a period not exceeding 60 days, suspend the writ of habeas corpus or place the Philippines or any part thereof under martial law. "
Thirty-seven years later, our dear President Arroyo declares martial law in Maguindanao (Proclamation 1959) with a stroke of a pen but this time to just a part of the Philippines. The situation looks like it needs it after a large cache of arms and ammunition , enough to supply a brigade-size unit of the military near the mansions of the Ampatuans in Shariff Aguak, capital town of Maguindanao. Her move leaves me with a bad aftertaste. This does not feel right. I don't trust our president anymore. Do you wonder why Pulse Asia's latest survey shows a combined 79 percent of the respondents said they would ""surely not vote for" (43 percent) and ""probably not vote for" (36 percent) a presidential candidate endorsed by Ms Arroyo. Now that reflects people's attitude or distrust towards her administration?
I don't trust her.
Besides, why does it have to be signed at 9:00 PM on a friday?
Is there even a need for it? The 1987 constitution says
*Within 48 hours from the proclamation of martial law or the suspension of the writ of habeas corpus, the President shall submit a report in person or in writing to the Congress.

*The Congress, voting jointly, by a vote of at least a majority of all its members in regular or special session, may revoke such proclamation or suspension, which revocation shall not be set aside by the President.

*Upon the initiative of the President, the Congress may, in the same manner, extend such proclamation or suspension for a period to be determined by the Congress, if the invasion or rebellion shall persist and public safety requires it.
That means Congress should convene in the next 24 hours. It's 24 hours since she signed Proclamation 1959. I wonder what happens when Congress is unable to convene in the next 24 hours. I hope she explains her reasons. Invasion or rebellion are the only grounds for a declaration of martial law.
I say Oppose Martial Law, Congressmen. It is not needed. I fear that a precedent will be set for other parts of the country.
This time around, there is one bitch and 92 million Filipinos but are we cowards?
Do I hear the chants, ""Never again, never again – never again to martial law!"
Statement of Brigadier General Danny Lim- Today Maguindanao, Tomorrow the Nation
Office of Brigadier General Danny Lim
Press Release
Contact: Belle Enriquez
Spokesperson for BGen. Danny Lim
BGen. Danny Lim: Today Maguindanao, Tomorrow the Nation– December 5, 2009
Rebel General says the military lacks the consciousness and discernment to implement Martial Law
Detained Brigadier General Danilo ""Danny" Lim today described the proclamation of Martial Law in Maguindanao as part of a sinister and grand plan to remain in power through the use and abuse of the military apparatus of the state.
In a statement, Lim said ""the imposition of Martial Law in Maguindanao is a clear sign that Mrs. Arroyo is using all her multiple trump cards in an attempt to be in power forever." He said Maguindanao is a conduct experiment for an all-our military rule with the entire nation as the real target."
""Like what we have said time and time again, amid the public fear of Mrs. Arroyo becoming a member of parliament and the country's Prime Minister, there is still the impending threat of her declaring military rule, hence, leading to the failure of the 2010 elections," Lim said.
The dissident soldier-turned senatorial candidate also asserted that the military lacks the necessary consciousness and mindset to implement martial law and as a result, the tendency to abuse such power is very high.
""Being a military man myself, I strongly believe the Armed Forces of the Philippines (AFP) under the influence of corrupt leaders and who in turn take their command from an illegitimate president does not possess the necessary discernment to implement such a critical order. Martial law under Marcos and replicated by the likes of Palparan proves this point," Lim stressed.
""Granting without conceding that martial law in Maguindanao is valid; an implementing army that is systematically depoliticized and demobilized by Malacanang through years of patronage and transactional politics is a cure worse than the disease. Mrs. Arroyo, unwittingly, might be opening a pandora's box she herself cannot handle," Lim said.
Lim also pointed out that Congress plays a crucial role in this unfolding event. He said the declaration of martial law in Maguindanao coincides with a Congress suffering from a lack of quorum and on the brink of a long recess. ""In such a scenario, the institution that has the power to revoke a president's declaration of martial law anywhere in the Philippines is effectively captured," Lim said.
Lim called on the highest sense of Congress to challenge the validity of the government's martial law declaration in Maguindanao. He challenged Congress to represent the true will of the people. He also enjoined the public to mobilize and to publicly display their opposition on the matter.
""Civilian supremacy must reign in this issue. While the military will surely play an important yet subordinate role in preserving the peace and in putting the perpetuators of the massacre behind bars, it is the sovereign will of the people that must be prevail," Lim concluded.
Lim is running as an independent senatorial candidate. However, the Liberal Party has adopted him as a guest candidate. He is currently detained under maximum security at Camp Crame in Quezon City for rebellion charges and purported military revolts which was said to be against the Arroyo government's crimes of plunder, corruption and human rights violations.
Make it quick and get out of Maguindanao – December 6, 2009
Former Army Brigadier General Danny Lim today challenged the national government to prove it has no hidden agenda in putting Maguindanao under Martial rule by immediately taking into custody all those behind the massacre of 57 people, restore law and order and quickly get out of the province.
""For a government that cannot be trusted, I suggest that the Philippine National Police and the Armed Forces of the Philippines finish their jobs the soonest possible time and immediately leave Maguindanao. They should not follow any illegal order and do whatever sinister plan by Mrs. Arroyo," he said.
While he is against Martial Law, Lim said he is willing to bend a little in the case of Maguindanao if its purpose is to account for all the suspects in the killings and bring back law and order. But again, it has to be quick.
Still, the former commander of the Army Scout Ranger said the problems in Maguindanao were the makings of Arroyo as it was her who recreated the Ampatuans through the tainted elections in 2004.
Also, Lim said Arroyo could not escape responsibility over the large cache of weapons that was found in Maguindanao, and which was believed to have come from the military and the Department of National Defense, since she is the commander in chief of the Armed Forces of the Philippines.
Brig. Gen Lim is a close friend of my departed friend (Noynoy Tan). Before my friend died last August, he told me to check on Danny. Belle Enriquez, Lim's spokeperson emailed me this press release.