Rowell Santos whipped his wallet out of his pocket, pulled out a frayed photo of his lovely daughter. He looked up at me and explained in Tagalog that "all I want is to ensure that my daughter finishes her college. She is just in her second year and I still have another child in third year high school. After they are finished, I can rest". Glancing at Rowell, he didn't fit my stereotype of the wild bus drivers who ply recklessly along EDSA. He looked refined and educated. He sighed, "Yes, I am a college graduate. I ended up being a bus driver. It is hard being a bus driver in the Philippines. I barely get any rest. We work more than 8 hours a day When my bus is not functional, I don't have income."
I saw the hopeful look of a parent who just wants the best for his children. Don't we all? I understand, I patted his shoulder.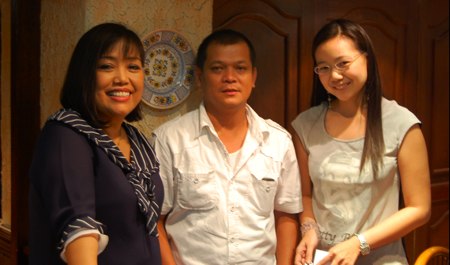 Me, Rowell Santos and Rochelle after our short chitchat
Rowell Santos is just one out of the 137 stranded bus drivers in Dubai last month. Through the intercession of the Blas Ople Policy Center, a non-government organization engaged in the fight against human trafficking and illegal recruitment, brought back a few of these bus drivers to the Philippines. Their plight is not a simple case of illegal recruitment. CYM International, a licensed recruitment agency and RJJ Lacaba financing company, a private lending company must now appear before the Senate and House of Representative and face a class suit after it swindled 137 bus drivers out of their money and fervent dreams in a massive illegal recruitment scam (read CYM International (CYM), RJJ Lacaba Financing Company (RJJ) in hot water over recruitment scam.) The class suit also includes Asian United Bank, Paramount Life and General Insurance Corporation, HQR Technical Insurance.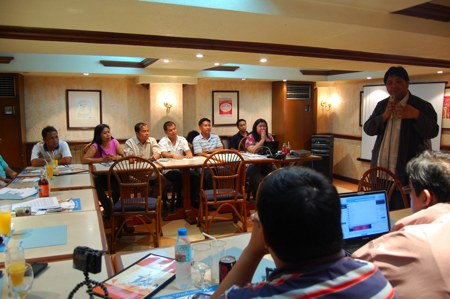 Carlo Ople welcomes the bloggers to a round-table discussion with the bus drivers who were duped by a recruitment agency, a loan company, and were stranded in Qatar then finally brought back home by the Blas F. Ople Policy Center
CYM offered Rowell a job as a driver for around $1,500 a month and had given the agency 10,000 pesos (Dh1,000) as ""processing fee".
""The agency had asked each one of us to take out a 150,000-peso loan from a lending agency recommended by them and made us sign undated cheques worth 405,000 pesos addressed to a bank and the lending agency, payable in 15 months," he said.
The 137 bus drivers have no desire to be entangled in prolonged legal battles. They simply want justice against certain people and corporations that conspired to exploit their aspiration for a better life, says Susan Ople. As I listened to this elaborate scam unfold, I am beyond disgusted at these criminals. Based on a class action suit initiated by the bus drivers with the help of the Ople Center and Atty Reynaldo Robles, the bus drivers were made to issue 39 checks by CYM and RJJ Lacaba worth 1,906,123 pesos each before being made to leave Dubai. That is a whopping interest rate of 1,135.84%.
Coming home penniless and jobless, the returning bus drivers are now being pressured to pay up by RJJ Lacaba Financing Corporation. Are they kidding? These bus drivers didn't even get a job in Dubai. While in Dubai, the bus drivers were brought to a building right smack beside a Ajman garbage dumpsite with inadequate electricity, water and food. They waited for the promised one-month training and immediate hiring by the Road and Transport Authority but as it turned out, it was a hoax perpetrated by the CYM recruitment agency.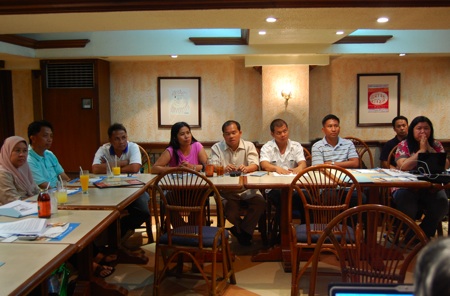 Some of the bus drivers that were able to get home after being stranded in Dubai for 3 months
Can you imagine how difficult it is for these drivers to show up in the hearings with very little transport fare? What more with the amount of 1.9 million pesos per driver that is demanded by these scammers?
It boggles the mind that these bus drivers were able to open a checking account with Asian United Bank. How did that happen? Opening a checking account is not that simple yet these bus drivers got to issue checks. It is futile and downright unreasonable to collect on loans that were the handiwork of scam artists belonging to CYM International Services and Placement Agency and RJJ Lacaba Financing Corporation.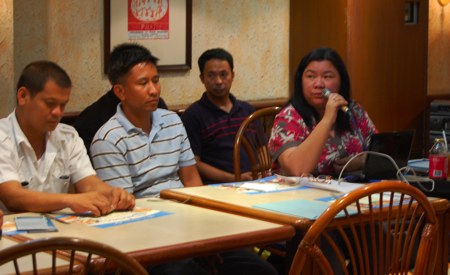 Susan Ople narrates the plight of the 137 stranded bus drivers
You would think that the government offers more for the Overseas Filipino Workers (OFW) as savior-heroes for the dollar remittances that keep this country's economy afloat. Where are they when these OFWs need them? Indeed our OFWs are the unsung heroes to save their families from poverty, families they would rather not leave behind if the Philippines could only offer them better opportunities at home to earn a decent means of income.
While chatting with Rowell, I asked him if he had any advice to future job applicants. Here is what he had to say.

1. Check the credentials of the recruitment agency even if it is classified as POEA-certified.
2. Understand if the job is really cut out for you.
3. Know this painful experience that the 137 stranded drivers had to go through so it may never happen again.
He repeats his appeal to the government to help them out with their problems. Whatever the shortcomings of our government is more than made up by the generosity of the Filipino community in Dubai and for which Rowell is grateful.
Prayer and turning to God during this traumatic situation in his life gave Rowell great comfort. His unwavering faith kept his sanity. Faith that help will come, and courage to wait for God to do His work in His own time kept him going. It worked out for Rowell towards the end of his three month stay in Dubai. While the plight of these stranded drivers spread through newspapers, a kind hearted Dubai businessman read the news and hired 39 bus drivers for employment.
Rowell is one of the chosen bus drivers hired to work in Dubai this month. He gives a bittersweet smile as he thinks of the rest of the bus drivers who remain unemployed and still stranded in Dubai.
How can we help OFWs?
1. We can blog about awareness on illegal recruitment and other cases of human trafficking and show this video in your blog.
A video produced by the Blas F. Ople Center against Illegal Recruitment.

2. Nullify the financial transactions, loans and contracts signed by the drivers under duress and without the benefit of proper explanation or an appropriate time for consultation and review.
The excessive and exorbitant interest rate of 1,135.84% is insane.
Civil Case Summary
Class Suit Filed by Bus Drivers against CYM Recruitment et al
3. Provide employment opportunities to some seventy bus drivers out of the 137 that still remain in Dubai, waiting for their passports to be released by Al Toomoh Technical Services Agency.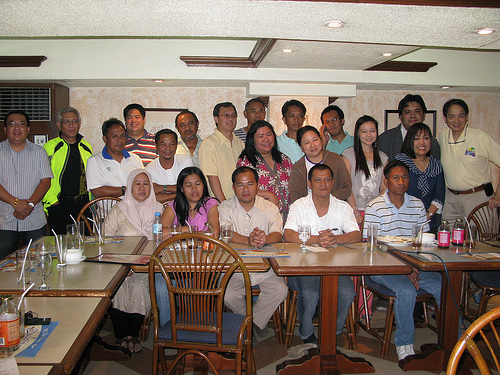 Photo from Susan Ople. Bloggers present were Patricio Mangubat, Dean Jorge Bocobo, Sonnie Santos, Rochelle Chua, Pete Rahon, Ding Gagelonia, Janette Toral