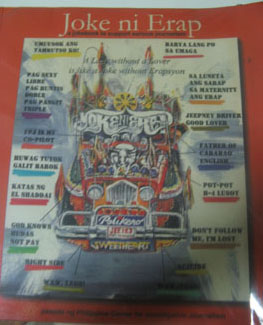 I felt sad for the former president, [tag]Joseph Estrada[/tag] (Erap) when it was announced that Erap was guilty of the plunder case. It's not easy to be locked behind bars. I don't know enough of the case to talk about it but I suppose the Sandiganbayan examined the evidence given during the past six years. As I saw the dejected face of the former president, memories of my son idolizing [tag]Erap[/tag] filled me. My son would have been really sad for Erap. Luijoe loved hearing the funny Erap Jokes. See my son had a great sense of humor and loved to throw a joke or two. Then he discovered the Erap jokes. One time, my 6 year old boy overheard us laughing to our heart's content on an Erap joke. He badgered to know the joke. So I narrated the joke
Erap: Miss, do you have a ballpen?
Clerk: Sorry, sir we don't have any ballpen
Erap (angry): Why did you name your store "Penshoppe"?
Luijoe loved to tell this joke to everyone . One time, Luijoe and I passed by Penshoppe ( a teen fashion store) in Glorietta mall and I teased him if he wanted to go inside with me , so I could ask the same question Erap asked. Luijoe tugged me away. hehe
I bought him the book , "Joke ni Erap" by the Philippine Center for Investigative Journalism in early 2000. Luijoe often packed this Erap Joke book in his backpack and kept re-reading those jokes that he could understand. He loved the book so much, he even labelled it. Here are a few of his favorite jokes culled from that book.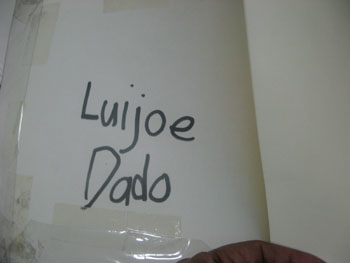 Erap: "I have brain cancer. Yehey!!!"
Ramos: "That's delicate, how come you're still happy?"
Erap: "Now I know I have a brain"
Comelec: Oh, simple math na lang! Ano and "2 + 2"?

Erap: Three!
Comelec: Sorry
Ronnie: Mataas pa diyan!
Erap: (in his highest-pitched voice) Threeeeeeeeeeeeeeee!!!!
and Luijoe's favorite of all.
Executive Secretary Zamora: Sir, Pwede bang palitan 'tong laptop ko?

Erap: Bakit?
Zamora: Masyadong Mabigat, eh!
Erap: Ba't di ka mag-delete ng files para gumaan?
Like most young kids, Luijoe was already computer savvy and he knew about deleting files. How he loved to crack this joke whenever I carried my laptop.
Though Erap might have been the brunt of the jokes during those times, my innocent boy thought that he was a funny president. In fact while waiting at the plane ticket office, he yelled at the top of his voice:
Erap is the smartest president
Not about to contradict him in public, I asked his reasons.
Luijoe's answer? He is so smart because he says the funniest jokes.
I know it must be hard for Erap right now but I thank him for those memories. The memory of my son adoring the former president.