When my beloved son died 14 years ago, I wanted to have another baby but I thought it was risky at my age. Then we thought of adoption. An office mate of a friend wanted us to adopt their sixth baby but she changed her mind at the last minute. Adoption has always been in our minds. If someone handed a baby over to me, I will gladly accept. I am sure parents out there want to have a child of their own. The Social Marketing Service of the Department of Social Welfare and Development (DSWD) shared me this story of an adoptive couple beaming with joy, as Bryan and Marie Grace hold their daughter Margie close to their hearts. . DSWD needs help in their advocacy to find permanent and loving families for needy Filipino children.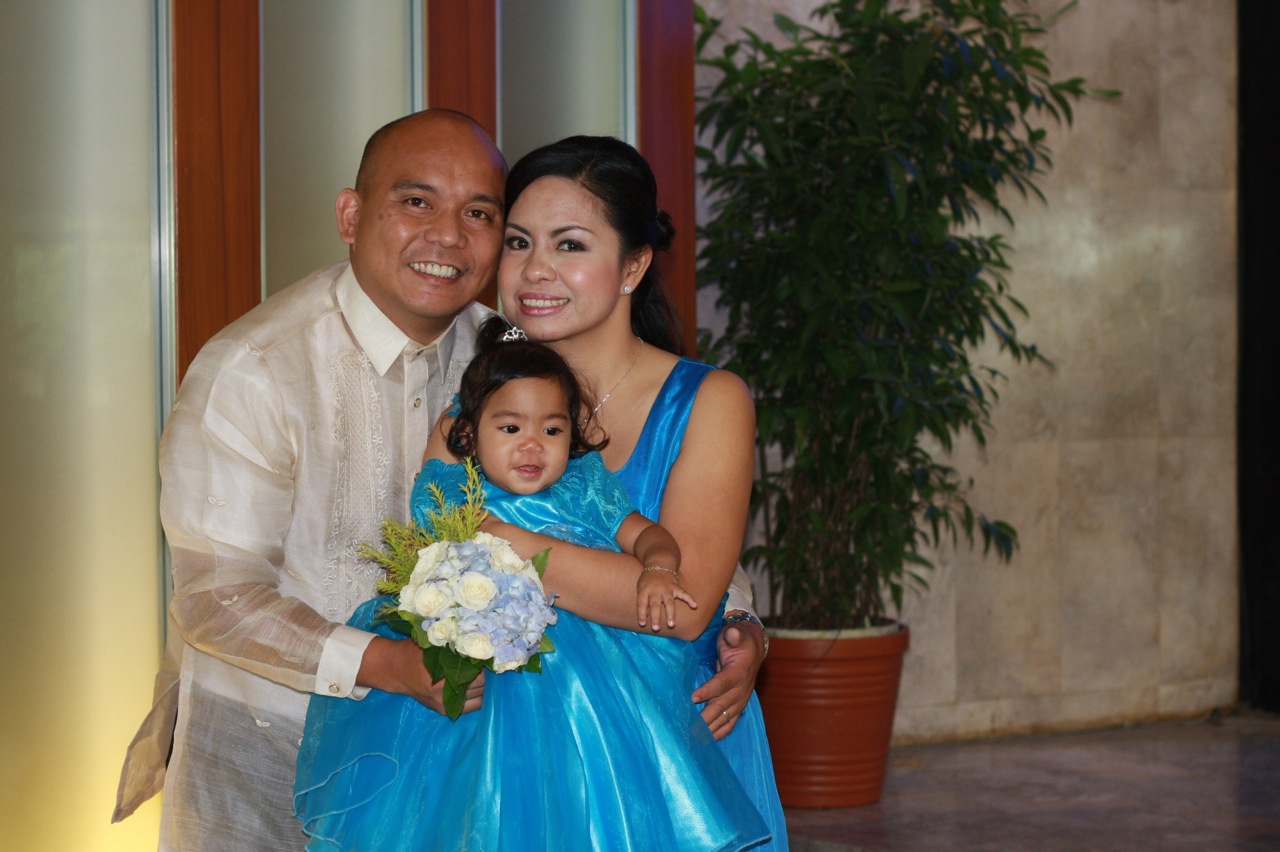 Here is their story
The year 2000 was memorable for Bryan and Marie Grace Retales, as that year, they met and fell in love, literally in the workplace.
Marie Grace worked as an animal nutritionist at the Savers Feed Company while Bryan was a veterinarian at the Nueva Swine Valley Savers, a sister company of Savers.
Since their workplaces are extensions of each other, Bryan often visited the Savers Feed Company in Makati City.  On the other hand, Marie Grace often go to Nueva Swine Valley in Iloilo to examine the hogs.
Hence, Bryan's and Marie Grace's careers intertwined and they quickly became close friends because of their frequent interaction.
The couple shared that at first, no courtship happened and they just enjoyed each other's company.
"Later on," Bryan said, "I became attracted to Marie Grace because of her sincerity and simplicity." On the other hand, Marie Grace valued Bryan's sense of humor and caring nature.
This started their long distance relationship.
After six months of phone calls and text messages, Bryan decided to look for another job in Manila to be closer to Marie Grace.
Four years after, they were married at Our Lady of Mount Carmel Parish in Quezon City on January 15, 2005.
Difficulty in starting a family
The Retales couple had always wanted to have a big family with four children, at least. But they faced a problem early in the marriage.
Marie Grace was diagnosed to have Polycystic Ovarian Cysts Syndrome (PCOS) since she was 12 years old which made it difficult for her to conceive.
Driven by their desire to have a child, the couple took fertility workouts in 2005 at the Medical City in Pasig City. Marie Grace was prescribed fertility pills but to no avail.
They were then offered to undergo artificial insemination and in-vitro fertility test (IVF) but they refused as  they felt these do not conform to their practices and beliefs as devoted Christians.
In 2007, the couple consulted another doctor  at the University of Sto. Tomas (UST) hospital and Marie Grace was once again prescribed with fertility pills.
Pregnancy  remained elusive, though.
"I was disappointed but remained hopeful," Marie Grace said.
The couple took another fertility workout in 2009 at the Los Baños Doctor's Hospital in Laguna where Marie Grace was given fertility pills, this time with higher dosage.  But after seeing his wife suffer from side effects, Bryan convinced his wife to discontinue taking the fertility pills.
"My strong faith in God and Bryan's continuous support gave me the strength to eventually accept my situation.  I am blessed to have a loving and understanding husband who made me feel that our love for each other is more important than trying to have a child of our own," Marie Grace said.
Opening their hearts to adoption
The idea of adoption came to them in November 2009 when their household helper informed them about an abandoned three-day old boy at San Anton Parish in Los Baños, Laguna.
Without his wife's knowledge, Bryan became interested and searched for the baby boy in different hospitals in the province.  When he found the child, Bryan bought him milk and diaper.
Later, he informed Marie Grace about the medical condition of the child and his willingness to help him. She readily agreed so they often visited the child in the hospital and paid for his medical needs. They got so attached to the infant that they decided to adopt him.
The couple then submitted their application to legally adopt the baby boy to the Los Baños Municipal Social Welfare Office (LBMSWO), where the infant was referred by the hospital for temporary shelter.
They, however, later found out that the child was released to another couple for adoption.
Bryan and Marie Grace were disappointed on  the turn of events.  They wanted to pursue a case against the LBMSWO for discounting their application, but the baby's pediatrician advised them against it, explaining that conflict and stress may not help the child.
The experience, though disappointing, helped the couple realize that they are capable of loving a child who is not biologically their own. They then decided to forego fertility treatments and opted for legal adoption instead.
The Department of Social Welfare and Development (DSWD) advocates for adoption, or the socio-legal process of finding a permanent family to the many abandoned, neglected and/or relinquished children waiting in centers.  In providing for a permanent home, however, DSWD reminds couples to always opt for legal adoption.
"Legal adoption offers security and ensures the best interest of the child. This is why DSWD discourages direct placement and is against simulation of birth certificates," DSWD Secretary Corazon Juliano-Soliman said.
Welcoming Baby Margie
In January 2011, they contacted NORFIL Foundation, Inc., a child placement agency accredited by DSWD, to express their interest in adopting a baby girl. The couple was present at the Local Matching Conference at DSWD Central Office in May 2011, where they were matched to an 8-month old baby girl from an orphanage in Palawan.
They named their child Maria Margarita, fondly called Margie.
The couple then became the epitome of loving parents with Bryan taking a one-week break from work to bond with their  infant daughter, while Marie Grace filed two years of leave from her post-graduate studies to be a full-time mother to Margie.
"We are very happy to have Margie in our lives. Our home is now livelier because of her presence," the couple enthused. Although they experienced some changes in their lifestyle with Margie's arrival, they simply enjoy being with their daughter.
Margie is now three years old. Bryan and Marie Grace claimed that they never felt that Margie is adopted because they love her unconditionally.
Adoption paved the way for them to fulfill their dreams of having a child of their own, and finally, a family.
They also believe that their daughter has a right to know the truth.
"We do not intend to hide the fact that Margie is adopted.  We want to be honest and open with her, and affirm her that there is nothing wrong with being adopted," the couple emphasized.
Active parent advocates
Bryan and Marie Grace are active participants of NORFIL's Adoptive Parents (NAP) Adoption Support Group, taking part in its activities so they can learn and share their positive experiences on adoption to other adoptive families.
Further, as part of the support group, they advocate to couples who are able to consider adoption and help the many kids waiting to have their own families in the different orphanages.
Children needing families
The Retales' story is just one of the heartwarming stories of childless couples finding fulfillment in becoming loving parents to homeless children.
In the first semester of 2014 alone, a total of 257 children were issued with a DSWD Certification Declaring a Child Legally Available for Adoption (CDCLAA).  Of the said number, 110 children are already under the care of families for trial custody that will eventually lead to possible adoption, 10 children are for foster-adopt cases while 137 children are for local matching process with adoptive parents.
For those interested to know more on how to go about legal adoption procedures, you may  call DSWD-Adoption Resource  and Referal Unit (ARRU) at 734 86 22  or contact the accredited DSWD-licensed adoption NGOs such as Kaisahang Buhay Foundation (KBF) at  912 11 60 and Norfil Foundation at 372 3577. ###