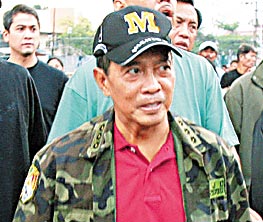 As a resident of Makati City, I am aware of corruption rumors on Jojo Binay's 20 year reign for the longest time now. Binay always loses in mayoral elections from Makati's exclusive villages but he gets most of his votes from the squatters of Makati City. Oh yes, they are there right now in front of the city hall cheering for their beloved Mayor. I am not surprised that Binay defies the suspension order from the Local Government. It's funny that he asks to see the Bill of particulars regarding payment of ghost employees. He asks "what are the names of these ghost employees?". Well aren't they supposed to be ghost employees? Do they even have names?
What's even funnier is holing up himself in his office. He can always let 60 days pass by if he is confident he is not guilty of the charges. The chances that he is "innocent" is very slim though. The Warrior Lawyer has more to say on this bunker mentality
This sideshow in the continuing farce that is Philippine politics was enlivened by the appearance yesterday of former President Cory Aquino, who dropped by to support an ""old friend". After all, it was she who jump-started the Jojo dynasty by appointing him Makati Officer in Charge after the people-power revolt in 1986. The Warrior-Lawyer agrees with the observation of columnist Max Soliven, who said that Cory now sounds and talks like her daughter, Kris ""Deal or No-Deal" Aquino-Yap. Tsk, Tsk
Let's hear the side of Cory Aquino naman:
""We should show that we are all for justice … Jojo, you can count on my support and prayers. We should all pray for justice," said Mrs. Aquino, calling Binay by his nickname.

""We all see his goodness to his constituents, especially to the students, to those in need of health care … He showed that he could take care of his constituents. I think he is a role model for all mayors," she said of Binay, who first became mayor when she was in Malacañang.
I think….?? Cory is not even sure of Jojo Binay's qualities. Haaay enough said. Can you imagine Jojo's dynasty is even longer than the Marcos dynasty?
Speaking of the opposition and the current administration, I have the perfect Holiday/Christmas gift for them. This chess set…

If you view the larger images of the red pieces, who do you see? And if you view the white chess pieces?