Manny Pacquiao wins! Manny Pacquiao wins! TKO in Round 2!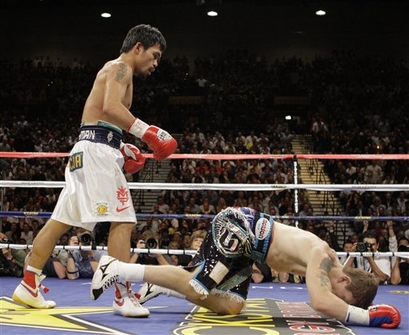 Photo via Thepinoy.net
Manny Pacquiao knocks out Ricky Hatton in the second round Saturday (around 11:36 AM, Sunday in Manila) in Las Vegas, Nevada, stripping the light welterweight crown and carving his name as one of the legends in boxing history. (Source: Pacquiao KO's Hutton)
The end came in 2 minutes 59 minutes in Round 2 in TKO victory. Freddie Roach predicted it to last 3 rounds.
Here are youtube videos in four parts:
Part 1

Part 2

Part 3

Part 4

If the youtube video above disappears, here are other links:
Hatton Vs Pacquaio 05/02/09 Part 1
Hatton Vs Pacquaio 05/02/09 Part 2
Hatton Vs Pacquaio 05/02/09 Part 3
Hatton Vs Pacquaio 05/02/09 Part 4
or download the videos
video link (round 1)
video link (round 2)
This morning before the Fight
As I type this entry, my husband is dressing up to watch the Pacquiao-Hutton fight with his fraternity brods. They will watch it LIVE in restaurant dining comfort, cheering and rooting for Manny Pacquiao while I am home alone. Well for now, that is. After I am done writing this, I will hie off to the gym, burn the calories of my breakfast, the Apple Cheesecake Doughnut and enjoy my "me time". So, why am I not with him?
My husband knows that I don't enjoy boxing matches and secondly, I am not exactly fond of his fraternity brods. Of course, I understand that a husband needs time to hangout with the boys just as much as I need time to hangout with the girls. If my "me time" pampers me into a loving person then it is all good for everyone.
You know, I actually broached the idea that we watch it together for the sake of "couple time" . He hemmed and hawed and explained that he wanted to watch with someone who actually enjoys the sport. So if I forced myself to enjoy the show, he isn't going to be 100% happy. We already spent Fridays and Saturdays together at home and I won't deny his time alone with the boys. He will surely be riveted to the big-screen TV while munching on his nachos, ribs and possibly beer. How can anyone watch them slug it out and eat at the same time? Perhaps all that primal action will make them hungry and evoke other primal reactions.
I do not understand the punching, yelling, bells and testosterone. I cringe every time a jab is aimed at either one of the boxers. For me a boxing fight is like watching a horror show. You know the kind where I cover my eyes fearing a bloody mess will unfold before me.
So, I leave you all now to watch the live-streaming of Pacquiao vs. Hutton Live while I drive over to my gym in traffic-less Manila.
As Manny Pacquiao said, Only God knows what will happen today.
(Update: Manny Pacquiao knocked out Ricky Hatton with a left hook in the second round of their bout to grab the the IBO light welterweight title at the MGM Grand in Las Vegas, Nevada, on Saturday (Sunday in Manila).)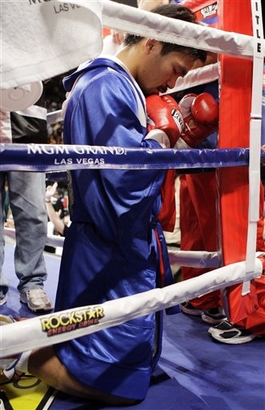 Manny Pacquiao prays before the fight

Photo via Thepinoy.net

And the proudest of them all, is the mom of Manny Pacquiao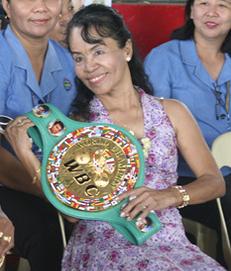 Photo via jenijenjen