I first met Sister M, at the wake of Luijoe in May 2000. I looked around for the motherly Sister T, the principal that I knew, the nun that exuded that holy aura around her. Instead, before me stood a seemingly cold Sister with steely eyes. I turned away from her. Somehow, I felt uneasy. There was just something about Sister M that wasn't right.
Three years later, the parents were divided on the fate of Sister M who was facing criminal charges at the Makati Regional Trial Court, and a civil suit at the Department of Labor and Employment plus numerous anomalies on diversion of school funds. How sad that my two daughters faced corruption from an authority figure. Moral fiber of the principal deteriorated right in front of their faces.
I took the side of a small group of fearless parents seeking the "truth". We, the parents held a secret meeting and decided that the school board and the Department of Education (DEC) sat on our complaint for over two years. Yes, two years passed by and in spite of the complaints sent, no course of action was done to improve the situation. So what else was there left to do? Rally! What an impossible feat, never ever done in any High School in Philippines!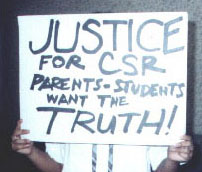 How impertinent we, rebel parents were! What pathetic examples we were to our children. I never imagined myself being such a "bad example" to my daughters. I risked L's impending high school graduation or M being stripped of her honors. Together with my husband, we made banners "Parents-Teachers want the Truth". Wearing black, we marched in front of the school grounds together with our kids chanting ""Sister, resign! Sister, resign! Did we get the justice we fought for?
If you read Lauren's entry on You'll never silence the voice of the voiceless, there were veiled threats of our children being sanctioned for joining the rally. Both girls marched out despite teacher's feeble attempt to lock them inside their classrooms. The threats did not materialize because we, rebel parents and the School Officials reached an amicable settlement with DEC as witness. Children of rebel parents were not to be penalized for the mass actions we initiated. To make a long story short, Sister M was forced to resign two months later, after the Department of Education ordered the school closure if she didn't resign. Though L already graduated and M moved to another school, justice was served nevertheless using the legal process but it wouldn't have gotten DEC's attention without our cries of justice. Truth finally set us free.
So why am I bringing this up? The other day, the Catholic Bishops' Conference of the Philippines (CBCP) said in a statement signed by Archbishop Angel Lagdameo that [The] truth challenges us now to communal action. .
What is this truth? As Candido Wenceslao asked, Is truth the one that the political opposition, militants and civil society groups believe: that everybody in Malacañang is corrupt? Or is truth the one insinuated by the Arroyo administration: that it is clean?
What is communal action? Do I storm on the streets and cry for "truth"? Do I join groups planning to do radical actions? Should I support the University Council of the University of the Philippines Diliman call that GMA must go? or agree with the Lawyers' groups as it calls for Arroyo's resignation ?
While CBCP "challenges us now to communal action", do I influence my kids to join me?
Dine wonders But sometimes we parents worry what if they go overboard? what if they suddenly want to do it their own way?. I will be the first to admit that I will worry if my children join mass actions. These are exactly the thoughts that face me as a mother.
I leave that choice to my children, to decide on the communal action they will partake. Once upon a time, I decided to venture the radical path while listening closely to my father when it came to safety issues. I trust my children will know what is right for them and the future of their country.

Though not a popular choice by our Catholic Bishops, I believe, GMA has to go. Gloria Macapagal-Arroyo has to go. I truly believe that The President and her people have engaged in so much lying that they can no longer recognize the truth even if it stared them in the face. (PDI) As to the next step to take, I will take one step, one day at a time. I do not have the answers yet but in time, I will discern it. Our Filipinos will discern it. I will be there at the The Interfaith rally, at the Ninoy Aquino Monument in Makati City at 5 p.m, Friday , February 29.
I enjoin you to read Ricky Carandang's report on Treason and Spratly Islands and Manolo's Today the Spratlys, tomorrow Palawan. My husband has this to say on Treason:
Having sworn to uphold and protect the Constitution, she has likely delivered the country, or at least a significant part of the national patrimony, to a foreign power. This is treasonous conduct, by any measure.
The video best explains it:
and the rest of the video on The Correspondents – Kung 'di ukol, bubukol (ZTE-NBN)