Bloggers have been quiet for the longest time. I think the last time was 2012 when the anti-cybercrime law was passed.  When Rappler raised the issue of the 14 bloggers getting accredited at the ASEAN 50th celebration in early August, bloggers are now back in the limelight. Sadly, the recent Senate hearing on Fake News was unfair to bloggers by putting the  blogging community in a bad light and focusing on the worst practices of the two partisan camps.
Here are my recent thoughts on the blogosphere.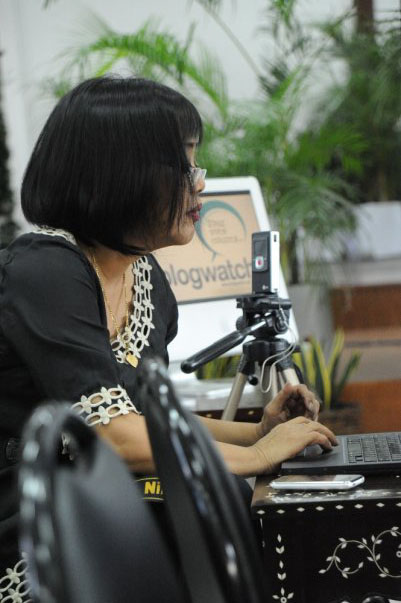 Bloggers are not journalists
Bloggers are not journalists but it doesn't mean I am not accountable for my writings. As a blogger (and because my husband is a lawyer), I am aware of the libel laws even before the CyberCrime Prevention Act of 2012 . I respect people's privacy even before the effectivity of the Data Privacy Act.  It's just following the norms which govern ordinary human relations. If I wouldn't say it to that person over a cup of coffee, I don't post it. The best defense against anything that would curtail our freedom of expression, be it online or offline, is to express ourselves in words and deeds that are thoughtful, truthful and honest.
That is why, bloggers should know the relevant laws on Data Privacy Act of 2012 or the Republic Act No. 10173; The Cybercrime Prevention Act of 2012 or Republic Act No. 10175 ; Anti-Photo and Video Voyeurism Act of 2009 or Republic Act 9995
´Bloggers and Social Media Users as Personal Information Processors
´Bloggers and Social Media Users Obligation to Respect and Accountability on the Privacy of Others
´Bloggers and Social Media Users on Hacking, Anonymous Comments and Publishing
´Libel issues concerning bloggers and social media users
´Copyright Issues vs. Online Content
Bloggers are, like it or not, part of the world at large. They are not immune from political and societal forces. Neither are they exempt from the norms which govern ordinary human relations. Shouldn't bloggers abide by the same high standards to which they hold others?  You are who you appear to be. Bloggers should do their best to rely on accountable sources. If those sources were/are not accurate, admit it. Disagree without being disagreeable. I believe in always staying on the higher ground without resulting to name calling. If it is incendiary, don't post it. Respect the privacy of the people you write about especially their personal information. Just because personal information is in the public domain, there is no implication much less a grant of consent to process such publicly available data.
Though I believe in dissenting views, I enforce a commentary policy where "I reserve the right to remove comments, words or phrases that are defamatory, abusive, incite hatred and advertise an email address or commercial services or just plain spammy. I also reserve the right to remove posts that to my opinion are off-topic, irrelevant, ad-hominem, personal attacks and or just plain rude."
Serious thoughts on blogging
My daughter was tagged by fellow blogger, Tonyo Cruz a few months ago. Allow me to share her thoughts on blogging.
As with anything in life, it's important for bloggers to be able to answer (or at least give serious thought to) these questions:

1. Why am I doing this?
2. What ideas or values do I stand for?

I started blogging as a way to connect with people, and to share what I thought were my unique insights into dating, fashion, and being a fiercely independent woman in the world. In that respect, I've been rather successful. I may never have had a million pageviews, but I met some really amazing people I would have never otherwise encountered. Many of them are still very good friends to this day (and as you know, good friends are hard to find!).

But I stopped blogging when I lost my focus. At some point, blogging became less about the community and became this aspirational, commercial activity. There is nothing wrong with wanting to project an ideal self into the internet or desiring some form of compensation for your work (and blogging IS hard work). But this was not what I wanted for myself. This fake, aspirational self that I was presenting is not what I want to bring to the world. And at the time that I stopped blogging, I had no clue who I was or what I stood for. I had no business foisting my half-baked ideas onto an audience until I was sure about what I had to say.

I have no opinions over the latest blogging drama in the Philippines because I really don't know much about what's going on. But I do know that anyone with a platform and a voice has a responsibility to their readers, to the blogging community, to the brands they work with, and to the rest of the world. As a public personality, your words and actions carry more weight than you realize. Like it or not, you have to be your best self. You owe it to your brand partners to be a good representative who embodies their values. You owe it to your readers to be some sort of role model for them.

Otherwise, all you are creating is a lot of empty, self-serving noise. The world doesn't need any more of that.

This is why reasons I stopped, too: being a role model was too much pressure. Being a "personal brand" felt dehumanizing. I didn't want to live up to some aspirational ideal in exchange for freebies and a few sponsored posts. I just wanted to be me, away from the eyes of strangers.
So really, if you have a blog or are some sort of influential Internet personality, you would do yourself and everyone a huge service with a bit of self-reflection. Why are you here? Why are you doing this? What ideas or values do you stand for?
I'm still figuring these out for myself.
On a National Bloggers Association
While I do agree with a collective set of ethical standards for bloggers , I am not convinced on the establishment of a national blogging organization. Bloggers are so diverse and may not want to belong to one big group for one reason or another. A blogger told me "if bloggers in the Philippines feel that this is necessary given the circumstances (i.e. for political bloggers to differentiate themselves from rabid Duterte supporters), then by all means they should. However, a national blogging association is not something I want to be a formal member of, nor would I want it to define my identity as a (semi-retired?) blogger." She added that "just because you have a blog, and I have a blog, doesn't mean we stand for the same things. I would not want to be part of some organization and be loosely associated with anyone who held very divergent political and moral beliefs from mine"
Before the establishment of an organization, a set of ethical standards should first be deliberated and agreed upon in a conference or summit, then the rest can follow.
It is good to have guidelines and let's start from there.