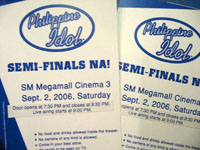 What an exciting night. Tonight was the first semi-finals of the [tag]Philippine Idol[/tag] Top 12 male performers which was held at SM Megacinema 3. Watching it in a live studio setting is definitely a change over watching it live on the TV set. It's a different form of entertainment. It's not the same as watching a concert or a movie. This is reality TV entertainment. So my husband and I kept an open mind to this new adventure.


I noticed a number of ABC 5 staff swarming all over the place. Fans are holding banners of their favorite Idol contestant. Heavy muscled bouncers were stationed at the start of the queue. When the door opened at 7:30 PM, the guard disallowed me from entering because I had a digital camera. Ugh, I wanted to sneak in photos so I wasn't about to give up my camera. I let the crowd pass before I made another attempt at another guard. Hehe

The production set was fantastic. Before the show went live, the coordinators prepared us to be wired up and enthusiastic for the event. I seemed too old to be yelling, rooting and cheering. We were told to be ready in case the cameras get panned on us .

Most of the contestants were excellent. I got dizzy after hearing all of them. (And I'm sleepy too). Like who to choose? The great thing about watching it live is feeling the beat and the jovial mood of the audience. I think that the sound system is not up to par. I don't know how it sounded over the TV sets but I felt that the music accompaniment seemed louder than the vocals. When Reymond Sojor sang "Tell Her About It" and the microphone stopped midway, it took a long time for the crew to get a replacement. They need to have subtstitute microphones nearby. The judges' comments were also lame. If they think it's a poor choice of song, they should give an idea what might work for the contestant. Their recommendation need not be a song but a genre.
To end this entry, My Top 4 choices are
Gian Magdangal – Footloose (GIAN 2339/ 1 908 5 IDOL 06). (I felt his energy as he waded his way through the audience. I almost wanted to dance if not for my husband restraining me.)
Ramirr Grepo – Bed of Roses (RAMIRR 2339/ 1 908 5 IDOL 07) (I liked that he had a wide vocal range. He has an X-factor too. Even if I don't like rock genre , his vocal skills made up for it)
Miguel Mendoza – Highways of My Life (MIGUEL 2339/ 1 908 5 IDOL 08). (This boy is only sixteen but he has the charisma , the stage presence and beautiful vocal range. Though the song is not suitable for his age, I am quite partial to jazz)
Reymond Sojor – Tell Her About It (RAYMOND 2339/ 1 908 5 IDOL 09 ) ( I am sure he will get a lot of sympathy votes. While he had a microphone malfunction, not once did I see his face fluster . He just continued on. Since the song ws kind of upbeat, I don't know if he can really sing well.
Though I know Onyx Culala who sang Windmills of Your Mind (GIAN 2339/ 1 908 5 IDOL 06) didn't make a good performance, I will vote for him only because I think he can do better . He has the looks and voice potential. It was just a poor choice of song. He might not make it tonight's TOP 4 but he still has a chance at the Wildcard round on September 16. Another contestant I will vote is Christian Masaga who sang Have I Told You Lately (CHRISTIAN 2339/ 1 908 5 IDOL 11) partly because he can sings with a passion.
I heard that text voting ends at 8:30 PM , Sunday (September 3). As we left the SM Megacinema 3, an ABC 5 staff interviewed my dear husband on what he thought of the show. I knew he'd get ambushed. My husband says "Beautiful!" Then the ABC staffer asks "Who do you think will win?"
"Gian and Ramirr". It's obvious these two will make it to the TOP 4. So who will you vote ? More blurry photos
Related Entries:
Wildcard Performance and Results Night
Top 4 Male Finalists
The Stage Mother of a Philippine Idol Contestant
Philippine Idol Photo Gallery