How did I end up covering the Impeachment trial? Has it all been worthwhile? How did I end up sitting it out for 5 hours or so 4 times a week since the middle of January 2012? I could be doing something else, travel around the Philippines, start a new home project or write a book. But no…I got hooked and never stopped watching, tweeting and writing.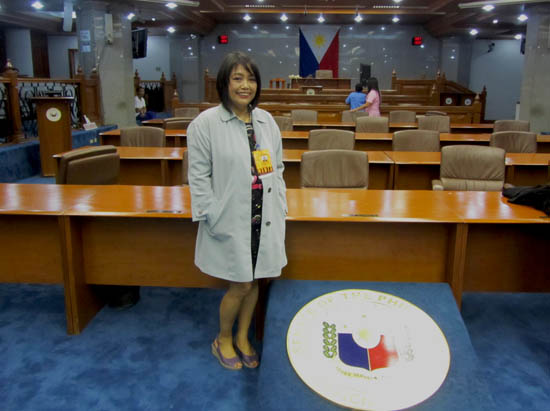 All I know was I would be in Cebu with my two girls, enjoying the sunny blue skies and festive Sinulog Celebration. It never occurred that I should do a coverage . I blame Tonyo Cruz for asking if Blog Watch was covering the Corona Impeachment trials. When I told him there were no plans, he suggested we should do it to complement traditional media. I thought, "hmm maybe awareness of the impeachment process and being open minded". I took the challenge.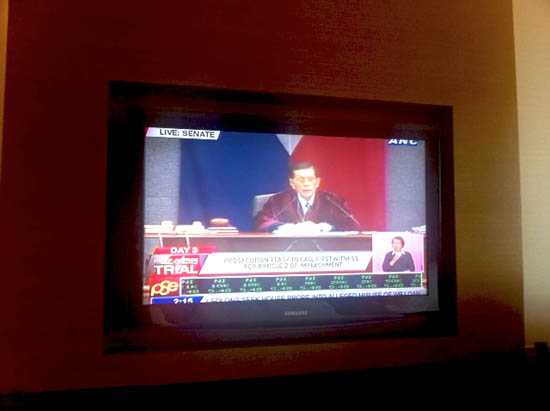 Instead of the walk to the mountains on January 16, I cuddled up on my comfy bed at my hotel room covering Day 1 to day 4 of the Corona Impeachment trial in the afternoons. In all the 34 trial days, I think I only missed hearing it once. Well, I am not going to talk about the trial but about how it was in those 34 days. (here is Blog Watch Impeachment Watch coverage)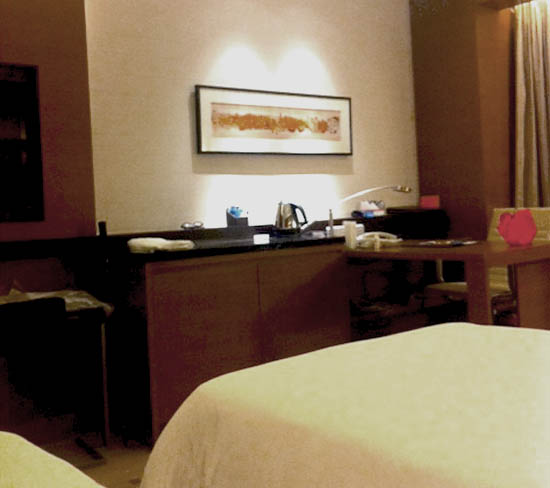 I never imagined myself covering the trial inside the Senate session hall. First of all, the Senate is at least an hour's drive away. Secondly, I am not after news. Commentaries or features work best with bloggers like me. But I thought watching it in the Senate would give me the pulse of the audience as it goes live.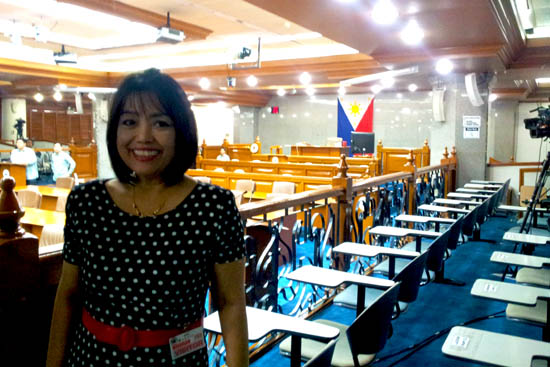 My first visit was showing my daughter (who was bound for Australia in a week) about the impeachment process. I liked that she was interested in our current affairs. It was also this day when PSBank President Pascual Garcia first testified at the Senate. It felt like watching a movie, filled with suspense as Corona's account details were announced. I thought I'd hear 100 million pesos or something. It was just 20 million pesos best explained as Defense presents its evidence.
It isn't a bad idea after all to be at the Senate Impeachment trial . I tried my luck applying for media accreditation. It was the first week of February and it seemed media dwindled inside the session hall. I got it without a problem since Philippine Online Chronicles (Of which I am features editor) issued me a media ID.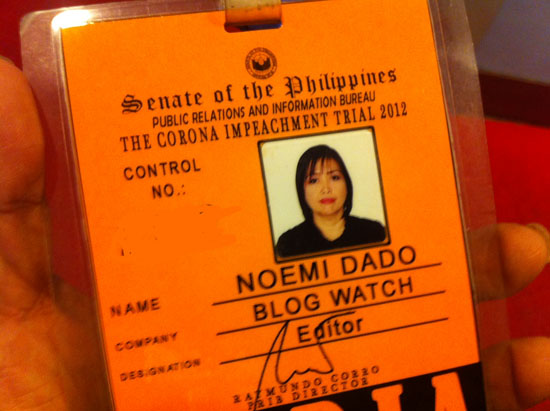 In early February , not many bloggers I knew were covering it inside the Senate Impeachment trial. I often came in early so I could get a parking slot. Media room is almost empty just before the trial. I use this when I arrive at 10:00 in the morning.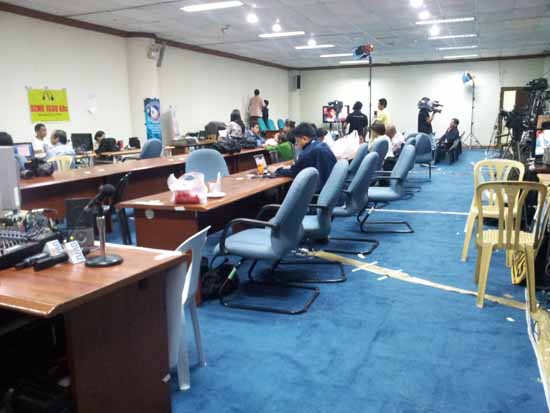 After the trial the corridor is lined with journalists waiting to interview the senator-judges or the lawyers. I don't join the frenzy. I'd rather snoop a bit to hear if there is anything interesting.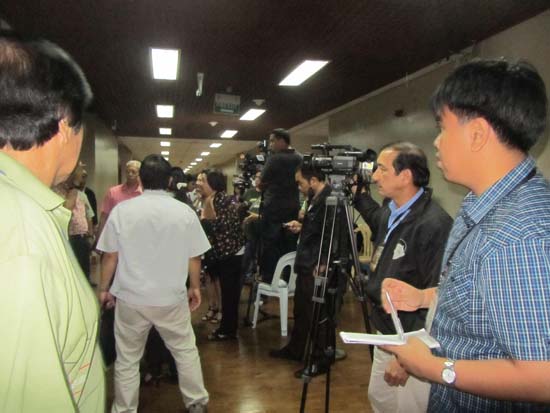 Cameras line up for a press conference.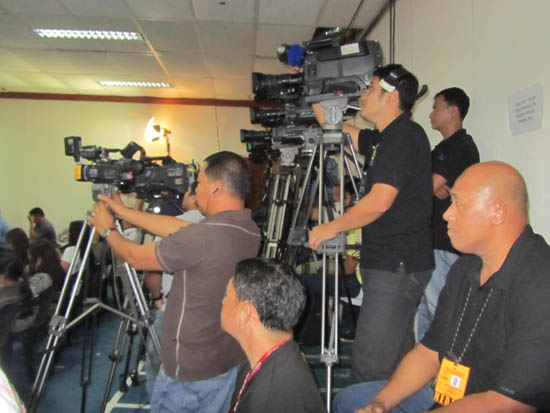 I just take a peek at the prosecution press conference.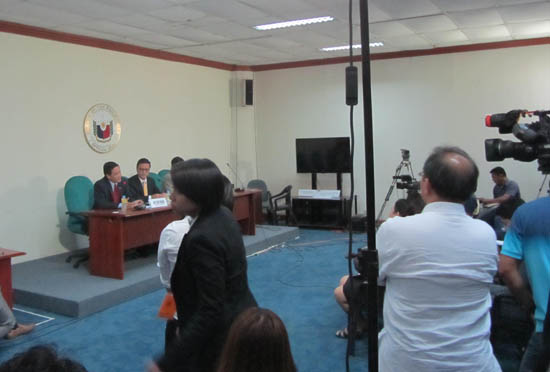 Aside from being there as it happens , I wanted my own photos in my posts. Too bad I am not allowed to take photos as soon as trial starts. There is pool of photographers allowed to take photos during the session.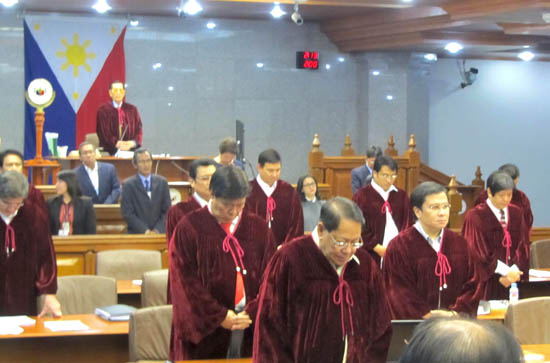 Watching the trial became more interesting when Leslie Bocobo and other social media users came regularly at the Senate. There's nothing like sharing comments while the prosecution or defense asks questions.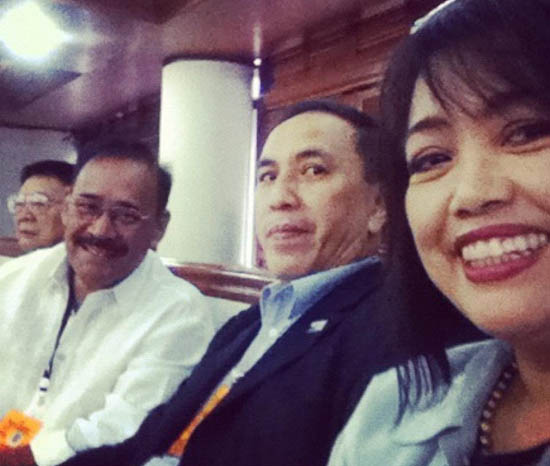 Wenchie, another Blog Watch blogger drops by the Senate every now and then. It is good to exchange notes. Not all of us in Blog Watch share the same views. We do agree to hear all sides first before making a conclusion.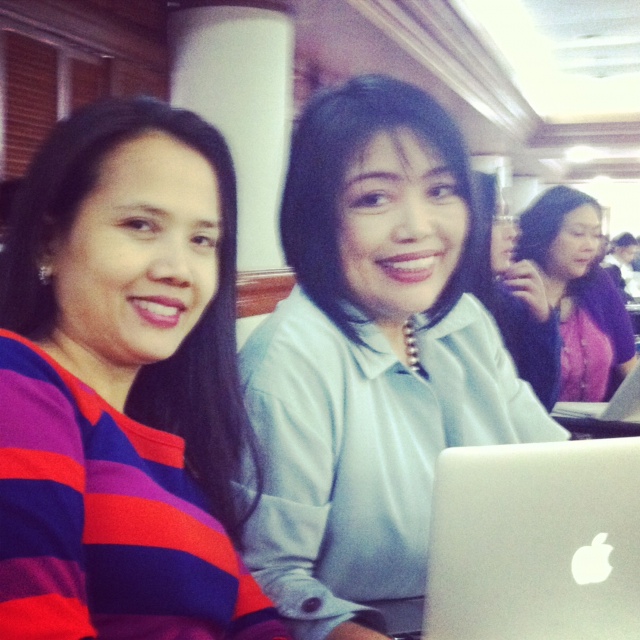 When Justice Cuevas came back after two days of rest, I asked how he was and told me he was getting better. I told him people in Twitter were praying he recovered fast. I then requested a photo so I could share it in twitter. He turned around gamely for this shot.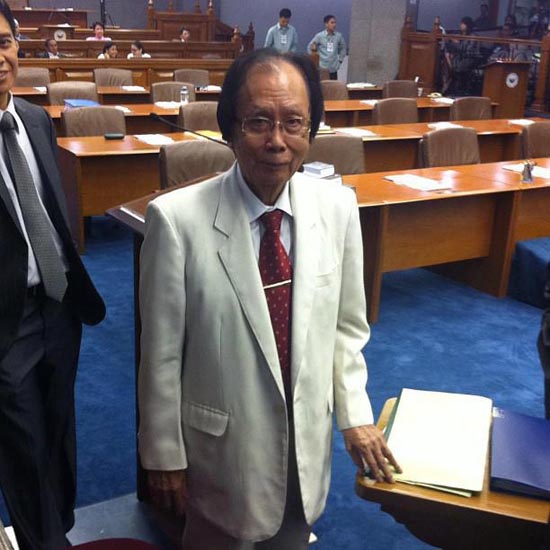 There are times I cannot help but nod off while watching the Corona Trial especially if the voice is in monotone. My coat does not warm me enough from the chilly temperature inside the Senate. I leave the session hall and wait it out at the lounge so I don't get caught live on TV. Yes, I have been caught live once , frowning on something I read in my Tweet deck.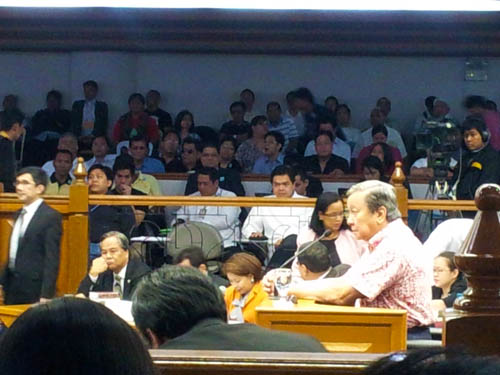 Cuevas the rock star is the most requested person to have a photo taken with.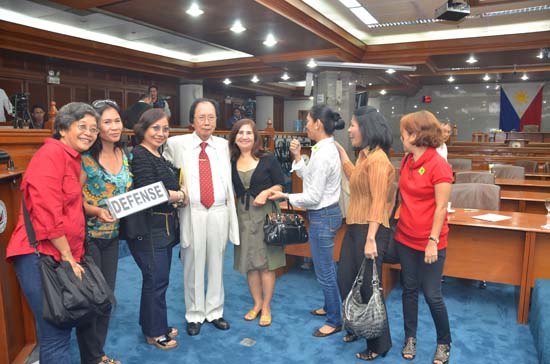 Here I queue just to have one with him. I will not pass up my chance.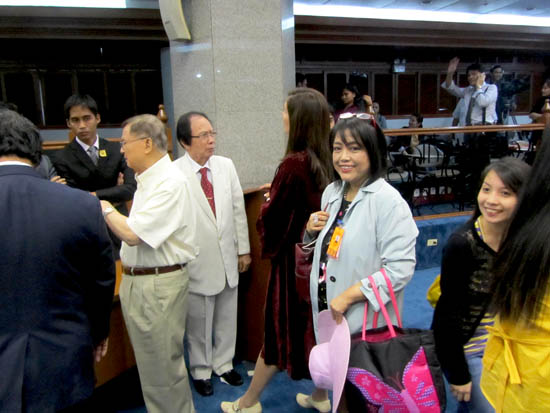 The sweet Justice Cuevas held my hand tightly as this photo was taken. I was visibly touched as he reached out for my ID tag and asked for my name. I guess because I kept asking him if he felt better.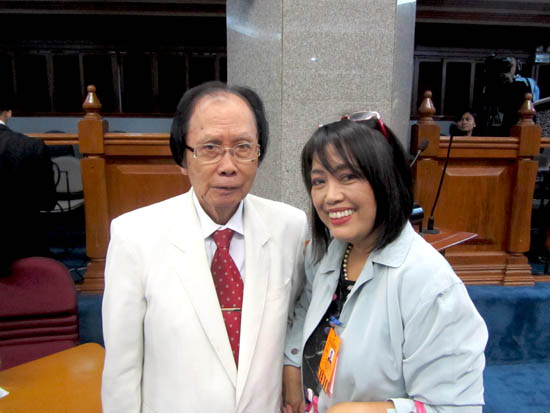 One of the most confusing things that happen during recess or the trial ends is when prosecution and defense lawyers mingle. I always thought there was a dividing law somewhere in the center between these two groups. At the end of the day, all the lawyers are buddies. It is work after all.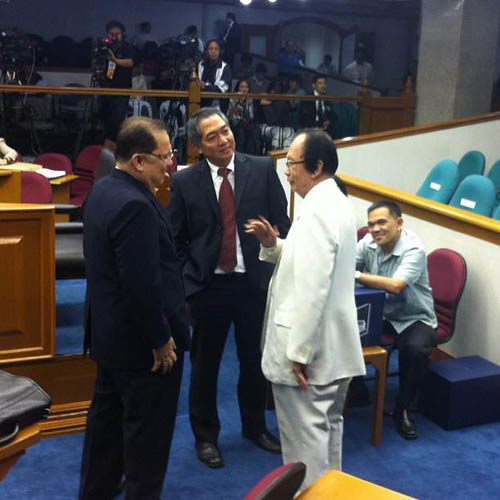 I alternate sitting at the prosecution and defense gallery. When PSBank President Garcia took the witness stand, exasperated sighs could be heard short of saying "reveal the dollar accounts" or "why are you taking so long to reveal the numbers?". While at the Defense gallery when LRA head Atty. Diaz testified, I chuckled over a comment "Ang computer na ang mag-impeach" to which a twitter user piped in and said "much like the plagiarism where Word was accused for it".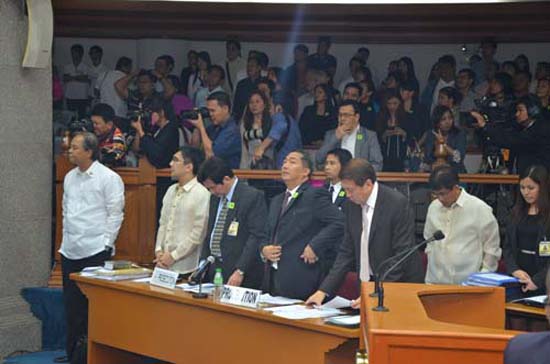 At the end of every trial, it is a time to unwind , take more photos or just mingle with the people I know. I take the hot seat , imagining what it is like to sit it out there for hours on end.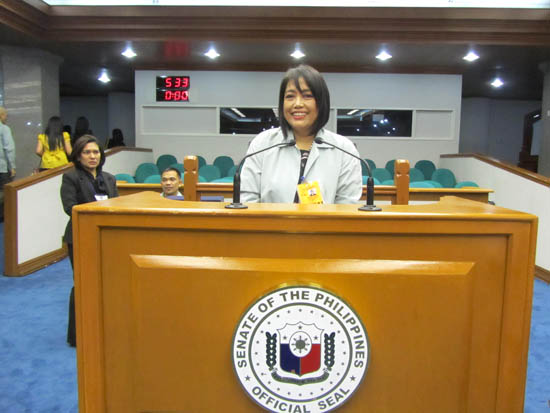 But Rep. Farinas breaks my fantasy into "real-life" drama as he acts out the part of the prosecution. How funny he is. This could be his FAMAS best actor award.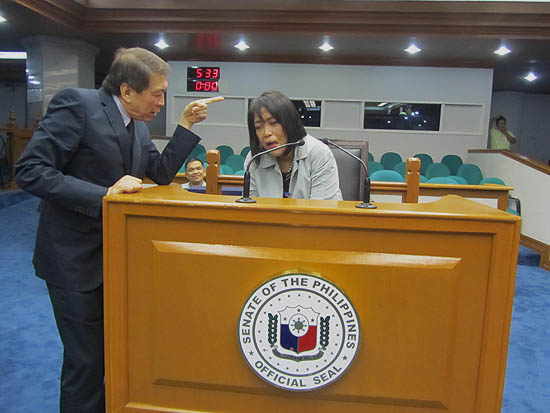 I pretend to be in the Defense team.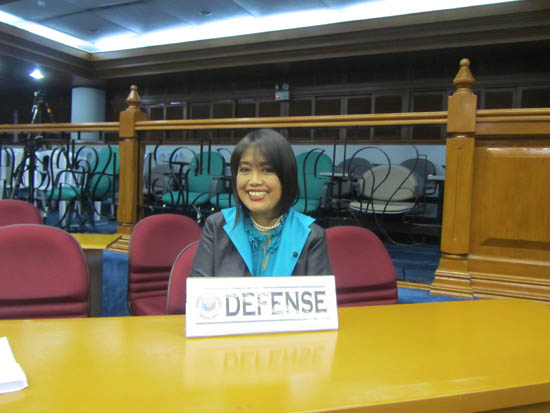 I do the same as I sit in the prosecution desk.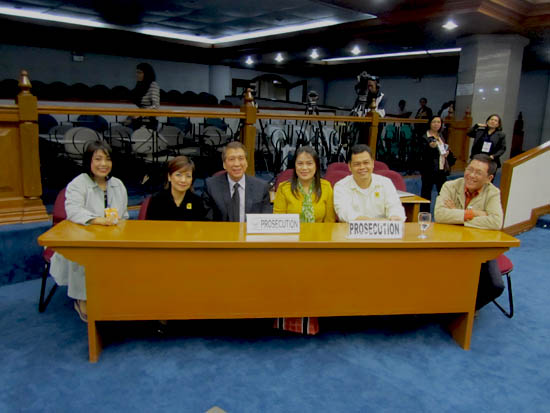 On the last day , I bumped into Roxanne at the gallery. As a balikbayan graduate on vacation, I didn't know the impeachment trial could be a tourist spot. Another pleasant surprise is she reads this blog. Such a sweet girl, she hugged me because she read my son's story.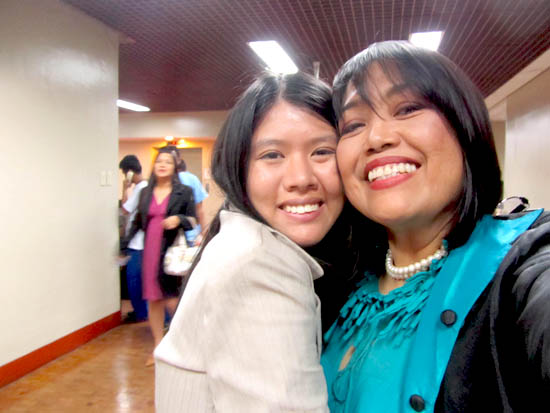 This lovely lawyer is someone close to my sister-in-law (a lawyer herself) so it is easy to talk to her. She also gets a lot of requests for photo ops.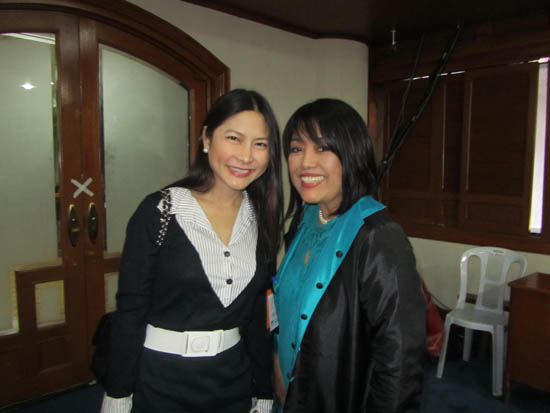 My husband has always been telling me to talk to his friend and fraternity brother Prosecution spokeperson Rep. Miro Quimbo. I thought he was too intimidating so I never bothered. Well one day, I bumped into him at the elevator and introduced myself. Blame it on senior moment, I do not recognize Miro in a suit. He was always in t-shirts back then. Miro told me my husband was his mentor in Law School . Miro and my husband seems to be members of the Mutual Admiration society as they both have good words about each other. It totally escaped my mind that the last time Miro saw me was at the wake of my beloved son in 2000. (I was a recluse for many years) He said I look different now. Perhaps because I have moved on to this new normal. A lot of small talk and laughter as we talked about my dear old husband. He introduced me to Rep Sonny Angara who recognized me as @Momblogger in twitter. Awkward! I think I am quite critical when @sonnyangara tweets.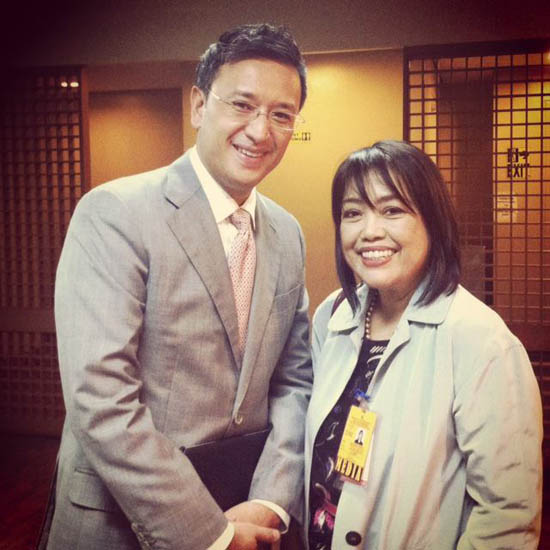 Talking to Miro made me reflect on how much I have indeed changed from 11 years ago. He saw the difference. How my grief must have evolved to doing something meaningful today. Like I often say, the death of my son gave me the courage to pursue and fight for my goals in life..
So perhaps I was meant to cover the Impeachment trial for a reason. This impeachment trial is a momentous and defining moment in the growth of our democracy. It is a significant opportunity for me to be a part of building on the gains we have made as a democracy.
But now, it's time for a break.