Hear Ye, All Ye bloggers.
We have a new look over at the Pinoy Moms Network (PMN) which officially launched its ezine format at 12 midnight . With the new look comes new content. As I write this entry, the section editors are still awake at this unholy hour tweaking their entries . This just shows how much labor of love went into this new endeavor. Connie is right in saying that "it's even misleading to talk about how much blood, sweat and tears went into the transformation of PMN."
Speaking of Pinoy Moms, I invited a few moms to a small intimate gathering as part of my mini 50th birthday celebration. Thanks Dine, Chats, Lisaflor and Jane for making it knowing you had family affairs to attend to.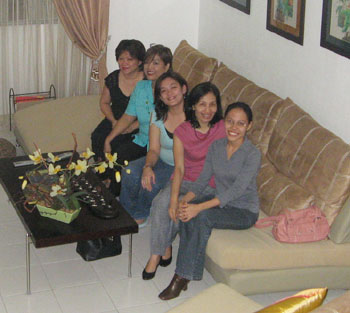 What I love about hosting parties is that I am forced to cook and bake. Ever since the girls went to college, I have relegated the grocery and marketing to my dear husband and merely supervised the daily meals to the household help.

I have slacked so much as a homemaker. What happened to that mother who whipped up specialty cakes iced to perfection? or the mom that baked scrumptious heart-shaped cookies on Valentine's Day? or the mom who quilted a bedspread? Where is the mom and her cross-stiched frames ?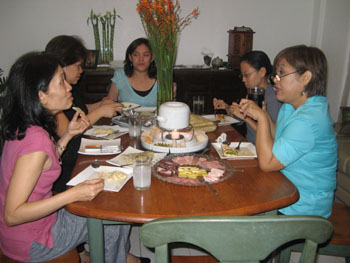 No wonder my two daughters often tease me "you don't make birthday cakes for us anymore?" Is it because I am tired of being a homemaker and just want to venture into something different?
Or am I just royally weird now that I am 50 years old?
Probably not as weird as the awarding of the Royal Weirdness prize ( A scrabble set) to Chats by Dine, the second runner up. (Annamanila held a small contest to anyone who could outmatch her quirkiness. haha. Since the mysterious Annamanila couldn't make it, she requested Dine to give the award in her place.)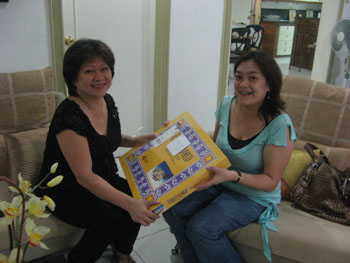 I had so much fun just chatting the afternoon away as we nibbled sour dough battard dipped in Cheese Fondue. There are a thousand and one non-bloggable items to talk about but which is possible when one meets up in these gatherings. Like , the thrill of launching the PMN ezine as an entertaining resource for mothers of all size, shape, race and faith.
Come and walk with me as we give you lots of original content with the Pinoy Moms Network New Look.
Whether you're a mom or not, do Visit Pinoy Moms Network.