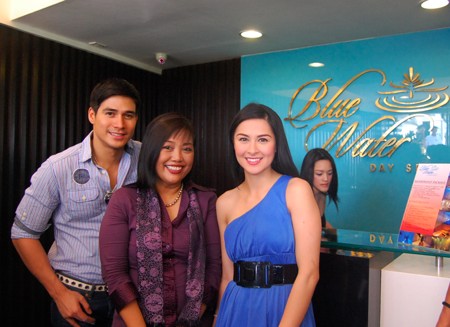 Piolo Pascual and Marian Rivera at the Bluewater Day Spa Capitol Hills Branch Launch
Let's have some showbiz break with Piolo Pascual. A few bloggers got invited to the BlueWater Day Spa Capitol Hills Opening. Going to the spa is one of my favorite ME time that I couldn't miss the opportunity to check out another spa especially since it is near the girls' university. Now it isn't the first time for me to meet Piolo Pascual and Marian Rivera. I met them in another launch of Bluewater Day Spa last year.
Like I told you, I find Piolo so charming, er gorgeous looking guy to put it mildly. This time around, he looks even more gorgeous than ever. Kinilig talaga ako but I didn't show my giddiness even if Piolo kept smiling away to everyone. Acting poised and collected, I boldly approached Piolo for an exclusive interview. Lucky me got to sneak in a 2 minute exclusive close-door interview with a few bloggers. Here is his video message to all of you my dear readers:

Piolo giggles as he greets all the readers of this blog and bloggers. (haha kilig!)
On relaxation
Well of course, every chance I get…even if I don't have a chance to go to the spa, I always have a masseuse on the set or taping. For me, it is something that you should do once in a while once a week, to pamper yourself, to rejuvenate.
On stress
You have to love yourself more. You have to take care of your health. Don't overstress or don't overwork. You have to once in a while treat your body to a massage, a spa.
So that's all there is to it. Love yourself more. Treat yourself.. Pamper yourself and make yourself feel good.
One way of pampering myself is having a photo op with Papa Piolo.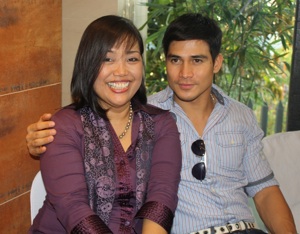 Photo courtesy of Edelweizaa
More Photos