Pow Chavez gets the boot but this is not the end of her journey.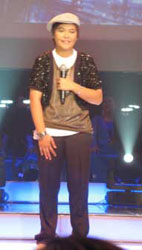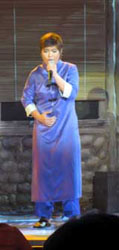 What touched me was her good-bye speech that made me tear and everyone else in the audience: (thanks Jove for the transcript)
Pow Chavez: (before the announcement)
""Gusto ko lang magpasalamat sa lahat ng taong tumanggap sa akin, ah, iyun pong dalhin nyo ako sa stage na ito malaki na pong karangalan sa akin!"

Pow Chavez: (teary goodbye)
""Baka hindi na ako makakanta (pause) di ako umiiyak (pause) ah gusto ko lang pong magpasalamat sa (pause MR C hands her a hanky) mula po sa puso ko (pause) nagpapasalamat po ako tinanggap ninyo ako at nakarating ako ganito kalayo (pause) di po ako sumasali sa mga singing contest kasi natatakot ako na baka hindi nyo ko tanggapin, isang taong kagaya ko, pero kaya po ako narito kasi po gusto ko kumanta….
Of course, we accepted her for who she is. It's just people like old school [tag]Philippine Idol[/tag] judge, Pilita Corales who insist on seeing her wear a dress. Forunately , Lea Salonga is more open minded and advised Pow that a dress doesn't suit her. But Pow was game, she wore a dress for her movie clip (View Youtube video of her movie)
There may still be homophobics in the Philippines but when they see raw talent, they forget their homophobia like the homophobic parents of this blogger
My mom voted for Pow for all the weeks that she was competing. A huge feat for my mom given that she and my dad are majorly, majorly homophobic. Ang lungkot di ba? My parents are so homophobic but Pow somehow managed to win over my mom while I've been trying to get their tiny approval for years. An average of 75 votes kaya siya per week!
Pow has a strong fan base to keep her in the music industry. After every show, a crowd of adoring fans gather around her just to take photos with her. She is humble, charming and likeable to her fans taking time to thank them for their support after every photo ops. You don't see a lot of fans hover around Miguel and Jan , the weaker performers but these two have powerful voting blocs. Pow wanted to stay in the competition while Miguel was lukewarm about his stay:
Ryan Agoncillo:
""Miguel for the past two weeks you've been scratching your head after results night kinakabahan ka lagi especially last night, it struck me when you said -I'm ready to go-. Gusto mo pa ba mag continue sa competition na ito, Miguel?"

Miguel Mendoza:
""Oo, if there are people who will still vote for me, okay lang, okay lang din hindi"
He tears after every results night. Maybe he is sad that the better Idol Finalists leave before him knowing they are so much better.
Haay naku. But that's life. Life is unfair but it doesn't have to be unfair forever. It is not the end of the road for Pow. We will be seeing more of Pow in concerts, album launching and tours.
More POWer to your future . You have a lot of fans, Pow.

To read more about Pow's elimination, read fellow blogger and ABC insider, Jove Francisco's entry. If you missed Pow's performance, here is the youtube video (below) of her song in the Movie Themes portion where she sang "So Far So Good" and the YouTube video "I'll Give my Life for you"


And this is the link to sunday's performance, Movie Themes and Musical Night
http://www.mininova.org/tor/490308 or the YouTube Video