Note: This is a discussion about Bloggers and Blog Marketing and what Marketing/PR Executives can expect from bloggers.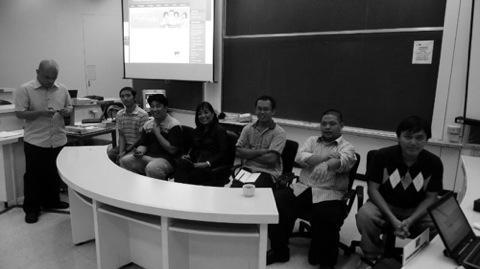 Bloggers seated from Left to right:
Jonel, Azrael, me, Peter, Juned and Markku
while Regnard Raquedan is standing.
I thought I was just supposed to be an observer/participant of the Bloggers' round table discussion on Blogging & Blog Marketing: Conversations that can lead to Conversions at the Internet Marketing Course specifically called Winning Internet Marketing Strategies & Tactics at the Asian Institute of Management (AIM) . The course is a three and a half-day course designed to demystify Internet Marketing for executives, consultants, and entrepreneurs. It gives participants a practical understanding of how websites, blogs, and social networks are changing the old rules of marketing. I was pretty much surprised when Regnard Raquedan told us to sit in the front and talk about blogging, blog advertising and blog events.
I believe this was my chance to state my opinion in an academic setting where I won't be accused of being a blogging police of sorts. (Edit: Take note that this discussion is not meant to criticize bloggers) I felt that not a lot of media/advertising managers are aware on what blogging is all about. I also think that a lot of misunderstanding is caused by lack of knowledge on bloggers per se. After one and a half hours of discussion, the key points are summarized below by Regnard as follows: (The details are mine)

1. Bloggers are diverse: We come in all shapes & sizes, and different backgrounds, interests & motivations
I believe this is clear enough. There are blogs that talk of travel, food, lifestyle, business, entertainment. Each blogger has a reason for starting their own blog. (Edit Carlo Ople writes more on this at 4 Types of Bloggers: Value, Hobby, Journal, and Google where the 4 categories can overlap, and in fact some of the best bloggers have stricken a balance on how to be all 4. Juned expands the definition of blogger in form and goal.)
2. Despite the diversity, bloggers have one big thing in common: passion
Passion drives bloggers to blog regularly. Their topics interest them and it motivates them to search for unique content for their blog.

3. Bloggers follow a personal code of ethics (e.g. advertising, blogger events, etc.)
Each blogger sets their own standards. Some blogger refuse to add any sort of advertising in their blog. Others place google adsense, third party ads from the local blog ad networks and other advertising options. Others get paid to do reviews through hosted pages or pay per post opportunities. Others choose third party ads but don't participate in pay per post or events. The choice is set by the bloggers.
4. For most bloggers, online reputation matters
Credibility is important for a blogger. I already discussed it in my entry on The Bloggers' Credibility and Credentials in Filipino Voices. You are essentially what you write and will be judged accordingly by your readers, the blog's community.
5. When working with bloggers, authenticity of the advocacy & commitment of the company/proponent is important (i.e. "one shot advocacy events," hard sell to bloggers)
I shared the FilipinaImages.com advocacy to the participants and illustrated that an appealing advocacy is easily picked up by bloggers without much prodding.
6. Money is generally looked down upon as a reward/incentive
Some local companies have approached bloggers in the past to post positive reviews of their product/service for a fee. This is generally not acceptable to most bloggers as it ruins their credibility. A corporate blogger is not the same though because the blogger is paid a fixed salary and disclosure of that fact is stated in the "About Page".
7. When working with bloggers, companies should strive to make an impression and make sure the blogger has a story to tell after the event
I shared my view that in the recent months, I am not happy with the way PR events are handled by the newcomers. I think that some PR companies are just lazy to do their own research and just invite warm bodies for the sake of buzz. Some PR events do not deliver a clear message to the bloggers. I admire this PR company, a pioneer in blog events because they do their homework. The people behind the PR company actually subscribe to our blogs and feel the pulse of the blogosphere. A close relationship with the bloggers forge friendships and social networking. They know which bloggers are relevant to their clients. They actually do research.
Lastly, PR companies should be clear on their goal for the blog event : is it Quantity (shotgun approach and invite as many bloggers for the buzz ) or Highly Niched (Maximum of 20 bloggers who are seeking content for their blog and suit the clients' niche)
Know whom to invite: Not all bloggers can influence your target market, and not all of them can have the same level of interaction with their readers.
I believe I said more like "let's not stress too much on the freebies in blog events or else a rise in freebie culture will take place. Tell a story so we can bring home the content".
So yes, this is an academic discussion on the state of the blog advertising, PR events and other blog marketing practices in the recent months. It is meant to improve the blog marketing practices among the media practioners of the Philippines and a greater understanding of the bloggers in Metro Manila. I was pleased that Professor Ricky Lim personally thanked the bloggers for "sharing and helping create a vibrant blogging movement here in the Philippines. " On behalf of AIM, he thanked us and hoped
we could come again to talk to their students.
Glad to know that our contributions added to the intellectual capital of the management community.
Do you have anything more to add?
Photos courtesy of Regnard Raquedan