""I believe that during these times, we should not forget that many sacrificed to regain our democracy." Corazon Aquino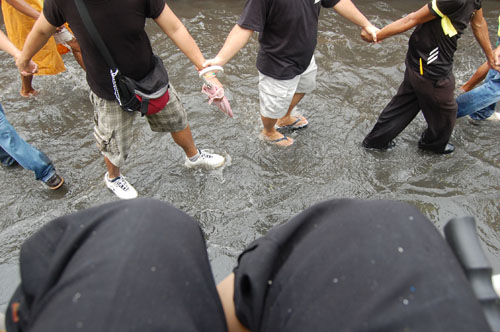 My legs dangling from the makeshift platform of the media truck. I couldn't stand up because I don't have balance after I broke my ankle 4 years ago.
President Cory Aquino is an extraordinary woman that I risked my limb just to take photos of the funeral procession. Never did I imagine that it would take 9 hours. Just the other day, covering the transfer from La Salle Greenhills to Manila Cathedral took 5 hours which I thought was already a long drive. Never, ever will I ride on an open truck for half a day under strong rains, soaking pants, hunger, thirst, huge cameras hitting on my head, and being shoved by media just to take photos of an event. Unless of course, a president as great as President Corazon Aquino will come along. Maybe not in my lifetime.
Hear the outpouring of love and sympathy from this video I took from Manila Cathedral to Manila Memorial Park
The people who lined the streets for hours were just in the same position as myself. Drenched by torrential rains brought by Typhoon "Kiko" and enduring hunger and thirst as they waited for hours for the Philippine flag draped casket of our beloved President Cory to pass by, I can see it as a small sacrifice for a woman who restored our democracy. Our sacrifice is nothing compared to what Cory and her family endured to save our nation from the tyranny of a Marcos dictatorship. It was a small sacrifice for me as well to sit for 9 hours on an open truck because my balance to stand up on the makeshift platform of a moving truck seemed unstable for me to take snapshots of the unfolding scene.
I know it's cliche to say that there are no words to describe the incredible outpouring of public sympathy today. I also have another reason: I am dead tired but I will update this entry as soon as I get enough rest. You will see photos of people rich and poor who stayed for hours on the streets to bid farewell to a great woman until her final resting place. The scene is reminiscent of the burial of former Senator Benigno "Ninoy" Aquino Jr. who was assassinated in 1983.
Here are the Photos of the 9 hour ride from Manila Cathedral to Manila Memorial Park. Dressed in a raincoat, holding on to an umbrella and removing my shoes, here is my labor of love, my tribute to a woman I admire.

Manila Cathedral at 7:00 Am just before the mass started at 9:00 AM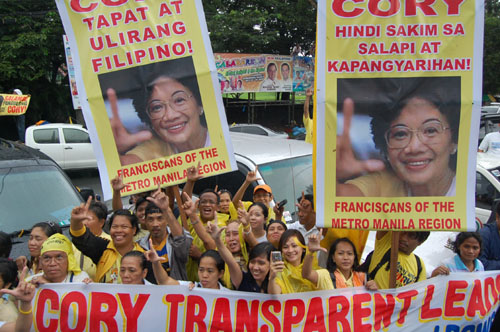 The funeral convoy started from the Manila Cathedral at 11:30 a.m. Here are mourners along the Anda Circle as they waved ""L" signs with their forefingers and thumbs to denote ""Laban" (Fight) . I do hope we Filipinos continue with the fight.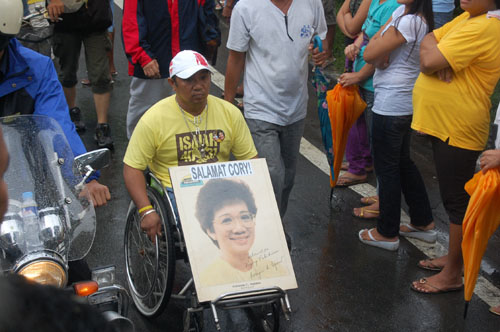 Even a disabled man came to give his last respects.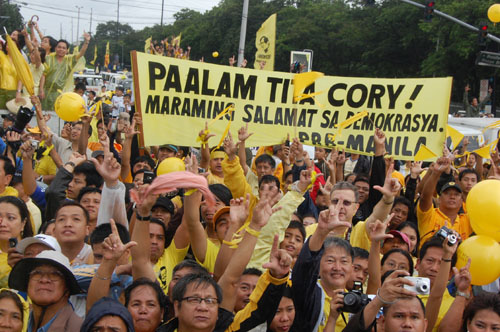 At Luneta Park, dozens of men, women and children dressed in yellow shirts marched with the cortege.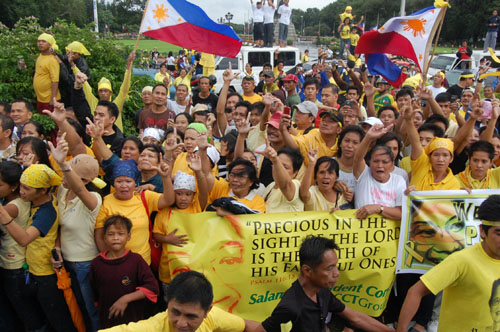 Roxas Boulevard. The mourners were flashing a "Laban" (fight) sign and chanting "Cory! Cory!" Police efforts to push back the crowds so that the procession could move on proved futile. Volunteers surrounded the ""Cory Truck" forming a human chain to prevent the crowd from blocking its path.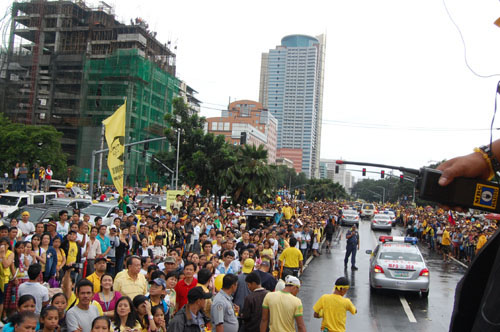 This crowd is nothing compared to what lay ahead of us. Some 100,000 lined up along Roxas Boulevard from Intramuros to Quirino Avenue, said Superintendent Rommel Miranda, metropolitan police spokesman.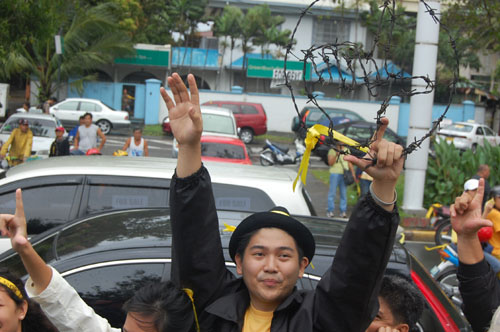 The guy said "I'm an EDSA 1 kid".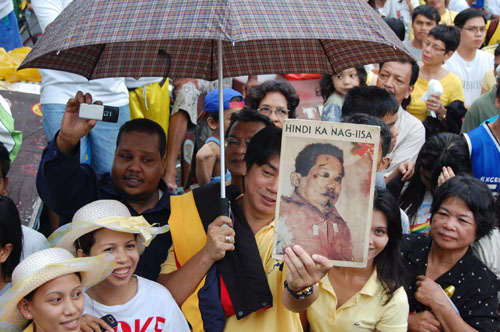 Some guy held a photo of Ninoy Aquino as he laid in his coffin.
It seemed like a fiesta atmosphere rather than a funeral procession where the people were joyful rather than sad. People cheered, clapped and sang under the rain, as if to celebrate life than death.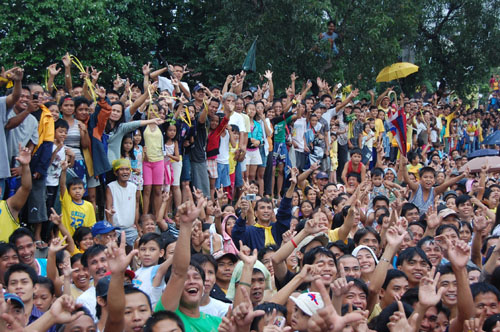 Another 30,000 gathered from Osmeña Highway to Buendia Avenue, 10,000 along the Sucat interchange, and 10,000 at the vicinity of the Manila Memorial Park as you will see in the next few photos.

Strong rains poured as the cortege reached South Superhighway but the people stood their ground.

"Thank you Tita Cory. We love you". Families came in droves so that their kids will be able to witness this historical event. I am sure their parents wanted to emphasize the importance of President Aquino in Philippine history.

The crowd was so thick in front of us that the funeral procession got delayed for hours.

More and more people near the skyway. It would have been faster to ride through the skyway but then people along the route would be disappointed if the cortege chose the skyway.

At the Magallanes Interchange

Finally, I have a view of Cory Aquino's truck. Since I was seated on the side of the truck, most of my photos are taken on the side streets. Look at how the people are walking along the truck.

You can imagine the speed of our vehicle. It ranged between 5 to 10 kph.

You can see the flower bed is thinning out. I heard over the radio that some Pinoys think that Cory is a saint and got a flower for keepsakes.
Here I am so shallow, complaining about my 9 hour torturous ride but these honor guards deserve recognition for standing motionless and braved the rains for almost nine hours atop the flat-bed truck from Manila Cathedral to Manila Memorial Park. I later found out their names as Pfc. Antonio Cadiente, Airman 2nd Class Gener Laguindam, Petty Officer 3 Edgardo Rodriguez and Police Officer 1 Danilo Maalab. How they withstood it motionless for so long is their own way of sacrifice, selflessness and strength as tribute to the remains of a former president.

Up close with President Aquino's casket. I have so much respect for President Cory Aquino that I gazed with sadness at her casket. At the height of criticisms against President Cory, my faith in her never faltered. After all, even a new-born democracy with its weakness is better than a brutal dictatorship. I appreciate everything she sacrificed just to work for the restoration of our democracy.

Kris Aquino in Bus no. 1 took time out to greet everyone. A lot of shrieking fans soon chased after their van near the toll gate of South Superhighway. James Yap, seated in front also greeted everyone and even shook hands with the people. Jiggy Cruz brought out a signage that said "Maraming Salamat". It was at this point when the crowd became rowdy, hysterical and emotional that I wanted to get off from the media truck but I am not fast enough to get down a moving truck. I prayed hard that our moving truck would not bump on to anyone or push me down to the ground.

It is 6:00 PM and we were still far away from Manila Memorial Park. These kids risked their lives by climbing up to the roof just to get a good view of funeral procession.

Finally in Sucat at around 6:00 PM. A swelling crowd greeted us again.

A signage "May your death unite us as your life did".

People from Paranaque waited for hours for Cory's truck to pass by. This family came in full force holding up a sign "President Cory Aquino Isa Kang Bayani"

When I finally got down from the truck, I could barely stand up after sitting in one position for 9 hours.
Kris Aquino and James Yap walk over to position themselves for military honors for President Aquino

President Cory was given full military honors before the actual burial.

Farewell President Corazon Aquino. Through all the combined 15 hours of coverage during your funeral procession, this has got to be the greatest outpouring of love that I have witnessed in all 52 years of my life.
I will not forget the people who sacrificed their lives for democracy.
I will make sure that my readers are aware of the implications of the Constituent Assembly before the 2010 elections, and that we should oppose Charter Change perpetuating President Arroyo and her allies in power.
I will continue with the fight, to help maintain our democracy.
More Photos of the 8 hour ride from Manila Cathedral to Manila Memorial Park.
Source for some annotations: Inquirer.net