(Thanks to Jeric for this recording and also to Pinoy Biscuits for taping the episode as backup)
Welcome viewers of Proudly Filipina.
I really like how the writers and researchers prepared for the show. It was well-researched. Charlene Gonzales, the host surprised me as well with her research skills. The night before, Charlene told me that she read my blog entries. I was flattered. Usually hosts rely on their staff for the research. I also read about Proudly Filipina the day their staff called me. I wanted to know more about their show. During the taping episode at home, I learned that Charlene is quite hands-on. Aside from hosting and interviewing the subjects, the former beauty queen assists the staff of the show in research and pre-production.
During the break, I asked Charlene how she liked being the host of Proudly Filipina. She readily agreed to be the host because the show has a 'pay it forward' effect. You could inspire, change somebody's life, and be optimistic is enough reason for her to agree to be the host. A segment of their show paves the way for anyone to nominate their Filipina who they are most proud of. She added that "It is more interactive with the viewers because they will be able to contribute what they want to see on the show. Not only that, other inspiring stories of other Filipina and successful woman of the country are also shown."
If you want to nominate a Filipina for their segment , Pay It Forward, you can nominate at proudly_f@yahoo.com or proudlyfilipina@gmanetwork.com
The questions dealt on the 5 deaths in my immediate family. Media often focused on Luijoe's death but I have never been interviewed on the deaths of my two brothers, my mom and dad.
These are the sequence of events.
1976



My mom passed away when I was 19 years old. Though I knew she was sick of breast cancer since I was 15, I never imagined she 'd pass away.
1990


My 27 year old brother, Reuben died of fulminant Hepatitis A. His death was so sudden. Soon after his death, it was discovered that there was a Hepatitis A epidemic in our area. Four other siblings including Lauren suffered from Hepatitis A. We filed a case against Metro Cebu Water District (MCWD) and won the case 12 years later.
1999


My 40 year old brother, Oscar died of leukemia (AML- 6) after an unsuccessful stem cell transplant in Bethesda, Maryland.
2000



Six year old Luijoe died of accidental drowning in a beach resort at Cebu, Mactan.
2003


My dad died of diabetes complications after being bedridden for 4 years.
I often asked God ""WHY? WHY MY FAMILY? WHY MY SON? " for many years.
Much later in my grief recovery, I learned that my son's mission on earth ended and the choice was for me to take over whatever mission I needed to do. The same goes with my family members who passed away too.
Every death is not an ending . It offers new beginnings, an opportunity to seek the meaning and purpose of the death.
We all must face death. Perhaps we can even find grace in it. If it is our time to move on , we need not fear death. If it is nearing the time to say goodbye to a loved one, then pray that their transition be graceful and peaceful. If you have lost a loved one, know that they live on.
As for me, I chose to be a better person instead of being bitter.
Some minor corrections though
1. In the end of my segment, Charlene said she hoped "time will come when there are happier stories. I guess she read the grief category only. Though I write about grief, this blog is not all sad and somber. I do write about my adventures, my joys as well as the journey.
2. I did not write a book but I contributed a story to the book, Fallen Cradle edited by Agnes Prieto.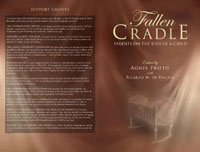 My story on Luijoe's life and death is a part of , ""Fallen Cradle"", a book of 22 stories by parents who have a lost a child. . Fallen Cradle can be bought at National BookStore or Powerbooks. (read more about Fallen Cradle)
3. My story does not make sense without my advocacy. They forgot to mention it in the episode.


Grief Support in the Philippines
After the Death of a Child
Behind the Scenes