Purefoods Heat and Eat line comes with its two flagship products, and Filipino family favourites, Crispy Pata and Lechon Kawali.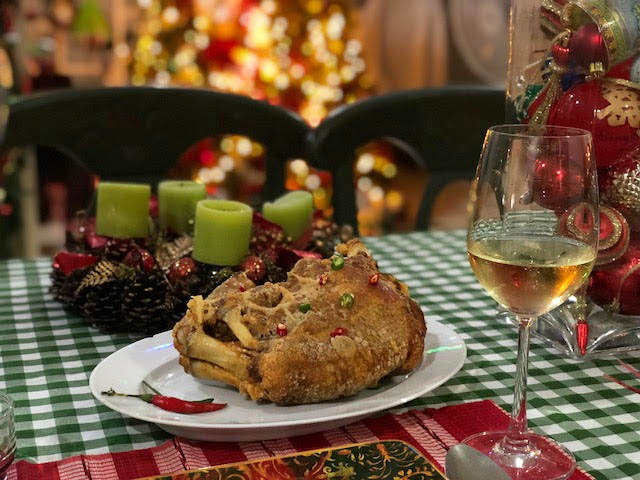 Christmas meals and all the trimmings get to be a burden more than a celebration for the cook. I am sure you know the feeling as well. It's Christmas day lunch, but rather than catching up with family, you're cutting up the lettuce, preparing the salad dressing or chopping the ingredients for the Paella. Christmas Day should be relaxed and fun, for the cook as well as everyone else. I take pride in cooking meals for my family and guests but I learned to let go through the years. I pre-cook or cut ingredients of recipes ahead of time and freeze them thus reducing tasks in the immediate run-up to Christmas Day. I learned that having prepared meals in the freezer like pre-cooked food or even "Purefoods Heat and Eat" Crispy Pata and Lechon Kawali, are convenient.  That's the trick for a stress-free Christmas. Plan your meals ahead of time.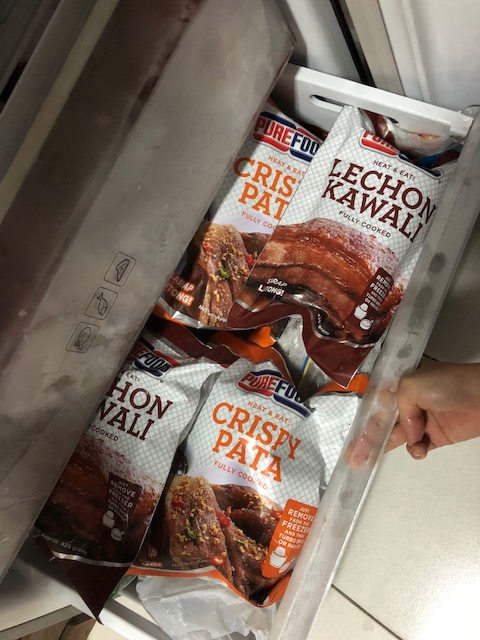 I stocked on these Filipino favorites in preparation for sudden arrival of Christmas guests or simply because I don't want to run out of food.  There are days when there are many chores to do at home that there is no more time to prepare meals.  Having fully cooked, ready to eat meals, that can be reheated either via Turbo or Pan Fry is very convenient. Not only should it be convenient, but the meals should taste delicious.
I wanted to make sure both variants lived up to the taste of these Pinoy food classics so I cooked them ahead of time and followed the directions of the package.
Just remove from the freezer.
Then turbo broil or pan fry.
The preparation time is pretty fast at 10-20 minutes. I used the pan frying method for the Crispy Pata. It took a total of 20 minutes to attain the right crispiness of the skin.
Crispy Pata
The Crispy Pata is a popular Pinoy dish where a whole pork leg is simmered in spices until tender, refrigerated overnight to dry, and then deep-fried until the meat is moist and the skin golden and crisp. That's a lot of preparation time but thankfully, one has the option of storing the "Purefoods Heat and Eat" Crispy Pata in the freezer.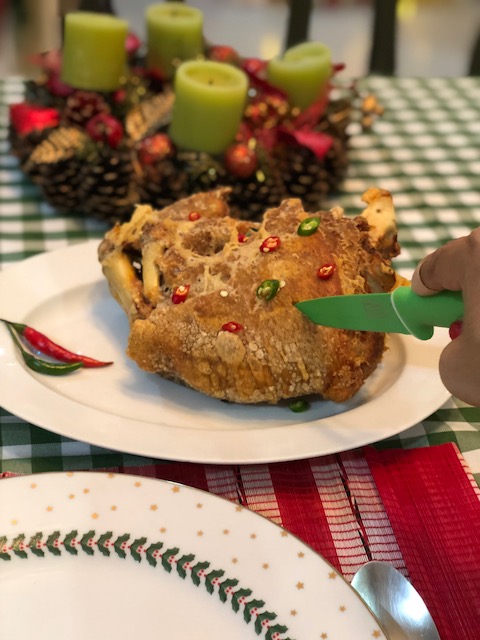 I was at first skeptical that the Crispy Pata would not meet my expectations but I was in for a pleasant surprise.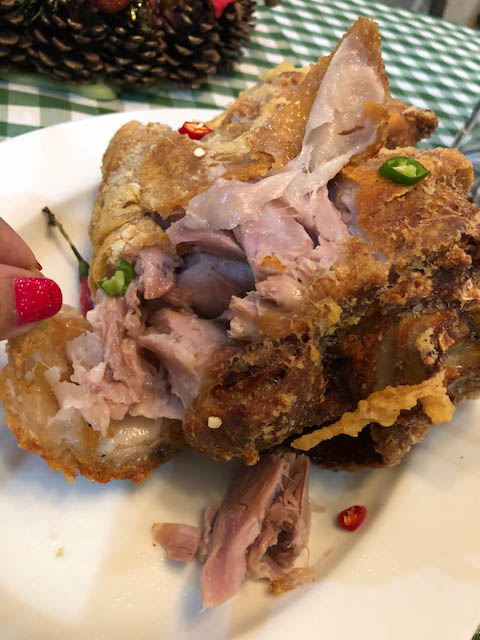 Promise,…the Crispy Pata was delicious. It   was crunchy on the outside and moist and succulent on the inside. Even my husband and daughter loved it. Remember, Crispy Pata can be served as a main course but it also goes well as an appetizer dipped in mustard or served as beer food or "pulutan".  You can also serve Crispy Pata with Atchara or vinegar and soy sauce dip.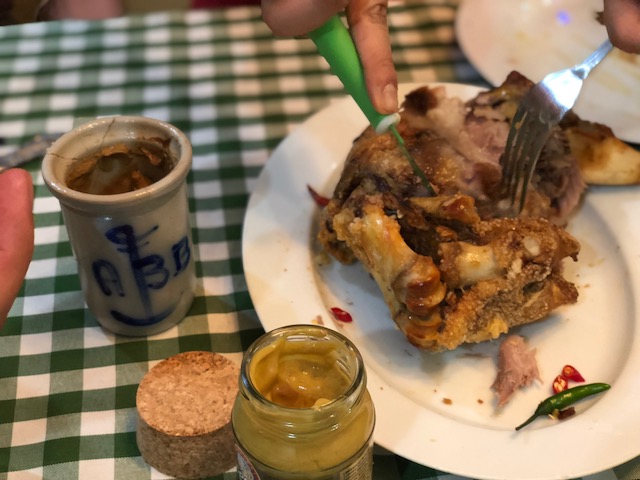 Lechon Kawali
Lechon Kawali is a popular Pinoy dish prepared with the pork belly simmered until tender and then deep-fried until golden and crisp. But this Lechon Kawali has been prepared ahead of time so I love the convenience. Then again, will it live up to my expectation?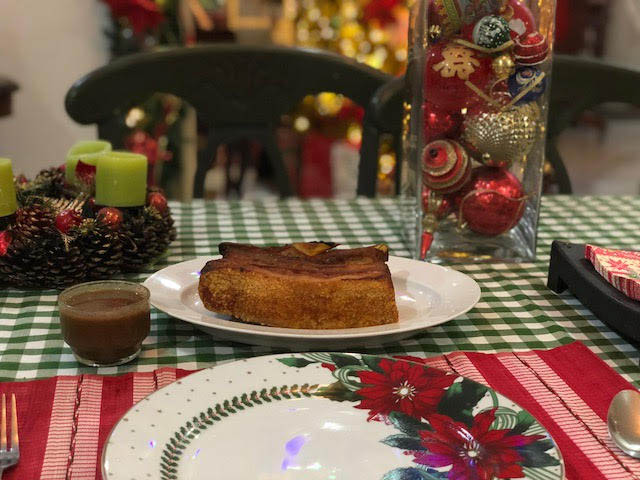 Just like the Crispy Pata, the directions are straightforward. Just remove from the freezer then turbo broil or pan fry. Using the pan fry method, the Lechon Kawali was done in 15 minutes.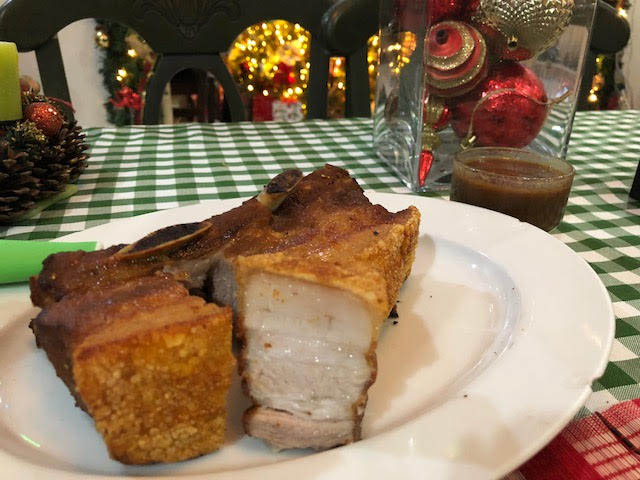 Take a look at those little air bubbles in the skin. The skin had the right amount of saltiness and was extra crispy, while the juicy meat was so moist and tender. Every bite was flavorful. I am very satisfied with the taste of both Filipino family favorites. In as fast as 10 – 20 minutes  I  get to enjoy the family's restaurant favorites at the convenience of my own home.  It is just a matter of removing the meat from the freezer and frying the already tender meat! I am also assured of crispiness along with scrumptious succulent meat on the inside. The "Purefoods Heat and Eat" will now be a mainstay in my freezer even after the holidays over. You never know when guests arrive.
The Purefoods Heat & Eat line, has two variants: Lechon Kawali with a serving size of 425g per bag good for 3-4 persons and Crispy Pata at 900g per bag for 5-6 persons. These are available in major supermarkets in GMA (Robinsons, Landmark, Puregold, Hi Top, and South Supermarket) and Monterey Meatshops in Luzon.
Visit their Facebook page and Instagram