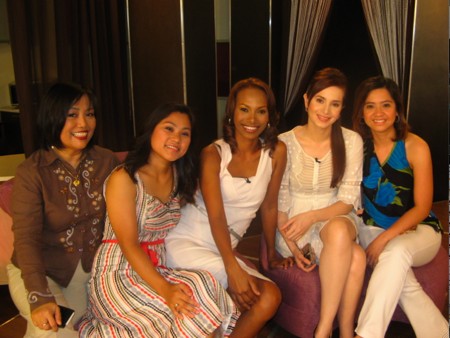 I declined to appear in the Sweet Life Episode on "Comforting the Bereaved" for Lorna Tolentino's friends. My last TV appearances left me disillusioned with anything showbiz in it. Despite the tragic elements in my life, I cannot stand embellishments injected into my life story. The segment producer tapped me to be the resource person for "A Child's Grief" and I hemmed and hawed. I then remembered that grief education is part of my mission in life so I agreed in the end.
The guests were two young women, widowed in their mid-twenties. The focus of the segment was comforting their bereaved children. I discussed some creative projects and self-care. Every now and then I had to butt in and correct some misconceptions on Grief Recovery. Lucy Torres is quite smart but I don't know what to make of Wilma Doesnt, her co-host. At the end of the show, I handed my calling card to the two widows. Wilma looked at me backing off as if I had some communicable disease don't give me a calling card in half-joking/serious tone. Well, I told her I didn't plan on giving you anyway but she kept repeating it. What the??
Apparently, she found the show's theme so heavy and depressing that she kept whining about it. To think I was there to educate them about Child's grief.
Since my portion covered less than 6 minutes (they practically cut half of that segment and concentrated more on Lorna Tolentino's grief), I want to add more details that were not really discussed and which parents and guardians of a bereaved child might find useful.
Society tends to imagine a family death in one of two ways:
1. It may be seen as so devastating for children that people feel they should be completely protected.
2. It may be seen as the opposite, that people assume children are so resilient that they will simply "bounce back" without any support.
In my experience, bereaved kids really experience the pain and bewilderment of grief. With the help of supportive adults, children can heal understand and learn to live with their loss.
Some things to remember:
1. In order to support a child, the parent will need to make efforts to look after themselves first. This includes making time for yourself to experience your own feelings of grief.
2. The age of the child has a direct impact on their level of understanding about what has happened.
Let's take the example of my niece, B the first cousin of my Luijoe. They were inseparable. B who was then 3 years old was Luijoe's playmate and best friend. On the day Luijoe died, her mother informed B that her cousin died. Poor B! She understood what death meant and cried like a river.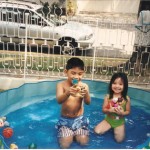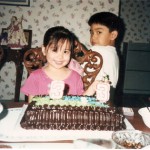 It helped that her mother allowed her to cry and talk about her cousin's death.
Children aged 2 to 5 years
think that death is reversible and that people who have died can come back. B , smart beyond her years was an exception. She knew Luijoe was not coming back. And how she cried a volley of tears. It was a good thing that her mother made a special album of memories for B to look at. In that album were photos of the good times like those photos above.
During Luijoe's birthday and death anniversaries, B placed flowers on his grave. It was a pitiful sight sometimes to see her cry. We cried with her. One of the most difficult aspects of a child's grief at this age is how they ask the same questions over and over again in an effort to begin making sense of their loss. Reading books on death and loss, playing, drawing and giving them opportunities to identify and talk about worries and feelings will help them deal with the loss.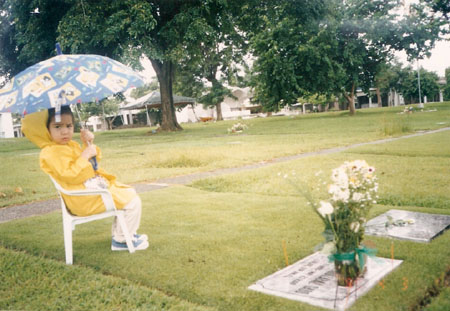 Children aged 6 to 9 years begin to develop an understanding of death as irreversible though they can get confused about it. Sometimes kids think of death as something spooky, like a zombie or a spirit that comes to get them. It is important that their specific worries are spoken about. It is also important to avoid cliches such as You're a brave boy/girl. Kids will interpret this to mean that you want or need them not to share their feelings. Kids need you and other important people in their lives to show them that it is OK to express their feelings.
Children aged 9 to 13 are more aware of the finality of death. They understand death as both concrete and abstract. Kids may experience difficulties in their interactions with peers. The death of someone important can make them feel different at the very time that they want to be the same as everyone else.
M was 12 at the time of Luijoe's death and she expressed to me her concern that it's not normal to lose a brother. She didn't know of anyone who lost a sibling. That made her feel different. Big emotional releases (such as anger or distress) are not uncommon but can be scary for children at this stage. They benefit from your willingness to listen and your assurances that the feelings are normal.
Adolescents may struggle to make longer term plans as the death of someone important causes them to reflect on "the meaning of life" and ponder on the question "What's the point?". L was a 14 year old at the time of Luijoe's death. I was too grief-stricken to notice the kids' feelings but I was always around for them, loving them. They had their friends to distract them but at the same time, they couldn't stand the shallow attitude of their friends. Sometimes I feel death matured their way of thinking making them value life more.
Sometimes teens tend to keep to themselves but I notice that when there is a special activity to commemorate Luijoe's life and death, they become talkative and start talking about the good old days. In a way, they are able to express their grief without forcing them to talk about it.
I know it's been years since their brother died but I have been told that the loss of a sibling will hit them now and then at various stages in their life. I remind them that these feelings are normal. I know they will be fine. When I asked B if she recalls Luijoe's favorites (which I needed for a memory quilt project), she smiled and said "lizard".
Smiles have now replaced the tears.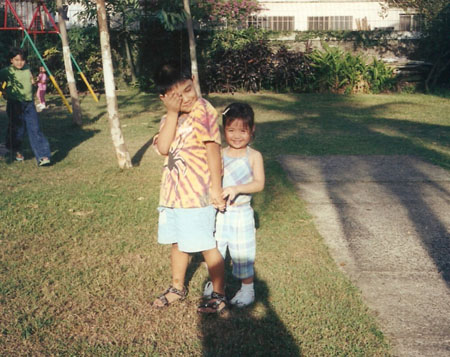 Things to Remember
1. Remember that "super parents" don't exist. Just do what you can, when you can. Accept that some things just can't be "made better" in a short space of time.
2. Talk to children using words they understand.
3. Tell Children information a bit at a time.
4. Don't be afraid to show children how you are feeling.
5. Try and encourage children to ask questions.
6. Answer questions honestly and simply.
7. Try to find ways in which children can be involved.
8. And if family and friends offer to look after your children to give you a break, accept— don't feel guilty.