(RCBC Updates / Last Rites on Victims below the Videos)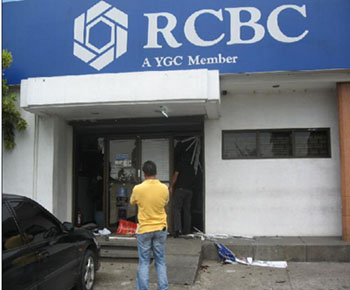 Butch first told me about the RCBC bank robbery as his company is somehow related to RCBC. In his entry on A Season of Violence and Death, my husband writes:
The killers' calculus was simple and chilling: No witnesses, lesser chances of getting caught. And so they went about their grisly business, systematically slaughtering ten people, whose grim fate was sealed the moment the butchers stepped into the bank .
The brutality and utter disregard for human life is so unusual and disturbing that it was the topic that my friends and I talked about yesterday just before our support group meeting of the Compassionate Friends. A friend (who is a banker herself) knew the bank manager, the spouse of her officemate. I just find it eerie to hear the last few minutes of their life together. Horrified, we started to discuss the incongruity of it all:
1. The neighboring bank might have heard some sort of commotion but didn't raise any alarm. or the silencers did the job of utter silence?
2. Bank employees are told not to be confrontational during robbery and to NOT even look at the robbers as they give all the money. And still they were shot?
3. What happened to all the alarms situated in almost every nook and crany of the bank? And again, these bank employees are instructed not to turn on the alarm while the robber is in progress. The reason being that the robbers could shoot them if the policemen arrive at the scene. What good did that security precaution do?
So many questions lurked in our minds but the main question that arose: the families will suffer from complicated grief.
For the families that have been told their loved one has been murdered, there is so much to confront, for murder is always
SUDDEN – there is no preparation for this moment,
VIOLENT – someone has destroyed the life of their loved one in an act of violence,
DELIBERATE – someone has intentionally committed this deed.
When someone we know dies, we try to help their families in any way we can. We can't help them by finding the killers but we surely can reach out and help them in their grief.
Losing a loved one through an act of violence is a very traumatic experience. No one can ever be prepared for such a loss. No amount of counseling, prayer, justice, compassion can ever bring a loved one back. Those left behind to mourn the loss of their loved one are sometimes referred to as 'murder survivors' and these people are victims of crime.
The much more complicated grief that follows this robbery/murder may be prolonged by the legal work and the final disposition of the case. A murder is an unnatural death; no ordinary rules apply.
My heart goes out to the families of the murdered victims.
Like my husband mentioned, the names of the dead bear mentioning, as a way of mourning, remembrance and sharing in the grief of those they left behind: Branch manager Roberto Panganiban Castro, tellers Benjamin Nicdao and Olga Gonzalez, operations assistant Noel Miranda, new accounts officer Teresa Umayam, cashier service head Bernardo Lapaan Jr., janitor Juan Leyva, security guard Baltazar Aguilando and a depositor's representative Ferdinand Antonio and the Marketing manager Isagani Pastor later died in the hospital today.
May justice be served to these murdered victims and their families. For the 'murder survivors', I can offer you Grief Share as a way to help you cope during your grief journey.
Videos of the RCBC Bank Robbery:
Cops eye inside job in Laguna bank robbery-massacre

Relatives of slain bank employees cry for justice


For the latest Philippine news stories and videos, visit GMANews.TV
Related Blog Entries
The RCBC Bank Robbery and its Implication by Butch
The RCBC Bank Robbery and Its Aftermath by Butch
A Season of Violence and Death by Butch
Make our justice system work by Arbet
What Justice? by Rom
Wordsmithing and Wizardry by The Jester in Exile
A Republic of the Blind by Nick
Updates
1. Schedule of Final Rites (Funeral) of the RCBC Bank Robbery Victims ( sent to me by my husband)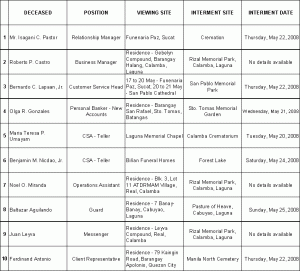 (Click thumbnail to enlarge)

2. BIGAY PUSO sa mga nag-BIGAY BUHAY (email from an RCBC co-worker and sent to me via my husband)
BIGAY PUSO sa mga nag-BIGAY BUHAY
A fund raising campaign for the families of the victims of the Science Park massacre
The death toll truly speaks of the gravity of the crime, considered as one of the worst in this country's history. A total of 10 people dead, 7 officers and staff, 1 security guard, 1 janitor and a client representative. An entire branch, wiped out.
Amid the frenzy of the investigation and preparations for a decent burial for all the victims, we focus on the people they left behind. One left an unemployed wife, a special child and a 5 year old son. Another will have to deprive her 8 month old baby a mother's kiss forever. Most of the people who were taken away were bread winners' their families' only source of resource and strength. Now the waiting has started for justice to be served. With the authorities still scouring for leads that will answer their questions, finding justice might just prove to be another long and painful process.
As one RCBC family, let us try to ease the burdens of the victims' loved ones. As a concerned co-worker, you too can do your share in wiping their tears away. We have opened a savings account for the families of the victims to help them source some means to get started with life anew. By simply donating any amount to SA Number 4-001-97908-1, you will be able to extend your love and support for these very unfortunate families. Any help coming from your friends and relatives will also be appreciated. Once put together, your help can go a long way in ensuring the education that will secure the very future of the children now suddenly orphaned by their moms and dads. Let the healing of wounds begin with your words of prayer and kind donations. You may start making your donations today and we will regularly update you how the fund drive is going.
Together let us pray for an immediate resolution of this case and for the wheels of justice to turn to the favour of these people who lost much.
3. An email is circulating containing a zip file of 23 gory photos of the murdered RCBC bank robbery victims. I felt sick to my stomach. Pools of blood everywhere.
One photo struck me of three women apparently told to lie face down and shot thereafter. Ugh, why can't these people respect the privacy of the victim's families? Let's give respect to the victims as well. If you're looking for them here, I didn't post it in deference to the victim.
4. Inquirer's Cabuyao Massacre update
5. This is to invite everyone to attend the daily 12nn-1pm mass at the TGY chapel, Podium 4 of RCBC Plaza.
The daily mass will be dedicated to the employees of the Science Park BC until such time that the case is solved.