For one hour, the fountains stared at me or rather, I stared at the fountains of Ayala Tower 1. Out of boredom, I took a picture. Click.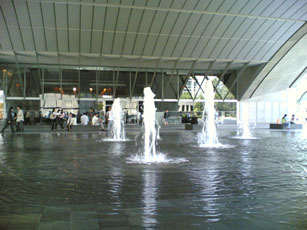 "
I felt like a stage mother all over again. Waiting for my daughter as always.
One of the top real estate companies in the country accepted her for a summer internship program . So there I was, sitting by the fountain as she was getting interviewed by the Human Resource Manager.
In the summer of 2005, I sent my daughter for a vacation to my sister in San Francisco. It was my way of enhancing her education. See , in Ateneo, only management students get the opportunity to study a semester abroad. When she arrived after her 6 week vacation, she made a statement:
"I know what I want to be. I want to be in [tag]real estate[/tag]. Next summer, I'm going to work for a real estate company."
I said "Oh yes, you can get a lot of income from real estate sales commissions."
"No." She interrupts. "I want to invest in real estate"
Oooh, my mind raced. My sister probably inspired her to consider that option.
So this summer job is a stepping stone to that dream. Finally she arrives as the fountain dies down .
"I am so excited. I need to buy slacks, polo shirt, pumps. I start on Thursday"
I'm happy for her. As a mother, all I can do is give her the love and support of her dreams.
"Okay. Let's shop till we drop!