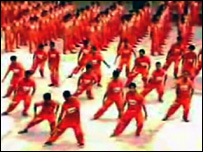 If you're a Filipino, you might have watched in amusement , This Youtube video of 1,500+ Cebu Provincial Detention and Rehabilitation Center (CPDRC) inmates dancing to Thriller . When I asked my daughter if she'd seen it , her reply was "It's so Pinoy". Lorna, my sister thinks "Only in the Philippines" (read her entry ""Thriller!" – How Cebu's CPDRC Inmates Rocked the World With An Awesome Rehabilitation Activity ). I am not surprised at this [tag]Thriller dance routine[/tag]. Maybe it's Cebuano thing but I remember my parents always danced after dinner and we would dance along with them as well. Singing , Music and dance formed a huge part of my upbringing. I miss it so bad. Anyway, I digress.
The video reached more than a 2,300,000 views since uploaded by Byron Garcia ( Consultant on Security of the Cebu Provincial Government) on July 17, 2007 (originally uploaded last April) It's so popular that ABC News picked up the story called Filipino Inmates do Thriller, Radio Gaga. The news covered reactions from Filipino-Americans as well as American counterparts in the criminal justice. One comment caught my eye:
Along with the security risk, Edward Latessa, professor and head of division of criminal justice at the University of Cincinnati, told ABCNEWS.com that the prisoners are not being rehabilitated.

"I suppose the inmates have some fun," said Latessa, who cited several examples of similar programs that have been attempted, and for the most part abandoned, by American prison officials. "But there's always a concern when you have programs like that and you're offering them as rehabilitation programs. The people that are participating think they're getting something out of it, but they're not."

"That's a potentially harmful effect," he added.
Oh goodness gracious. What an uptight statement. These [tag]Cebu Jail[/tag] inmates are bored sitting in their lonely cells. Dancing is a positive and uplifting activity. True, it's a unusual activity for a prison environment. If you just knew the Cebu Jail history like my sister posted in her blog, then you will appreciate this dance routine exercise. Not only do the inmates benefit form the physical workout but the release of endorphins from the exercises cause euphoria. They can use all the euphoria they can get.
One reader of this ABC News points out that this type of activity teaches discipline and working together (among other things), which are things that prisoners are usually lacking. And keep in mind – the vast majority of prisoners will be released. Only a small percentage are serving life (without parole) sentences. This means that these prisoners will be reintegrated into society, and anything that can be done to help them be more disciplined is a good thing.
Byron further explains that
Security must be approached not only physically but also from the cultural and behavioral context.

Inmates at the CPDRC are required to go through a workout regimen. While the goal is to keep the body fit in order to keep the mind fit, such may not actually happen if it is not done in a manner deemed pleasurable. Music, being the language of the soul, is added to that regimen.
Source: Speak out: The CPDRC experience or view YouTube Video of CPDRC concepts.
Just put yourself in the place of the prisoner. You would grab this chance to be out of your cell and participate in this fun-filled acitivty. So chill. Let's not get too technical or scientific. Just enjoy and start dancing, right?
Kudos to Architect Vince Rosales, the choreograper, the (CPDRC) inmates, Security Consultant Byron Garcia for an enlightening video. You make us proud to be pinoy!
Click here to watch the Thriller Video.
Also view Jessica Soho's video response Dancing Inmates in the Philippines and Byron Garcia's uploads of other dance routines by the Cebu Jail Inmates
Other blog entries– [tag]Cebu Inmates Dance to Thriller [/tag]
""Thriller!" – How Cebu's CPDRC Inmates Rocked the World With An Awesome Rehabilitation Activity by Lorna Lardizabal-Dietz
Pinoy Inmates Rock to ""Thriller" by Jane
Only in the Philippines: 1500 Inmates Dance to ""Thriller" by Rico
News Report
Philippine jailhouse rocks to Thriller
Jailhouse rock: Philippine inmates groove on the Web