At the gym this morning, I read this:Revisting the First Pinoy Blogger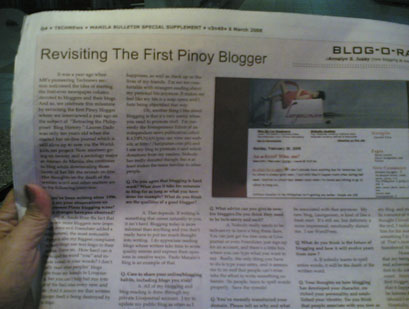 Yes , that's my daughter. Her original journal site in 1996 is still around.
She called it an online journal because the word blog was coined only in 1998. In fact a distinction between a journal vs weblog was made during the early 2000.
Online diaries and journals have been around almost as long as the World Wide Web (Justin Hall and Carolyn Burke had a mixture of personal information and commentary online by late 1994). Weblogs didn't really pop up until 1998 (although some say NCSA link pages dating back to 1993 counted as the first).
Looking back at the internet 10 years ago, there were very few Filipino kids surfing the World Wide Web. Internet Service Providers were expensive. No DSL . No Broadband. No cable. Just plain dial-up. We used Virtual Asia and it cost 500 pesos for 15 hours. Fortunately Virtual Asia sponsored Lauren's Worldkids.net project, Keypals Club for many years until we got our cable internet in 1999. They gave her more than 30 internet hours every month.
Relatives were suprised that I allowed my then 10 year old daughter to communicate with kids around the world. My only say in this is that if you can't find time to surf together with your child, then I don't advise it.
Her friends were mainly from World Kids Network . A few Filipino kids in the internet in 1996 also met through that site. Lauren wrote mostly for her World Kids friends of which I was part of as Internet Safety Head. Just like in real life, parents also need to guide their kids in virtual reality. The Children's Online Privacy Protection Act (COPPA) only came out in 1998 . A lot of lessons learned made this possible.
One incident comes to mind:
An email that arrived at my inbox came from a [email protected] (The children shared email address with me at that time) I was horrified to see that the email came from a pedophile and contained inappropriate language. The only place I knew that my daugther went to were kiddie sites. I quickly emailed the three children sites warning the possibility of pedophiles lurking their sites. World Kids Network notified HOTMAIL and they in turn , reported the email to the FBI. I am not privy to the details but the authorities discovered the identity of this person, someone based in Europe.
After that incident, World Kids Network contacted me to formulate the internet safety rules for their site. Working together with Cyberangels a pioneering internet safety site , I was able to come up with Internet safety rules and netiquette for kids around the world.
The internet has improved in many ways:
1. Email headers now show IP address
2. The Children's Online Privacy Protection Act (COPPA) got implemented.
3. Cyber Forensics can catch an internet criminal through gathering of electronic evidence.
Lauren, the First Pinoy Blogger just wants to be a fiction writer. She's not exactly proud to be known as the "First Filipino Blogger" but I told her that writing for 10 years without any hiatus shows her passion towards writing. I hope she realizes that writers still need to maintain a blog site to promote their writings. So I think she will know its benefits in the years to come.