Every time I am invited to a new media event, I seek M's opinion. "Do you think so-and-so event is worth attending?". And if M is really gung-ho over it, she'd go "mom, it's an excuse to go out of the house". See, I don't want to waste my time in an event if the product/service won't add intrinsic value to my blogs. I could make better use of my precious time by working on my passive income-generating sites. So far the new media events of the past week were all fun, hip but too expensive.
1. Philippine School of Interior Design Graduation Exhibit dubbed as ""Forty, Filipino, and Fabulous"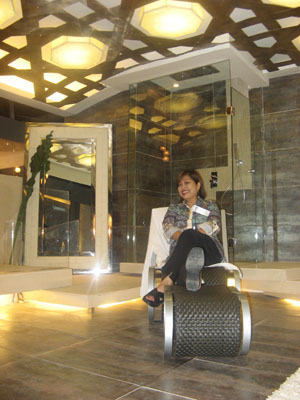 Last Friday was the press preview of the Philippine School of Interior Design (PSID) Advanced Class of 2007 graduation exhibit dubbed as ""Forty, Filipino, and Fabulous" which is mounted in cooperation with the Chamber of Furniture Industries of the Philippines (CFIP). You can watch this exhibit starting September 29- October 31 , at the Paseo Center, Paseo de Roxas cor. Sedeno st., Salcedo Village, Makati City. If you're in the lookout for an interior designer, you might be able to choose from among the graduating students exhibiting their work from the 19 booths. My favorite was this bathroom called "Salapid" which is a representation of the modern Filipino couple's sanctuary. See, the problem with a His and Hers bathroom is that if your hubby takes too long to use the bath, you end up waiting for hours on end. The solution is to get inside the bathroom with him, lounge on this "modern interpretation of the sulihiya" chair and relax. View the 19 booths through the Photos of the ""Forty, Filipino, and Fabulous" Exhibit
2. David & Goliath

Terry S.A. –the same company who reinvented the flip-flop in the Philippines with the introduction of Havaianas— decided to bring David & Goliath to Manila. David & Goliath recently unveiled a collection of iconic slogans created by some of the country's most prominent celebrities, public figures and personalities. You can see all these shirts at my back and it was fun reading all the quips printed out on their shirt. It was a rare glimpse into the psyche of celebrated local personalities including: Twisted author Jessica Zafra, whose acerbic wit shines with ""Sometimes people are exactly as they seem: shallow and moronic." and Noted journalist Cheche Lazaro rallies for ethical journalism with ""I support the fight against envelopmental and sensational journalism." . The shirts are really expensive starting at 995 pesos where one can easily buy a similar vintage type of shirt at Artworks for 400 pesos. I have to admit that the myriad of colors used in their tee-shirt lines are quite attractive. Read more on David & Goliath.
3. Royal Elastics

Royal Elastics is a brand I am so unfamiliar with. I guess it's because the footwear is associated with the young and hip. Jon Parsons, the president of Royal Elastics was in town to meet with a few bloggers and journalists before the formal launch in Manila on October. Before I hopped on to my royal shopping, I asked him if there were any styles suited for my age. Of course, he said "yes" but I had to see it for myself. Sure enough, there was a pair of comfy walking shoes for me. The shoes are a bit pricey starting at 3950 pesos but the comfort was worth it. You can read more about my Royal Elastics shopping experience. Sadly, M is wearing my shoes now for school since she does a lot of walking than me.
4. Sentosia Condominiums

Some of you might know that my offline business is in real estate brokerage which means any real estate development is exciting news. Sentosia Condominiums by the Manila Bay through Legacy Ventures is relatively new but dares to be innovative. Imagine giving 1. Property appreciation in one year; 2. Turn-over within six months 3. Real estate ownership for expats . But as with any new developer with no previous track record, always proceed with caution and due diligence. Here's more on Legacy Ventures at my real estate blog.